Spicy Sriracha Soba Noodle Soup - the easiest and most delicious soba noodles ever, with spicy Sriracha added to the broth and takes only 15 minutes!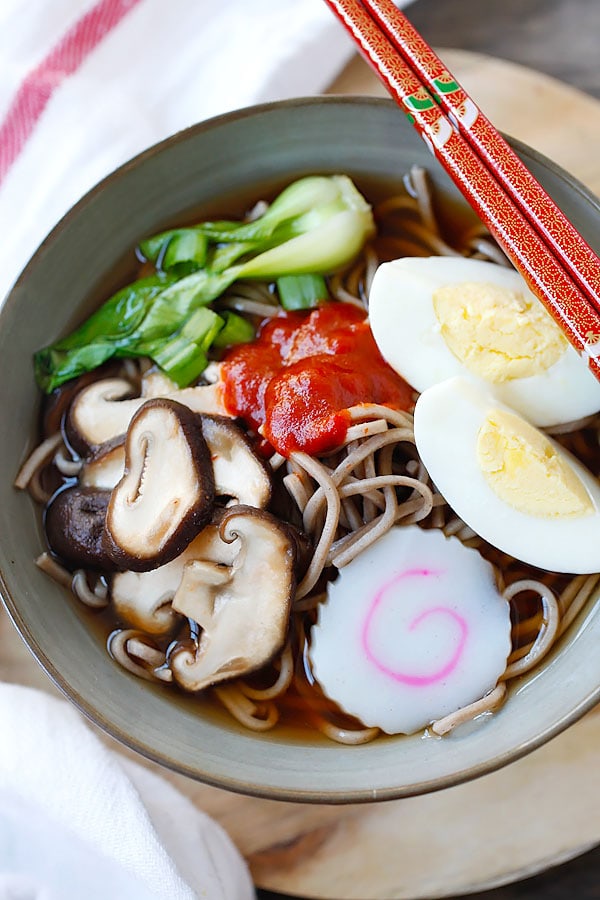 It's been raining here in Southern California, for days and nights. I haven't seen this kind of rain for at least a few years now.
As you all know, California is having a serious drought and I am happy that finally we are getting the much needed rain.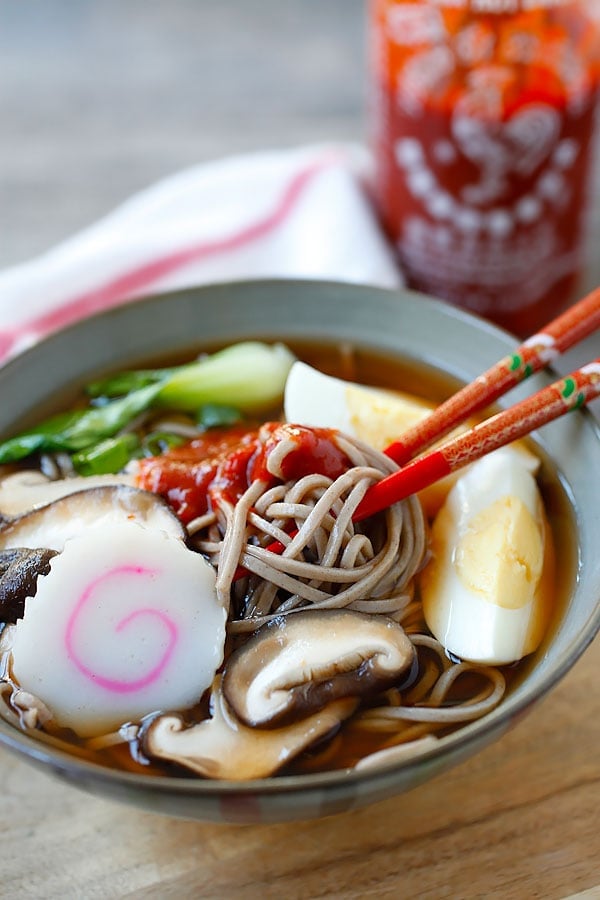 Other Recipes You Might Like
On cold and rainy days, especially in Fall and Winter, one of my favorite things to eat is soba noodles soup, especially for my week day lunch.
For the days when I am not developing and testing recipes for my blog, I will simply whip up something super quick that takes only 15 minutes, for example: 15-minute soba noodle soup, Tom Yum noodle soup, fried rice, chicken fried rice, Tom Yum fried rice, kimchee fried rice, and so on.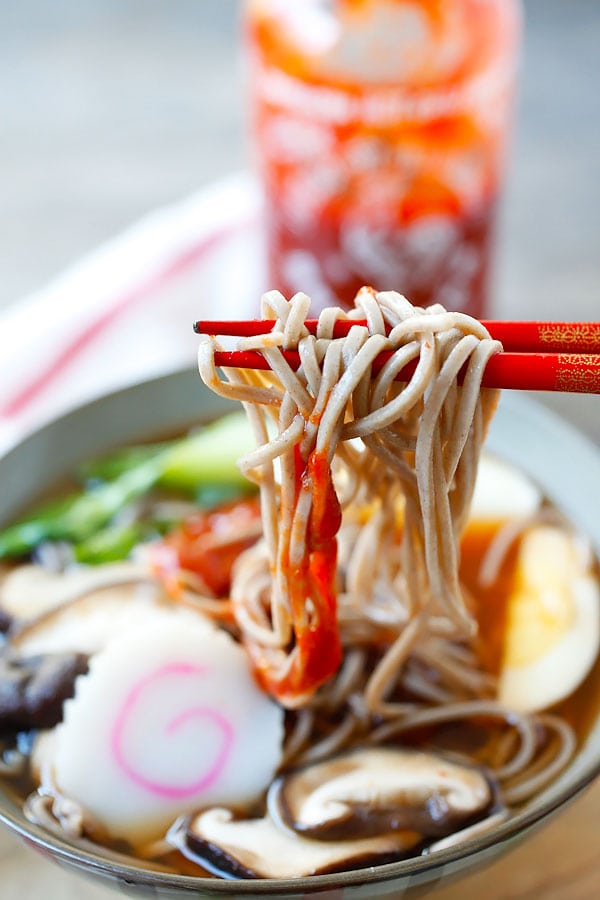 Inpired by Baked by Nature, I decided to spice up my regular soba noodle soup with loads of Sriracha.
What a fantastic idea! The heat from the Sriracha spices up the plain soup and give it a fiery kick, and just perfect as outside is raining and the inside of my house feels like an igloo. Two thumbs way up!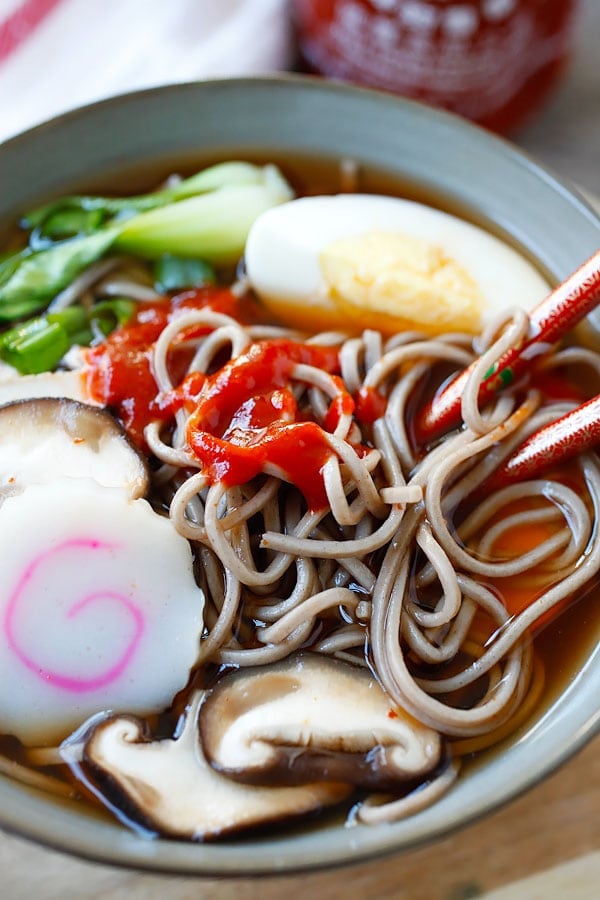 I love soba because it's the easiest noodles to make. There is no need to rush out to the market to buy fresh ramen or noodles as my pantry is always stocked with bundles with dry soba.
I also love it that the soba noodles are nicely tied up in a bundle, which is just enough for one person so I don't even have to measure it before cooking.
For the soup, I always use Mizkan Bonito Flavored Soup Base, which turns regular water into an amazing broth just like Japanese restaurants.
So, the cooking process takes less than 15 minutes for me, including boiling the noodles, the egg, prep the vegetable, mushroom, and toppings. Easy peasy!
Try this amazing Spicy Sriracha Soba Noodle Soup when you are in need of comfort food. It's my comfort food, and I hope you like it, too.
How Many Calories per Serving?
This recipe is only 98 calories per serving.
What Dishes to Serve with This Recipe?
For a wholesome meal and easy weeknight dinner, I recommend the following recipes.
5 Secrets to 20 Min Dinners
Get tricks for quick & easy meals!
Yield: 1 people
Spicy Sriracha Soba Noodle Soup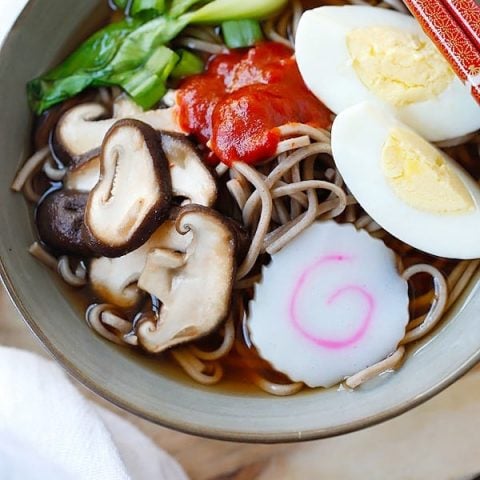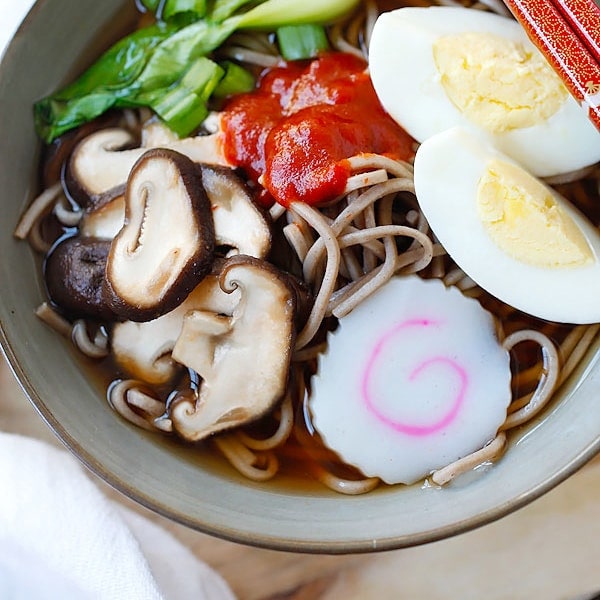 Spicy Sriracha Soba Noodle Soup – the easiest & most delicious noodle soup ever, with spicy Sriracha added to the broth and takes only 15 mins.
Ingredients
1 bundle soba noodles
1 1/2 cups water
2 tablespoons Mizkan, Bonito Flavored Soup Base
2-3 teaspoons sriracha, spicy chili sauce
3 sliced Naruto, Japanese fish cake
1 mini bok choy
3 fresh Shiitake mushroom, sliced
1 hard-boiled egg
Instructions
Heat up a pot of water and bring it to boil. Cook the soba noodles until al dente, about 5 minutes. Drain and set aside in a bowl.
In the meantime, heat up 1 1/2 cups of water and bring it to boil. Add the Mizkan (Bonito Flavored) Soup Base, Sriracha, Naruto, mini bok choy and mushroom. Boil for about 1 minute. Turn off the heat and pour the soup into the soba noodles, top with sliced hard-boiled eggs and serve immediately. Squirt more Sriracha for extra heat if you like.
Notes
Mizkan (Bonito Flavored) Soup Base is a magical condiment that you can use to make a variety of authentic Japanese dishes: cold soba dipping sauce, the broth for noodles such as udon and soba.
Nutrition Information
Yield
1
Serving Size
1 people
Amount Per Serving
Calories

98
Total Fat

5g
Saturated Fat

1g
Unsaturated Fat

0g
Cholesterol

187mg
Sodium

301mg
Carbohydrates

3g
Fiber

1g
Sugar

1g
Protein

8g