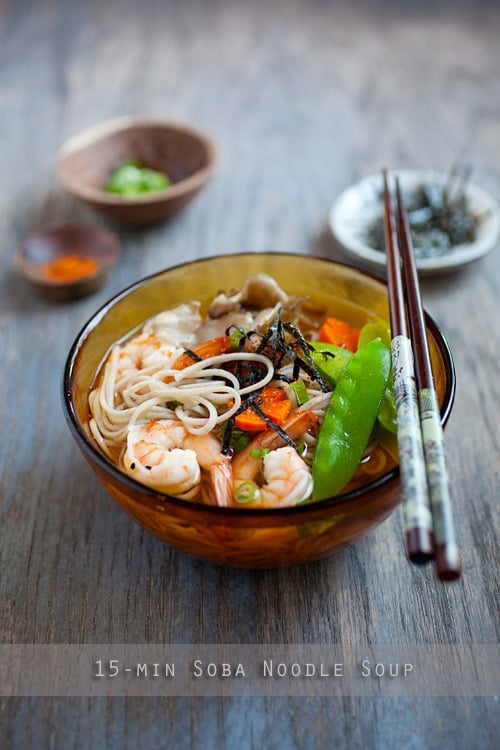 I love all sorts of noodles but if I have to choose one of my favorite noodles, it would probably be Japanese soba, or buckwheat noodles. There are many reasons why I love soba: the slippery and smooth texture and the subtle taste of the buckwheat flour. Served cold as zaru soba (cold soba) or hot with a broth, soba never fails to satisfy my palate. Another thing that I love about soba is the convenience of preparing the noodles. Soba usually comes in individual serving bundles, so there is no prep work of measuring, soaking, and rinsing involved. All I have to do is peel off the paper wrapper that binds the noodles together, and off they go into a pot of boiling water, and in a few minutes, the soba noodles are ready to be served.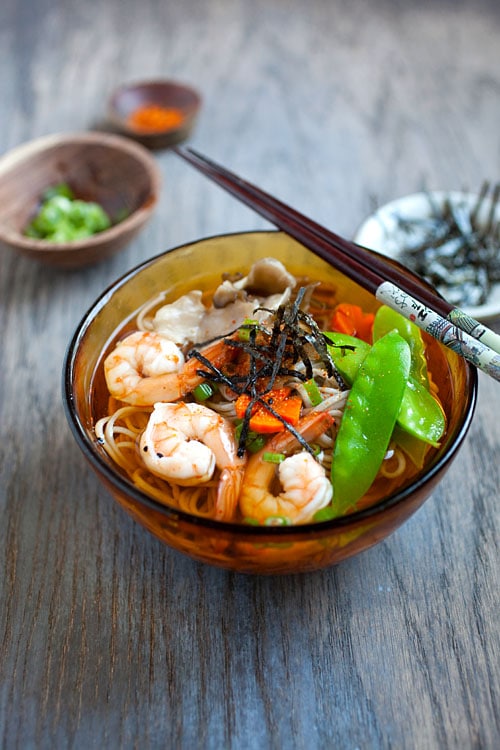 On warm summer days, I love a serving of cold soba with dipping sauce, which is simple yet utterly delicious. On cold winter days when I need some warmth, I adore a steaming hot bowl of soba noodle soup with all the trimmings: vegetables, mushrooms, shrimp, and topped with some seaweed strips and a generous dash of togarashi, or Japanese spices.
This is my 15-minute soba noodle soup recipe, ones that I have made over and over again, but never fails to delight me. This is also a perfect lunch dish for busy mothers or work-from-home professionals. Making a healthy, nutritious, and no-fuss quick lunch is possible with multi-tasking. While you boil the soba noodles, you can prepare the broth using instant Mizkan (Bonito Flavored) Soup Base, which is a magical condiment that everyone should have in the kitchen. Add the ingredients you have  in the fridge, and when the noodles are done, scoop them out, drain, and ladle the broth over. It's that simple!
Try this recipe and I am sure soba noodles will become a staple in your pantry soon!