Brazilian Cheese Bread (Pão de Queijo)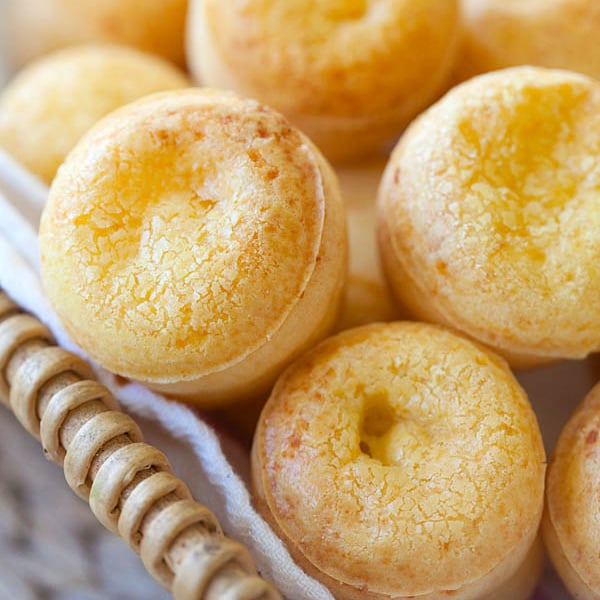 http://rasamalaysia.com/brazilian-cheese-bread-pao-de-queijo/
Brazilian Cheese Bread (Pão de Queijo)
When I was working in LA, every week my colleagues and I would go to The Farmers Market at the Grove for the Brazilian BBQ. Pampas Grill—the stall selling the BBQ—is probably one of the most popular eateries at the Farmers Market. There is always a long line of patrons lining up for the hot-off-the-grill, juicy, and scrumptious Brazilian BBQ, including the Hollywood kind. One time, the ex-husband of Courtney Cox, David Arquette and his entourage were lining behind me…
While the meats served at Pampas Grill are amazingly good, I went there mostly for the Pão de Queijo, or Brazilian cheese bread—the mini cheesy puff in ball shape that is always soft but chewy, puffy, and addictive. I would load up a bunch of them to go with the meats. Lunch was always good.
Earlier this year, when Elise of Simply Recipes posted her Pão de Queijo recipe, I was so excited to make it but I was pregnant then and followed a very strict diet that precluded me from eating cheese. Anyway, time flies and now that Baby G is here, I am sort of on a cheese binge these days. I finally made the Brazilian Cheese Bread. I finished all sixteen (16) of them in practically 15 minutes (!) and immediately made the second batch! They are so good that Little Teochew, my friend in Singapore, also made them.
Click Images Below for Similar Recipes:
LOVE THE RECIPE & PHOTOS? PLEASE SHARE:
Sign Up for Email Updates
Enter your email for new updates: recipes, giveaways, and more!