Chinese Braised Soy Sauce Eggs (滷蛋)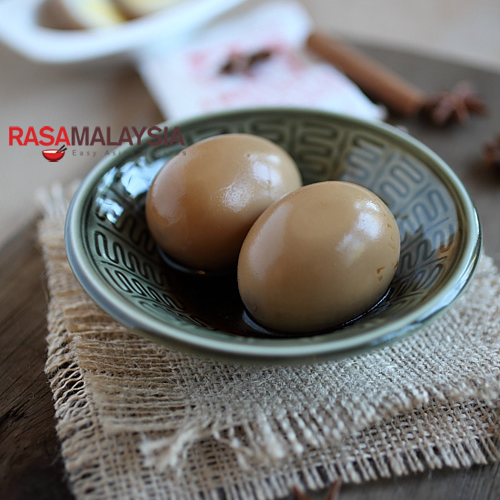 http://rasamalaysia.com/chinese-braised-soy-sauce-eggs/
Chinese Braised Soy Sauce Eggs (滷蛋)
I promised you my Chinese braised soy sauce eggs recipe (滷蛋) in the Taiwanese scallion oil noodles (葱油拌面) post, so here you go. This is a super easy recipe, and the best thing is that you can save the braising soy sauce stock (滷水汁) in the fridge and re-use it again to make the eggs or even tofu (bean curd). I usually use the stock for 2-3 times before I discard it. As many Chinese cooks or chefs would tell you, the flavor of the braising stock develops as time goes by…some restaurants just keep using their stock for as long as they stay in the business (I kid you not!)…
One ingredient that I like to add to my braising stock is a spice tea bag used for braising a variety of foods—chicken, pork, beef, peanuts, seaweed, tofu, etc. (You can check out the product picture here). It's available at Asian stores and they are cheap and handy. It's optional but a tea bag of the spice adds to the aroma and overall flavor. To make perfect hard-boiled eggs, please refer to this kitchen tip by Good Life Eats.
Sign Up for Email Updates
Enter your email for new updates: recipes, giveaways, and more!