Grilled Fish with Banana Leaf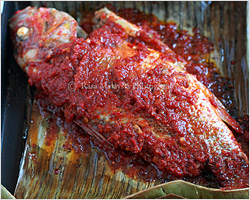 http://rasamalaysia.com/grilled-fish-with-banana-leaf/
Grilled Fish with Banana Leaf
Grilled Fish with Banana Leaf Recipe
Ingredients:
1 lb. red snapper (cleaned and scales removed)
A few sheets banana leaf (rinsed with water thoroughly and pat dry with paper towels)
Grilled Fish Sambal:
6 oz. fresh red chilies (seeded and cut into small pieces)
1 tablespoon toasted belacan (Malaysian shrimp paste)
4 oz. shallots
1/4 teaspoon salt (or to taste)
2 teaspoons fish sauce
2 1/2 teaspoons sugar (or to taste)
1/2 lime (extract juice)
2 lemongrass (cut into thin slices)
4 tablespoons oil
Sambal Belacan and Sliced Shallots Condiment:
3 red chilies (seeded)
2 bird's eye chilies (seeded) – optional
1 teaspoon of toasted belacan
2 shallots (thinly sliced)
1/8 teaspoon of sugar
Salt to taste
8 tablespoons of water + tamarind pulp (size of a small ping pong ball)
Method:
Grilled Fish Sambal
Prepare the sambal by grinding chilies, shallots, belacan and lemongrass in a food processor. Make sure the sambal paste is well blended and smooth.
Heat up a wok and "tumis" (stir-fry) the sambal paste until aromatic or when the oil separates from the sambal paste. Add the seasonings: salt, sugar, and fish sauce and do a quick stir, dish out and set aside.
Sambal Belacan and Sliced Shallots Condiment
Soak the tamarind pulp with water for 15 minutes and extract the juice. In a mortar and pestle or food processor, pound/blend the red chilies, bird's eye chilies, and toasted belacan. Add tamarind juice, sugar, salt, and sliced shallots to the sambal. Stir well and set aside.
Grilled Fish with Banana Leaf
Grease a flat pan (I used a Japanese tamagoyaki pan) and then lay a few sheets of banana leaves in the pan.  Add 1 tablespoon of cooking oil on top of the banana leaves and spread the oil evenly. Lay the fish on top of the banana leaves and add 3 tablespoons of sambal on top of the fish. Heat up the pan on your stove top over medium heat and cover it with a lid.  (Use a towel to cover the corners of the pan in case the lid is too small to completely cover the pan. This will ensure the heat traps inside the pan during the grilling process.)  Wait for 8 minutes or so and flip the fish over to the other side. Add 3 more tablespoons of sambal on the other side. Cook for another 8 minutes or so. By then, you can smell the sweet aroma of burnt banana leaves and grilled fish. Dish out and serve immediately with sambal belacan and sliced shallots condiment.
Click Images Below for Similar Recipes:
No similar posts.
LOVE THE RECIPE & PHOTOS? PLEASE SHARE:
Sign Up for Email Updates
Enter your email for new updates: recipes, giveaways, and more!