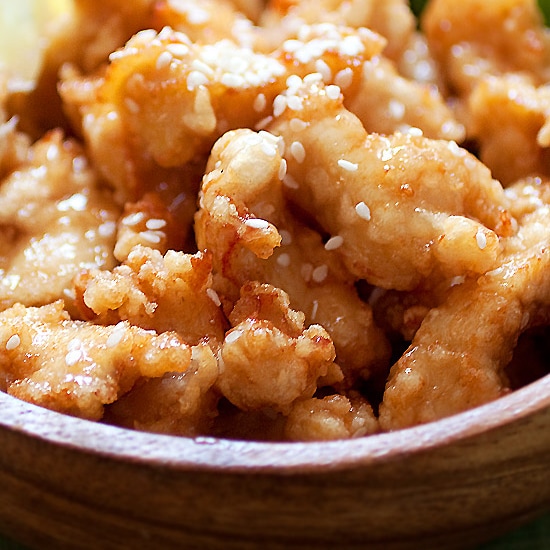 Honey Sesame Chicken
Best ever honey sesame chicken. Easy honey sesame chicken recipe with fried chicken pieces in a sticky sweet and savory honey sesame sauce | rasamalaysia.com
Prep time:
Cook time:
Total Time:
Ingredients:
1 lb boneless chicken breast, cut into 1-inch cubes or long strips
Oil, for deep-frying
2 garlic, minced
Toasted sesame seeds, to garnish
Frying Batter:
1 egg white
1/2 cup all-purpose flour, sifted
1/4 cup cornstarch
1/2 teaspoon baking powder
1/2 cup water, ice cold
1 tablespoon oil
Pinch of salt
Honey Sesame Sauce:
1/3 cup pure honey
1 teaspoon apple cider vinegar
1/2 tablespoon ketchup
1 teaspoon sesame oil
2 teaspoons cornstarch
1/2 cup water
1 teaspoon salt
Method:
Whisk all the "Frying Batter" ingredients together until smooth. Set aside. Drop in the chicken cubes, mix well until they are well coated. Set aside.
Mix all the ingredients of the "Honey Sesame Sauce" together and set aside.
Heat up a saute pan and add about 2-inch of oil on medium to high heat. When the oil is fully heated, gently drop in the battered chicken cubes, one by one, making sure it is spread out to prevent sticking together. Continue to fry until the color changes to golden brown. Dish out and drain on paper towels.
Transfer 2 tablespoons of the frying oil in a wok or skillet, stir-fry the garlic until aromatic. Add in the Honey Sesame Sauce, and bring to a light simmer or until the sauce thickens. Drop in the chicken, stir-fry a few times to combine the sauce and chicken, add the sesame seeds, dish out and serve immediately with steamed white rice, or Chinese fried rice.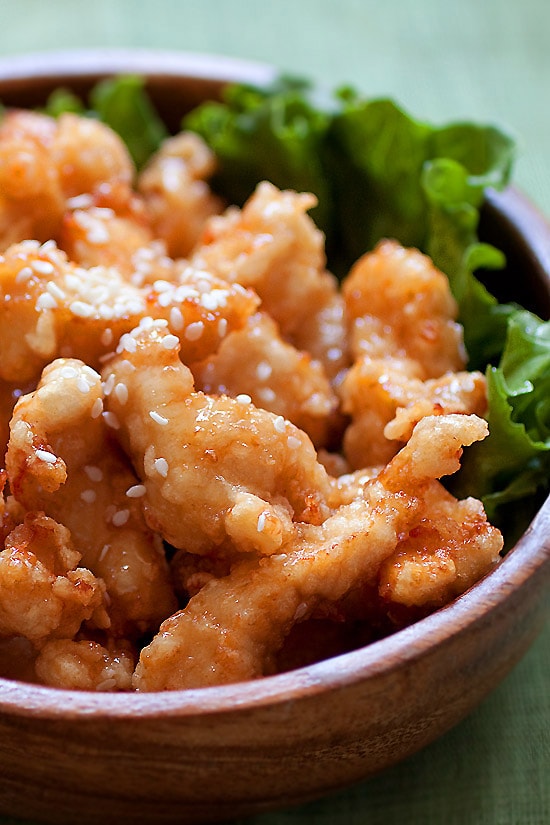 Honey Sesame Chicken
Honey Sesame Chicken – Best-ever and easiest honey sesame chicken recipe with chicken, sticky sweet and savory honey sauce with sesame!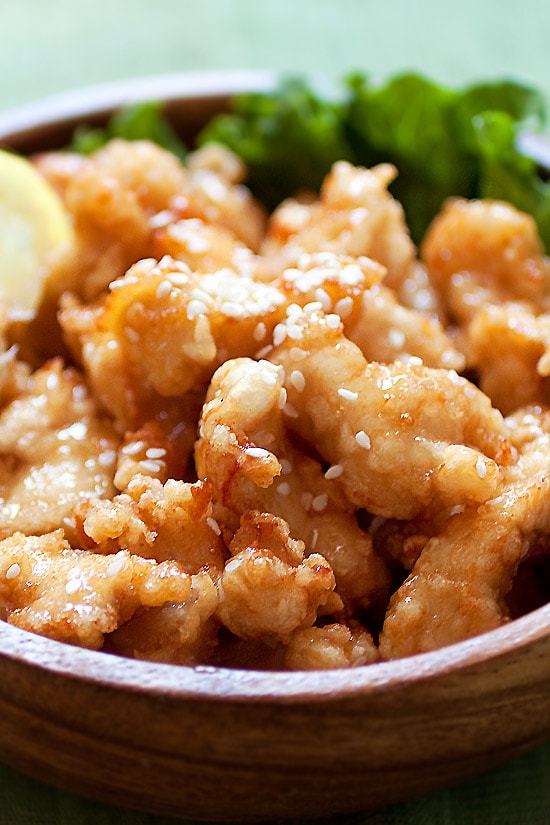 Honey chicken is one of the most popular Chinese recipes on Rasa Malaysia. I create that recipe two years ago and many readers have requested variations of that recipe. Today, I am creating a new recipe called honey sesame chicken, which is quite popular on Pinterest (remember to follow me).
To make honey sesame chicken, all you need are a few everyday ingredients that you can get at any food stores or supermarkets. There is no need to go to Chinatown or specialty Asian stores for the ingredients. I am going to make it very simple for you so you can just whip it up anytime you want.
While most people don't like to do deep-frying at home, I strongly urge you to do so with this honey sesame chicken recipe and other Chinese recipes on Rasa Malaysia. The reason why we all love Chinese takeouts and dishes so much is because of the deep-fried chicken coated with rich and savory sauce. Eat them with some warm steamed rice and you have your guilty pleasure. So I say forget about baked chicken, let's fry the chicken and give your stomach and palate a treat. We all deserve to indulge once in a while.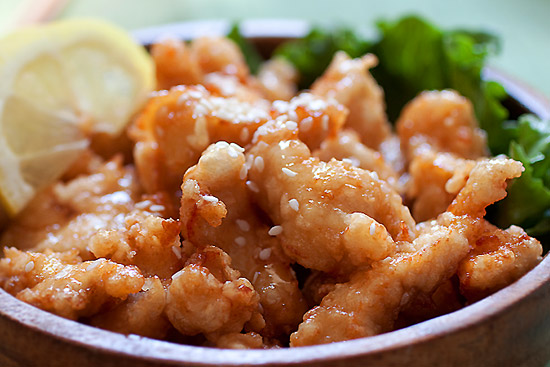 The sweetest thing is that you don't even really need to deep fry the chicken as shallow fry works very well at home. You don't need a deep fryer, or 6 inches of oil to deep fry a batch of chicken for dinner. You just need a small saute pan, non-stick preferably for ease of cleaning and frying, about 2 inches of oil, a pair of long chopsticks and you are good. There is no wastage of oil, no splattering oil, but gloriously fried chicken pieces ready to be cooked with the sweet, tangy, and savory honey sesame sauce. Easy breezy and no fuss!
Here is my honey sesame chicken recipe. Just look at the pictures above, I am sure you will love it when you try my recipe!