Baked Sea Bass Recipe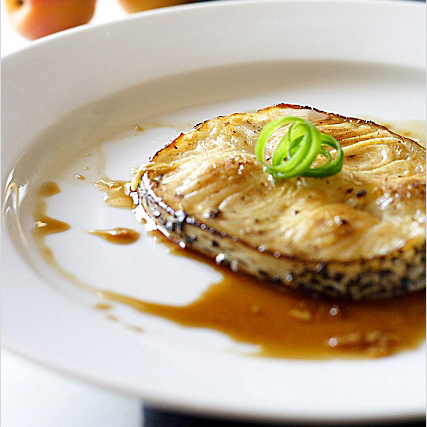 http://rasamalaysia.com/recipe-baked-sea-bass/
What do you cook when you need to impress your guest(s)? Well, for me, I made this mouthwatering, succulent, and juicy baked sea bassthat screams "I am a catch!"
A couple of weekends ago, my buddy Melting Wok came to my house. Prior to her visit, I was thinking hard about the dish I was going to make–a dish that would impress her so much that she couldn't stop ooohs and aaahs after tasting the goods. Well, I have to because S is really an excellent cook and has deep knowledge about food, for example: she can pretty much decode the composition of ingredients used by simply sniffing the food. Yes, I kid you not. If you have visited her blog, you should know that she has real talents in the cooking department. If you haven't yet checked it out, I urge you immediately click here to see how she whips up gourmet and droolsome dishes using like leftover tortilla and exotic creatures such as jellyfish…
Anyway, back to how to impress my guest. That weekend, I went to the market and picked up some fresh sea bass fillets that had just arrived at the store, marinated them with some sake, mirin (yes, my food crush with Japanese cuisine is here to stay), soy sauce for 30 minutes, and then pan seared them lightly on both sides before baking them.
The end result was simply sublime. Was S impressed, you ask? Well, we will wait for her to comment.
Sign Up for Email Updates
Enter your email for new updates: recipes, giveaways, and more!