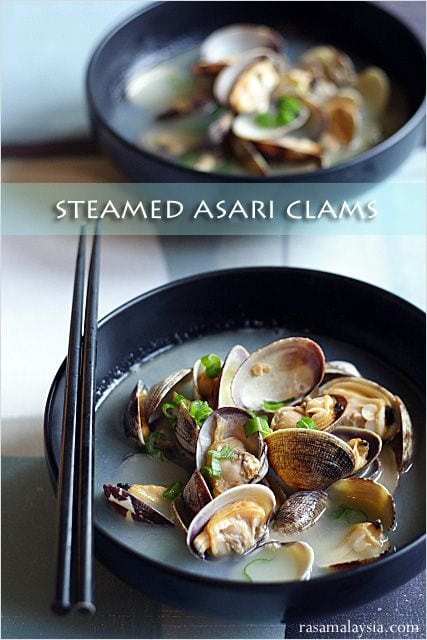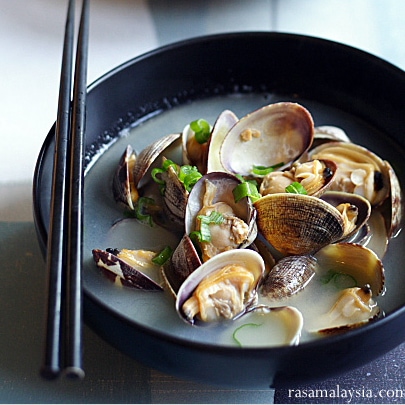 Steamed Asari (Manila) Clam Recipe
Steamed Asari Clams – clams, butter, sake, scallion.
Ingredients:
1 1/2 lb. asari/manila clams
1/3 stick unsalted butter
1 1/4 cup water
1/2 cup cooking sake
1/4 cup mirin
salt to taste
Chopped scallion (the green part only)
Method:
Clean the clams thoroughly and set aside. Heat up a saucepan on medium heat and add the butter. As soon as the butter melts, transfer the clams into the pan and do a few quick stirs. Add the water, sake, and mirin into the clams and cover the pan with its lid. Turn the heat to high and bring the clams to boil. As soon as all the clams are open, add in salt to taste. Dish out into a bowl, garnish with the chopped scallion, and serve immediately.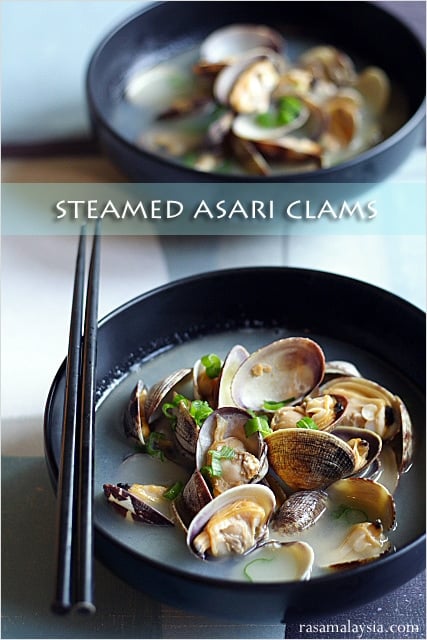 A few nights ago, I met up with my friends at Izakaya by Katsu-Ya in LA. We ordered many delicious Japanese dishes, two servings of chilled sake and chatted our night away. We had such a wonderful time!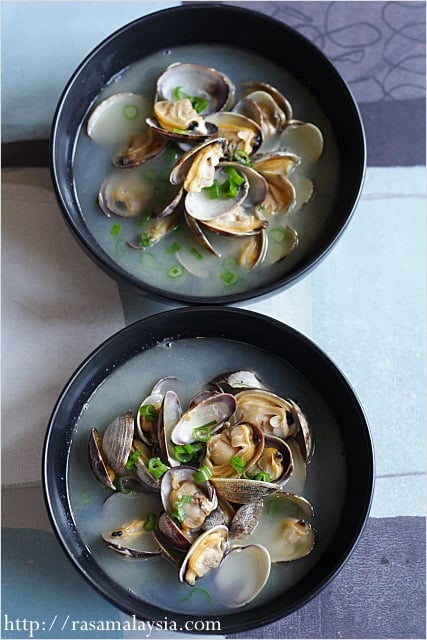 One of the dishes we ordered was a Japanese izakaya classic—steamed asari (manila) clams with sake or asari no sakamushi, a personal favorite that I never miss out whenever I dine at izakaya.
I came to know about Japanese izakaya about eight years ago when I first visited Tokyo. During the trip, I had numerous meals at this izakaya in a small alley right next to my hotel. Sitting on a tatami mat and dine from a low table in traditional Japanese style, my host introduced me to yakitori, steamed asari clams, chicken karaage, yakisoba, agedashi tofu and various mouthwatering Japanese small-plates. I was instantly lured by this very special and casual Japanese dining culture–one that comes complete with food, booze, and great social ambiance. I have been hooked ever since.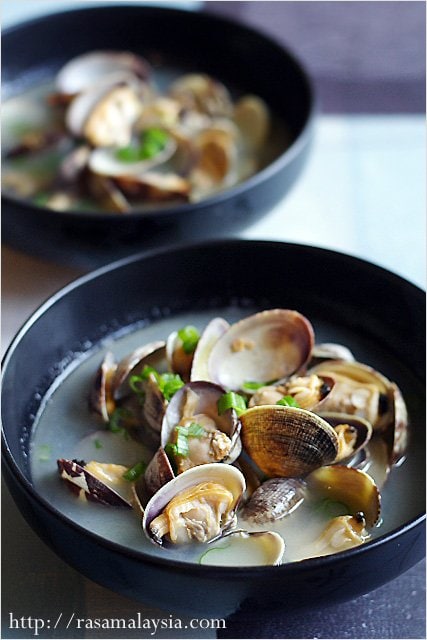 If you haven't been to a Japanese izakaya or the place you live has no such Japanese dining establishments, you can always make the popular izakaya dishes at home. This steamed asari clam recipe is very easy to make and requires only a few ingredients. The sake and mirin used in the recipe accentuate the natural briny flavor of the clams and the end result was so lip-smackingly good that I slurped the sake broth dry. Yum!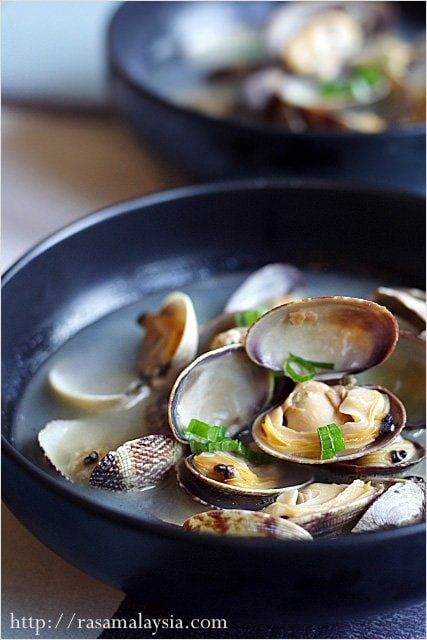 This post also marks the start of a new "Japanese izakaya" series here on Rasa Malaysia. I am so excited and can't wait to share with you the rest of the recipes. If you adore Japanese cuisine, you might also want to check out my previously published Japanese recipes, which include miso ramen, matcha ice cream, miso soup, tofu salad, Nobu black cod, panko-crusted softshell crab, and more.
If you are in LA or Orange County, you can check out the following izakaya that I absolutely love:
Izakaya by Katsu-Ya
8420 W 3rd St,
Los Angeles, CA 90048
323-782-9536
Musha (Torrance)
1725 W Carson St
Torrance, CA 90501
(310) 787-7344
Musha (Santa Monica)
424 Wilshire Blvd
Santa Monica, CA 90401
(310) 576-6330
Honda-Ya (Tustin)
556 El Camino Real
Tustin, CA 92780
(714) 832-0081
Note: I don't recommend the Honda-Ya in Little Tokyo. The food is not good.
Kappo Honda
18450 Brookhurst St
Fountain Valley, CA 92708
Phone: (714) 964-4629