I just tried this recipe tonight, can't believe what a difference it makes!
–
by
Immie
,
April 8, 2009
I just tried this recipe tonight, can't believe what a difference it makes!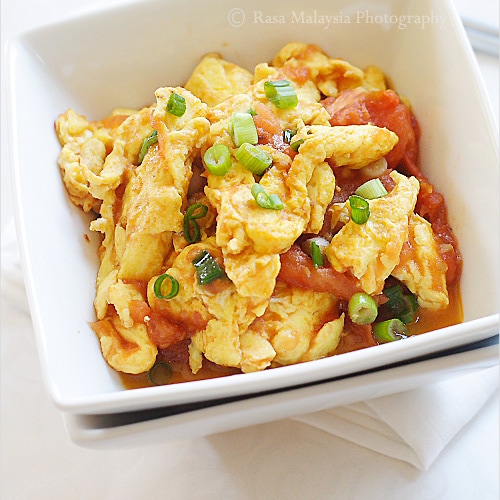 Tomato Eggs
Tomato Eggs – the easiest and yummiest eggs ever. Takes 10 minutes, get the recipe now
Ingredients:
4 large eggs
8 oz. fresh tomato (cut into thin wedges)
1 teaspoon shaoxing wine (optional)
1/2 teaspoon salt
3 dashes white pepper powder
1 teaspoon sugar
2 tablespoons water
1/4 teaspoon sesame oil
3 tablespoons cooking oil
Some chopped scallions
Method:
Break the eggs into a bowl and use chopsticks to beat the eggs until they break thoroughly. Add salt, sesame oil, shaoxing wine, white pepper powder, and lightly beat to blend well. Set aside.
Heat up a wok with 2 tablespoons cooking oil. Add the egg mixture into the wok, and use your spatula to spread the eggs. Keep stirring until the eggs form lumps. Gently break the lumps into smaller pieces. As soon as the eggs are cooked, dish out and set aside.
Clean the wok and heat it up again with 1 tablespoon cooking oil. Drop the tomato wedges into the wok and do a few quick stirs. Add sugar and water into the tomatoes. Cover it with the lid and let it cook for about 30 seconds. Transfer the eggs and chopped scallions into the tomatoes, stir-fry for 30 seconds or so, dish out and serve immediately.
(Chinese recipes, prepare authentic Chinese food now!)
Tomato eggs is a popular Chinese recipe–a humble dish that is often served at home. Called 蕃茄炒蛋 or 西红柿炒蛋 in China, tomato eggs is basically egg omelet with tomatoes. As simple as it sounds, tomato eggs is hard to master. I have seen many tomato eggs that are not properly cooked–too runny, watery, or simply overcooked.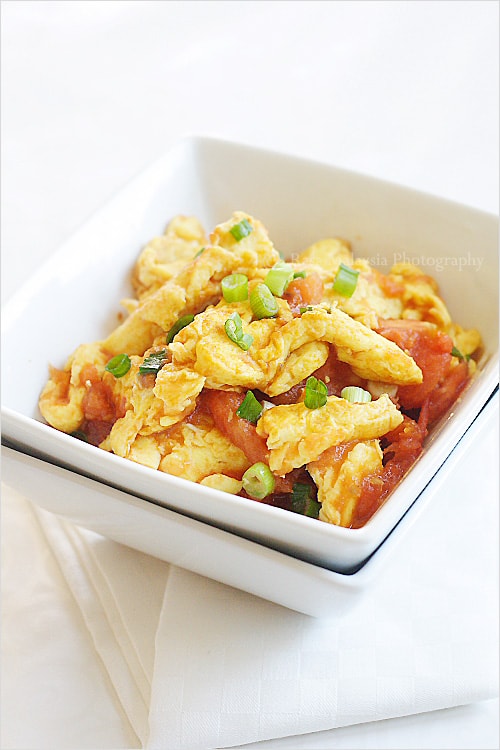 The good news is that I am going to share with you my tomato eggs recipe and the easy way to prepare this Chinese dish. It takes only a few ingredients: eggs, tomatoes, salt and sugar for flavoring, and chopped scallions for garnishing.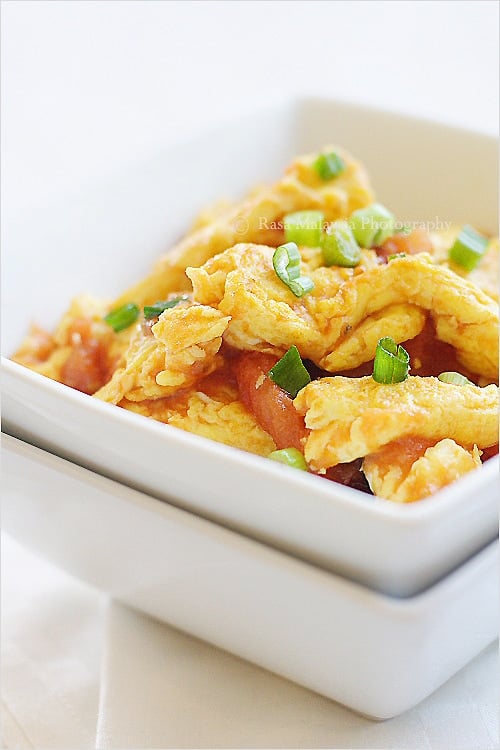 Tomato eggs is a great Chinese recipe that you should add to your cooking repertoire. I love it very much. Below is my tomato eggs recipe, try it out and happy cooking!