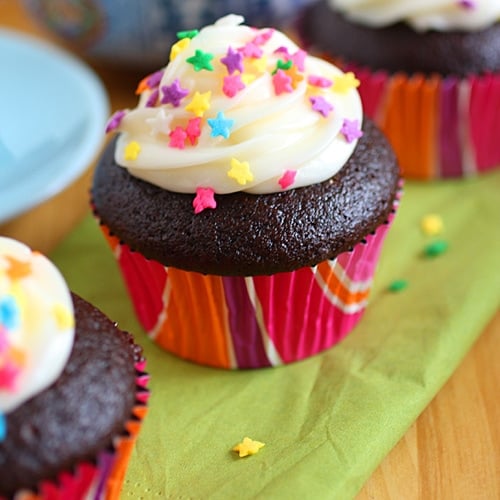 Chocolate Cupcakes
Chocolate Cupcakes and chocolate cupcakes reicpe. All kids love these chocolate cupcakes, especially with the ganache filling, frosting & sprinkles.
Prep time:
Cook time:
Total Time: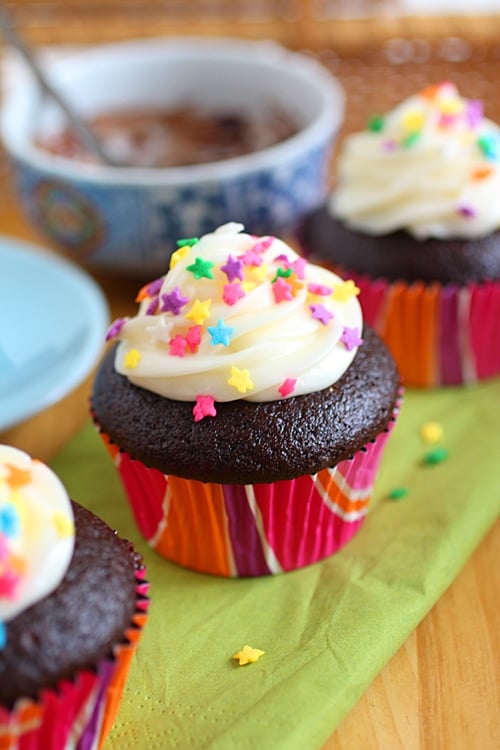 Baby G goes to a day care in the day, and he told me that he has three girlfriends at school: Sydney, Grace and Stella, and that Sydney is his favorite. Isn't that funny? Anyway, I wanted him to celebrate his birthday with his friends there, so I made these chocolate cupcakes with ganache filling for his birthday party tomorrow. All kids love chocolate, and with frosting and sprinkles, I am sure all the kids would love these cupcakes. And I already know that he is going to score big with his three "girlfriends." Haha.
Happy birthday my little prince. You will always be my little baby!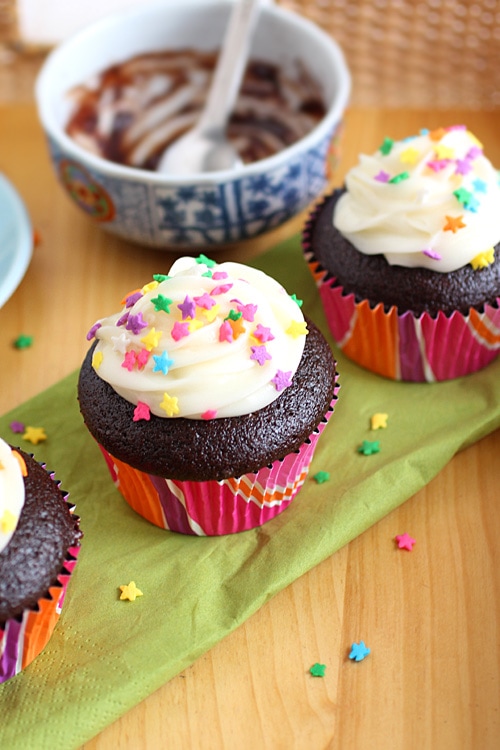 Chocolate Cupcakes with Ganache Filling Recipe
Adapted from Bakericious
Make 12 cupcakes | Prep Time: 20 minutes | Cook Time: 18-20 minutes
Ingredients:
Ganache Filling
3 ounces (85g) bittersweet chocolate, finely chopped
1/4 cup (60ml) heavy cream
1 tablespoon confectioners' sugar
Chocolate Cupcakes
3 ounces (85g) bittersweet chocolate, finely chopped
1/3 cup (28g) cocoa powder
3/4 cup (180 ml) hot water
2 teaspoons instant coffee powder
3/4 cup (115g) bread flour
3/4 cup (147g) baking sugar
1/2 teaspoon salt
1/2 teaspoon baking soda
6 tablespoons vegetable oil
2 large eggs
2 teaspoons white vinegar
1 teaspoon vanilla extract
Vanilla Buttercream Frosting
1 cup (226.5g) unsalted butter, room temperature
3-4 cups (375g – 500g) confectioners' sugar, sifted
2 teaspoons vanilla extract
1-2 tablespoons milk
Sprinkles for decoration
Method:
Ganache Filling
Combine all three ingredients for the Ganache Filling in a bowl. Double boil the chocolate mixture. Whisk the mixture until smooth. Remove from the double boiler and chill in the refrigerator for not more than 25 minutes.
Chocolate Cupcakes
Mix the bittersweet chocolate with the cocoa powder in a bowl. In a cup, pour 3/4 cup of hot water into the instant coffee powder. Slowly add the coffee into the chocolate mixture and whisk until smooth. Chill in the refrigerator for 20 minutes.
Pre-heat the oven to 350°F. Sift the bread flour, sugar, salt and baking soda in a bowl. Set aside.
Use a new bowl and beat the oil, eggs, white vinegar and vanilla extract together. Slowly add in the chocolate-coffee mixture. Whisk well.
Next, add in the sifted ingredients 2-3 tablespoons each time and whisk until smooth. Divide the batter evenly among the cupcake liners. Drop in a rounded teaspoon of the Ganache Filling into the center of each cupcake batter. Bake the cupcakes for 15-18 minutes until firm to touch.
Vanilla Buttercream Frosting
Use a mixer with a paddle attachment and beat the butter until soft and fluffy at medium speed. Slowly pour in 3 cups of confectioners' sugar, 1 cup at a time and mix well. Then add the vanilla extract and 1 tablespoon heavy cream while mixing for another 2-3 minutes.
Adjust the icing stiffness accordingly. Add additional 1 tablespoon of heavy cream if the icing consistency is too stiff or 1/2 cup of confectioners' sugar if the icing is too thin.
Cook's Note:
Alternate method to melt the Ganache Filling is to use the microwave. Combine all ingredients in a microwave-safe bowl and heat on high for 20-30 seconds. Whisk until smooth. Chill in the refrigerator for no longer than 25 minutes.

Most-Pinned Recipes
Brownie Butter Cake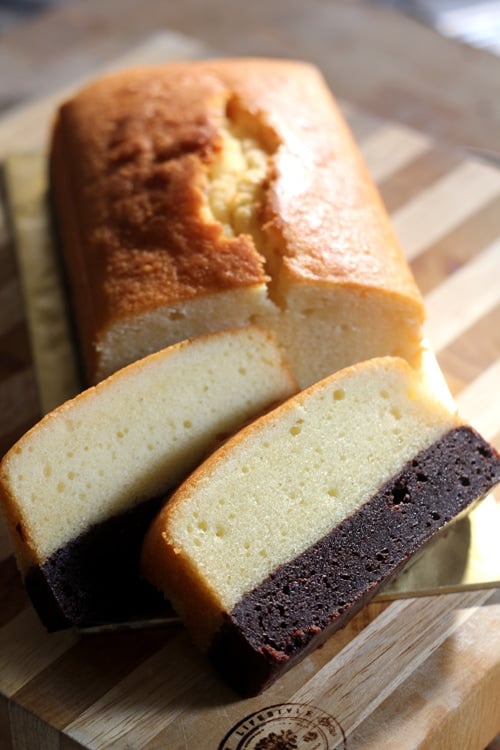 Nutella Cheesecake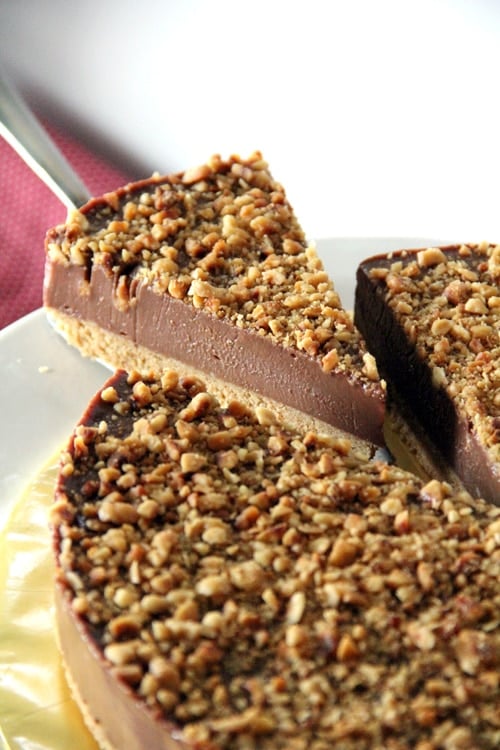 Chocolate Chip Cookie Dough Cheesecake Bar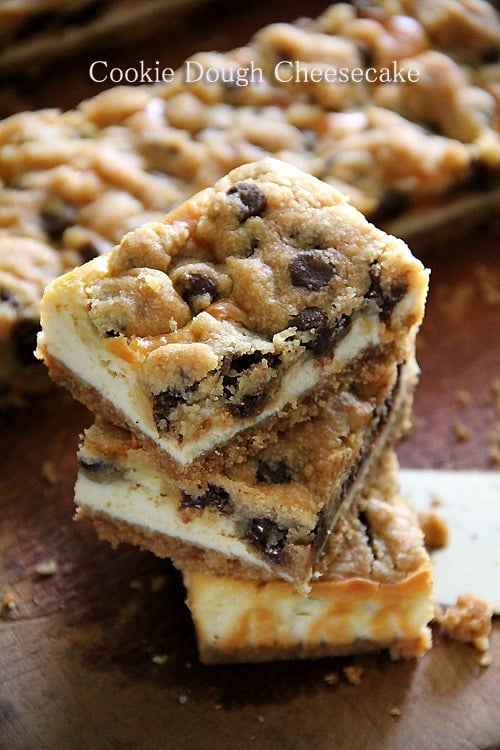 Butter Cake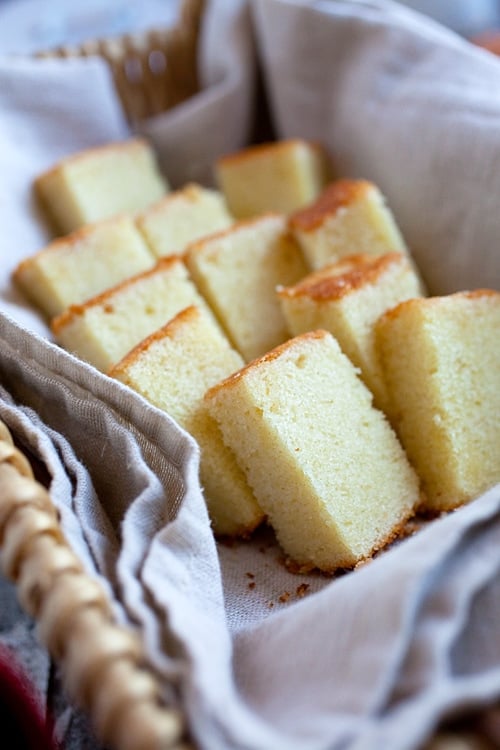 Peanut Butter Cheesecake Brownies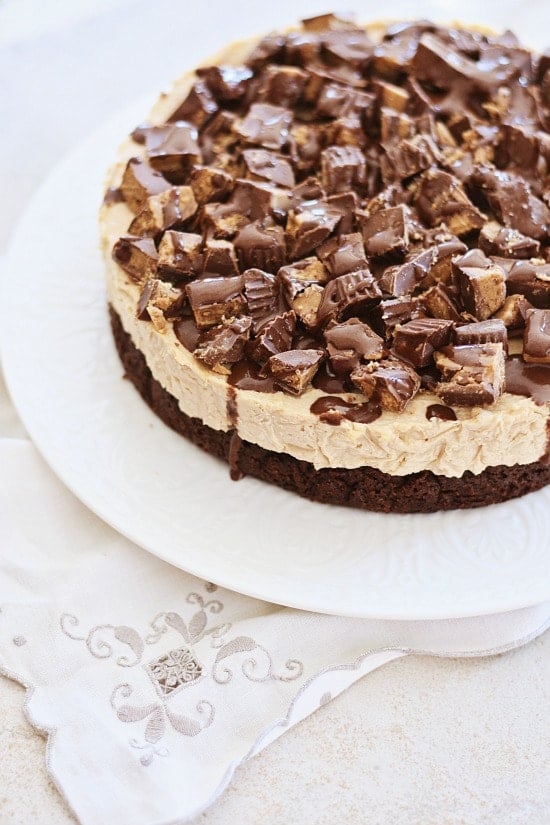 Meyer Lemon Pound Cake