Kimchi Dumplings - Spice up your dumplings by adding kimchi to make juicy, plump and delicious dumplings that you just can't stop eating!!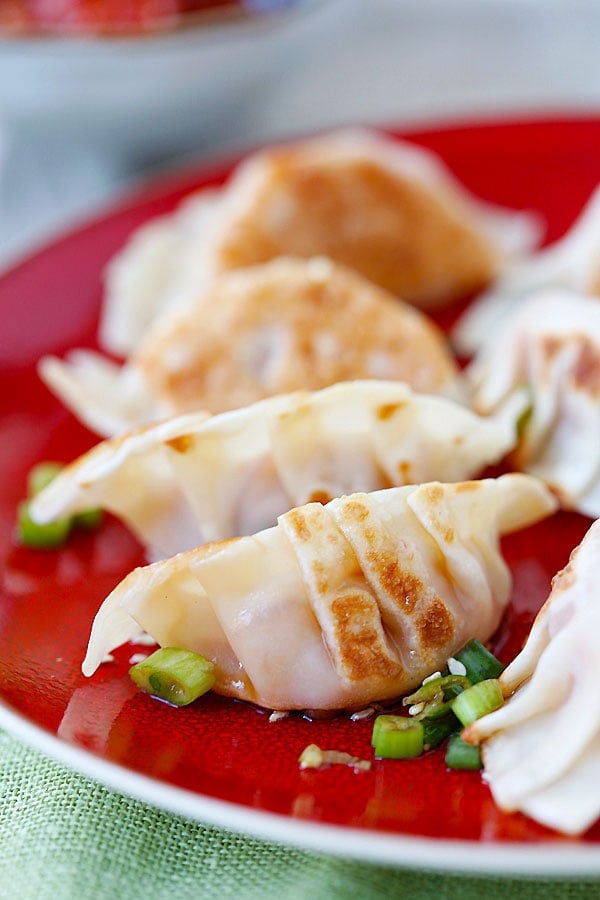 I love all sorts of dumplings: boiled, steamed, and pot stickers. Just about any dumplings would make my stomach happy.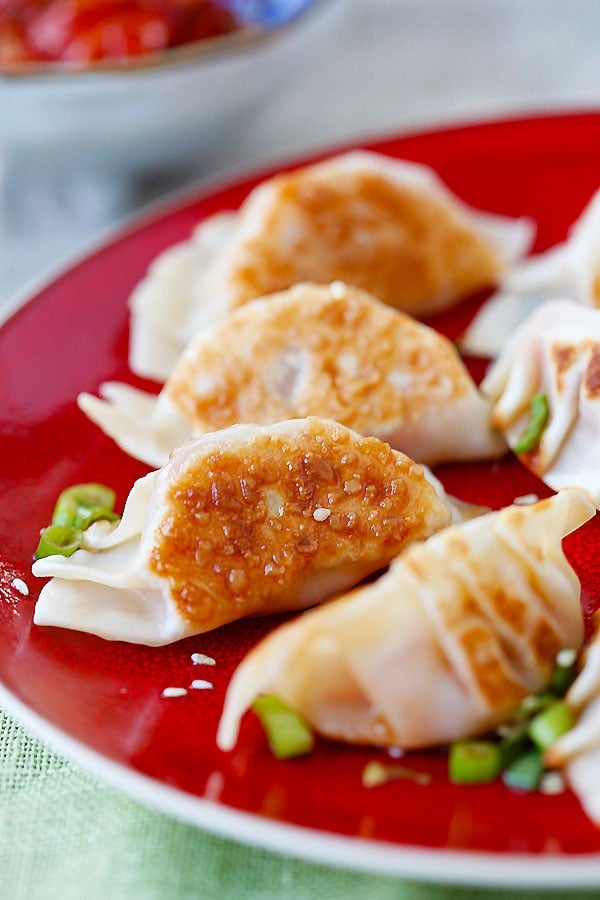 Other Recipes You Might Like
Last week, I was craving for some dumplings and decided to make some kimchi dumplings, using the leftover kimchi in my fridge.
Oh boy, what a great combination by combining the traditional filling (I used ground pork) with kimchi and Korean sweet potato noodles. The dumplings were delicious as always, but with a tint of spiciness from the kimchi…so scrumptious, addictive and I couldn't stop eating them.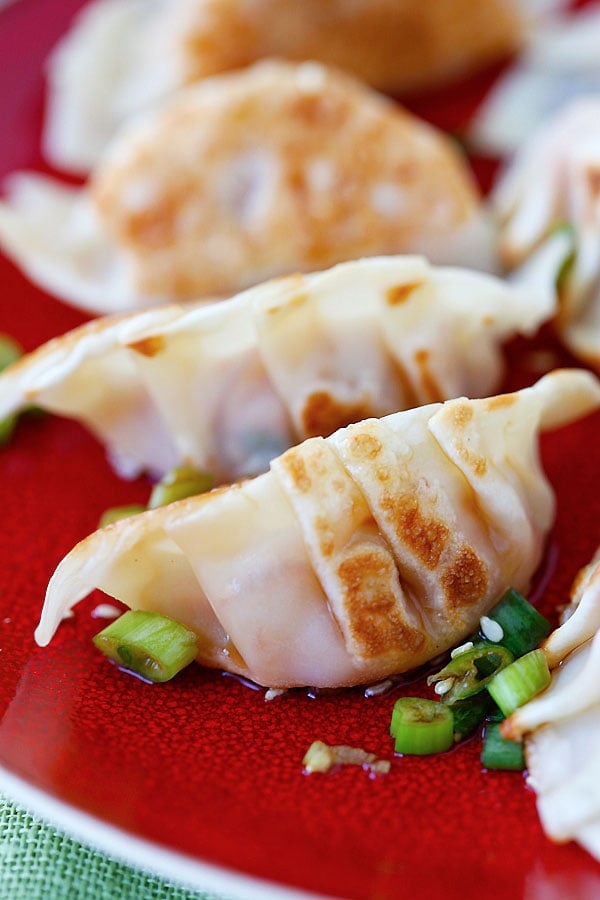 For the dumplings, I made them potstickers style. First, I make the dumplings using store-bought dumpling wrappers and then slowly fill each wrapper with the filling, then fold and pleat them into the beautiful shape you see on the pictures here.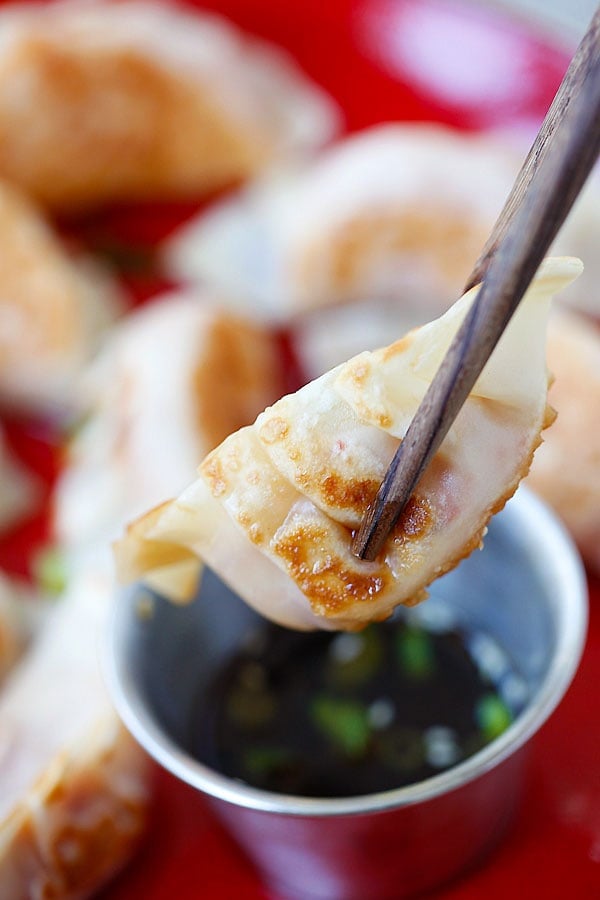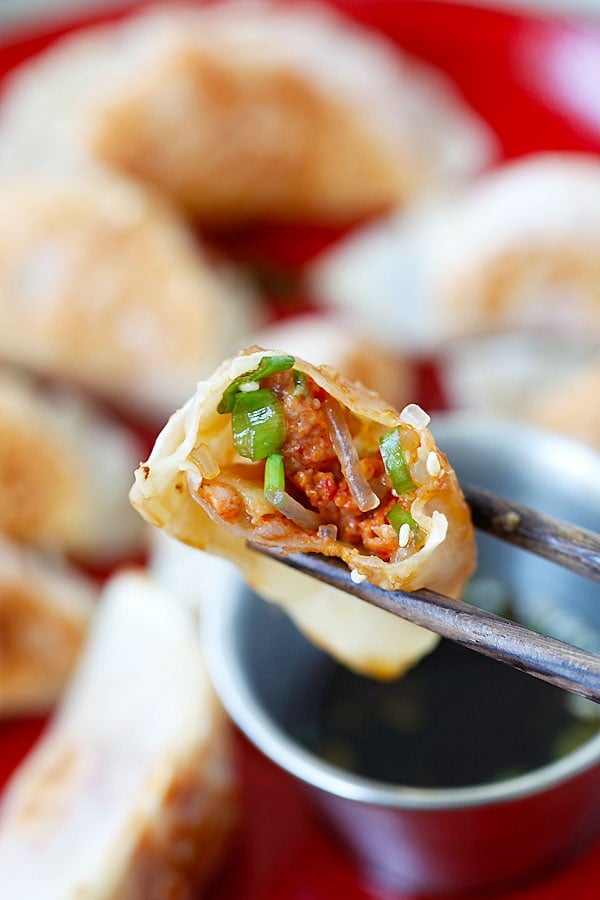 Kimchi dumplings are super delicious and the recipe is easy to follow. Add some Korean flavors into your regular dumplings and enjoy!
How Many Calories per Serving?
This recipe is only 257 calories per serving.
What Dishes to Serve with This Recipe?
For a wholesome meal and easy weeknight dinner, I recommend the following recipes.
5 Secrets to 20 Min Dinners
Get tricks for quick & easy meals!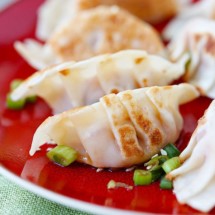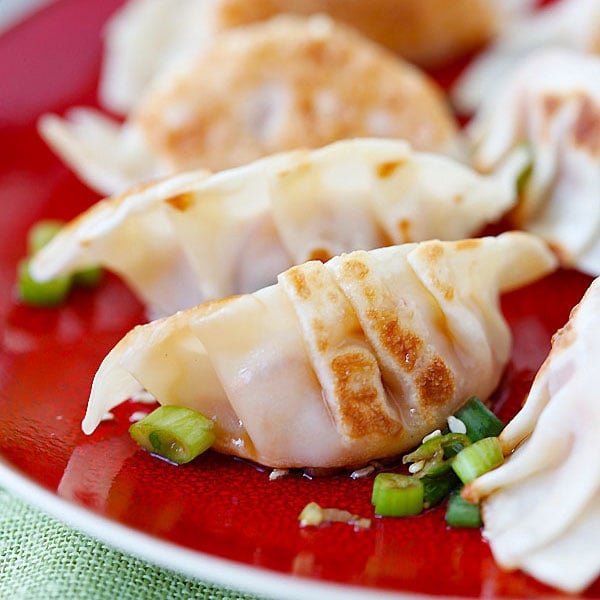 Kimchi Dumplings
Kimchi Dumplings - Spice up your dumplings by adding kimchi to make juicy, plump and delicious dumplings that you just can't stop eating!!
Ingredients
For the Filling:
1

oz.

bunch Korean dried sweet potato noodles

8

oz.

ground por

2

oz.

kimchi, squeeze and discard the excess kimchi juice and then finely sliced

1

teaspoon

grated ginger

1

tablespoon

chopped scallion

2

tablespoons

soy sauce

1

teaspoon

rice wine

1/2

teaspoon

sesame oil

3

dashes

white pepper

1

pinch

salt
Dipping Sauce:
Chinese black vinegar or Japanese ponzu for dipping

Chopped Scallion

Sesame seeds
Click Here for Conversion Tool
Directions
Cook the sweet potato noodles by following the packaging instructions. Once cooked, rinse with cold water, drained, pat dry with paper towels and roughly chopped them into short strands.

Make the Dipping Sauce by combining all ingredients together in a small dip bowl. Set aside.

Combine the chopped sweet potato noodles with the rest of the Filling ingredients. Stir to combine well until the filling becomes sticky and all mixed together.

To assemble the dumplings, place a piece of the wrapper on your palm and spoon 1/2 heaping tablespoon of the filling onto the center of the wrapper. Do not overfill. Dip your index finger into a small boil of water and moisten the outer edges of the wrapper. Fold the dumpling to form a half-moon shape and then pinch to from about 5-6 pleats.

Press and seal tightly. Arrange the wrapped dumplings on a plate lined with parchment paper to avoid the dumpling from sticking to the bottom of the plate. Repeat the steps above until the filling is used up.

Heat some oil in a small skillet or pan over low to medium heat. Arrange 8 dumplings on the skillet or pan. Pan-fry the dumplings until the bottom turns light brown, about 2 to 3 minutes. Turn over and pan-fry the other side until light brown. Cover the skillet or pan with its lid while cooking. Repeat the same until all dumplings are cooked. Serve the dumplings warm with the Dipping Sauce.
Nutrition Facts
Kimchi Dumplings
Amount Per Serving (8 people)
Calories 257
Calories from Fat 63
% Daily Value*
Fat 7g11%
Cholesterol 25mg8%
Sodium 594mg26%
Carbohydrates 36g12%
Protein 10g20%
* Percent Daily Values are based on a 2000 calorie diet.