Lemon Parmesan Tilapia with garlic, lemon juice and Parmesan cheese is one of the best tilapia recipes. It's easy, delicious and takes 20 mins to make!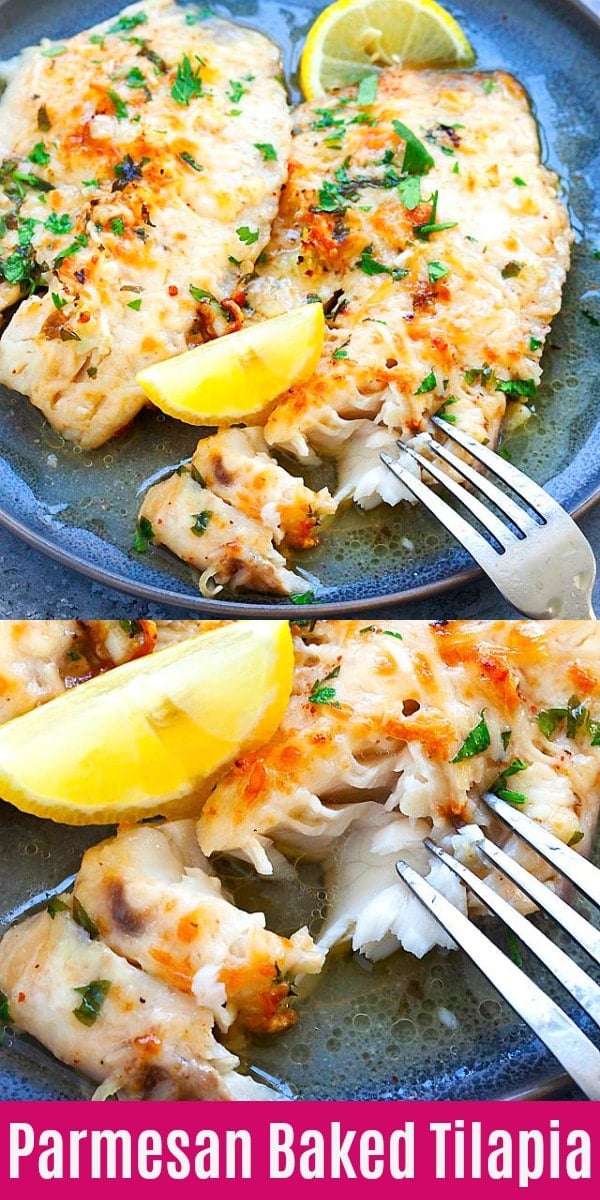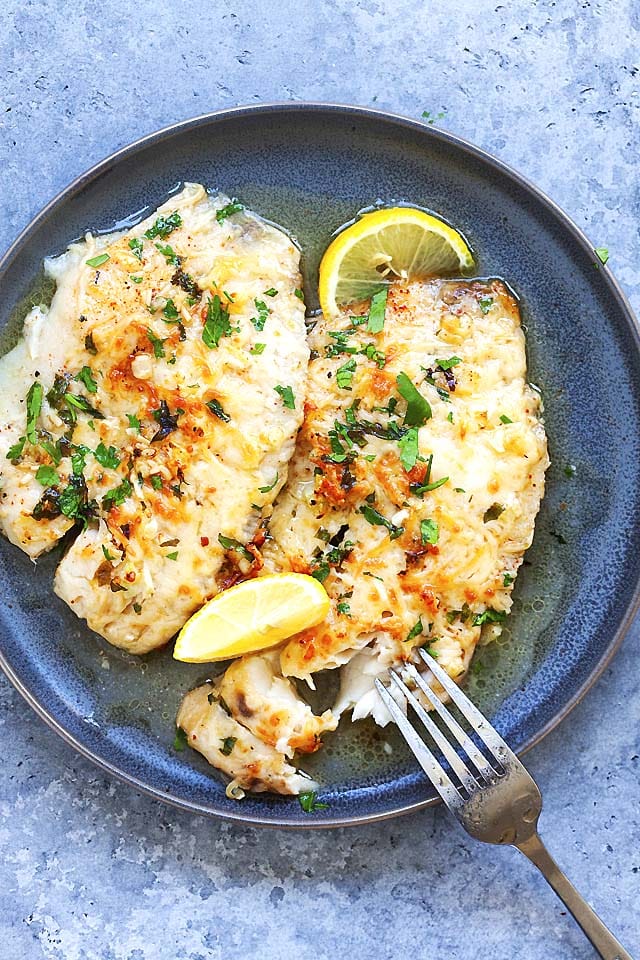 Tilapia Recipes
Tilapia is one of the most common fish found in the supermarkets. It's a real fish and not a processed fish product; it's a freshwater fish found in rivers, streams, ponds and lakes, but mostly farmed these days.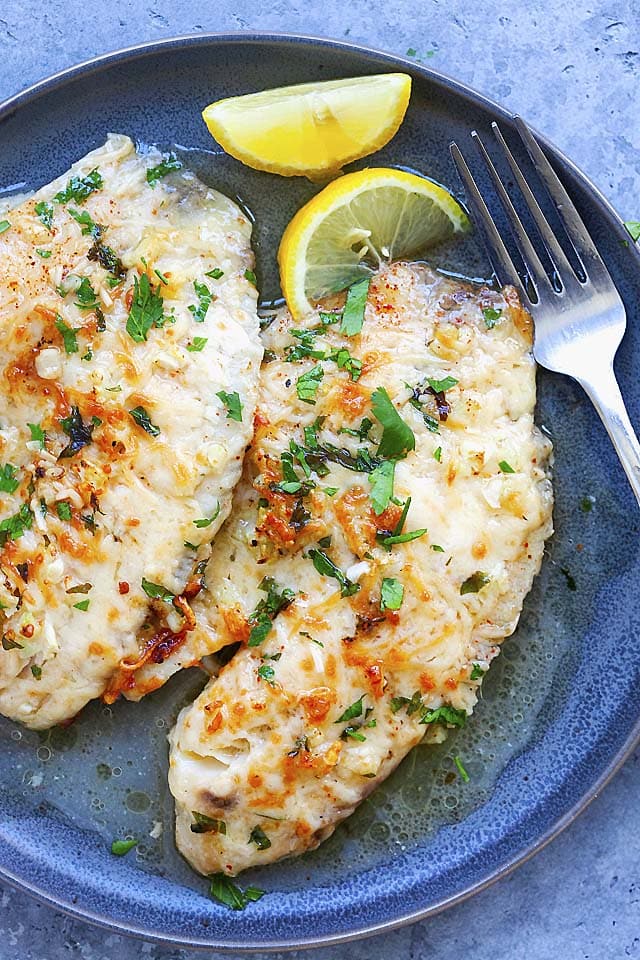 There are many easy and delicious tilapia fish recipes you can make at home, for example: oven baked tilapia.
In this recipe, I will teach you how to bake tilapia fish in an oven with lemon and Parmesan cheese. I will also teach you the tips to make the fish taste good, without the muddy and fishy taste.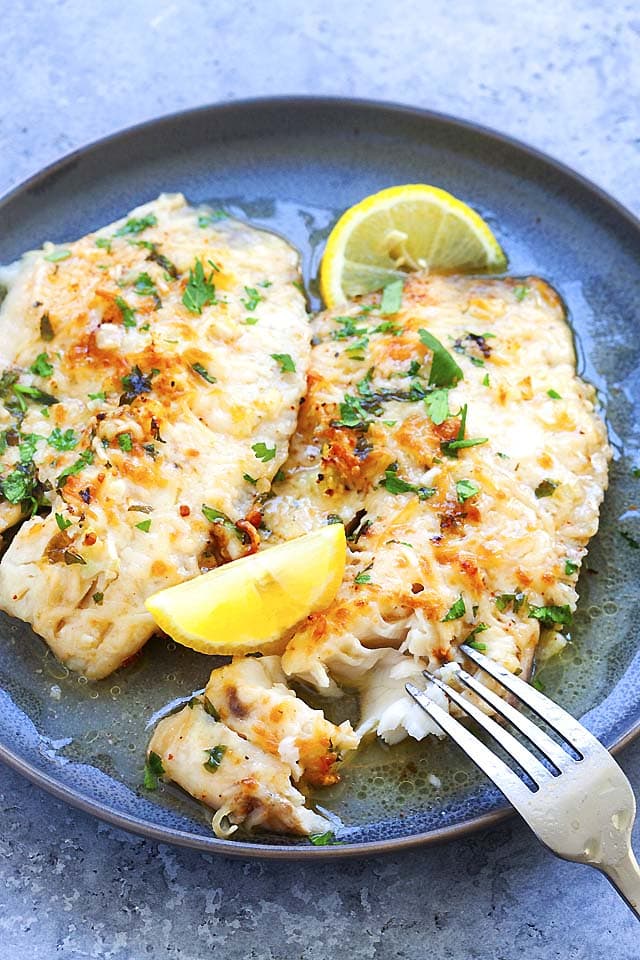 How to Cook Tilapia?
How do you cook tilapia at home? Does it taste good? These are probably the most commonly asked questions about cooking the fish.
Tilapia is light and mild tasting, so you want to use ingredients that enhance the flavor and camouflage the potential "muddy" taste. Oven baking is the preferred method to cook tilapia.
Use lemon juice as it gets rid of any potential "fishy" or "muddy" smell.
Garlic is another ingredient that would remove any potential smell in the fish.
Use olive oil to keep the fish moist and tender.
Generous use of salt and ground black pepper to add flavors.
Cayenne pepper makes the fish mildly spicy and hence add flavors to the fish.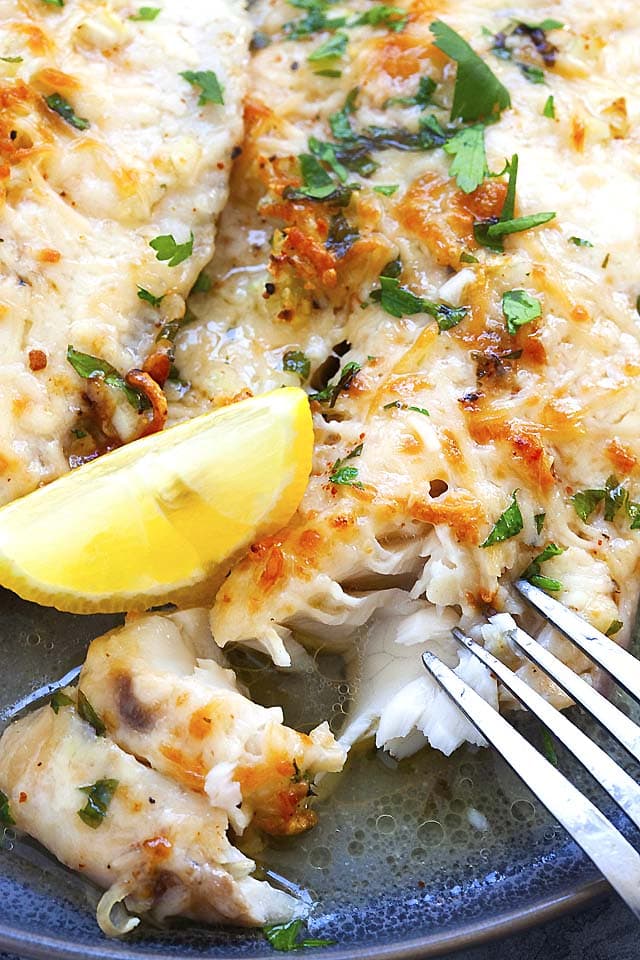 Frequently Asked Questions
Is It Healthy?
We all know that the oceans are over-fished, making farm raised tilapia a healthy alternative to its deep-sea counterparts.
It's packed with protein, non-fatty and low in calories. When cooked properly, tilapia fish is flaky, mild tasting and light.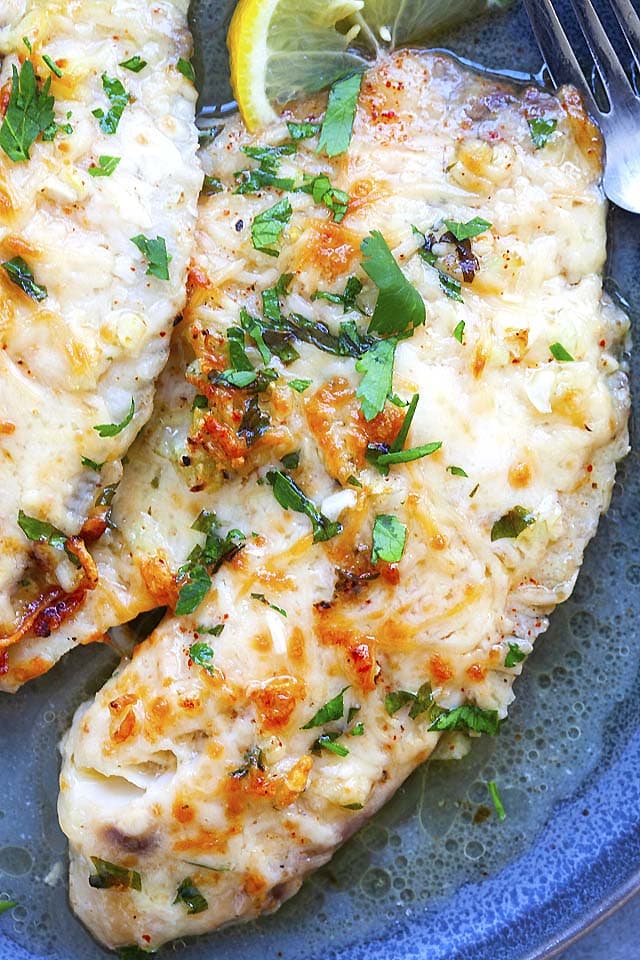 How to Pick Good Tilapia?
If you have a fresh seafood market, you should definitely buy live ones. The fish monger will clean and cut it into fillets for you. Fresh tilapia has a sweet and fresh taste, without any fishy or foul smell.
If you don't have live fish options, you can pick a good one by looking at the appearance of the fillet. It should be firm, with a somewhat translucent flesh but not sticky or slimy to the touch. The fillets should also be free of white or color spots.
For frozen tilapia, I recommend the ones imported from Indonesia or Mexico. Stay away from those farmed in China.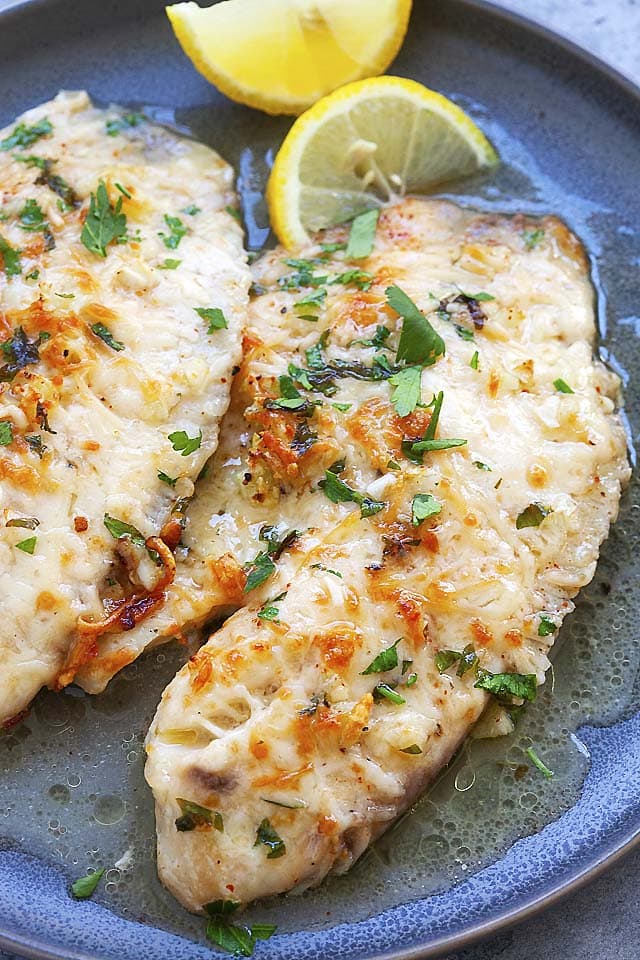 How Many Calories Per Serving?
This tilapia recipe is 285 calories per serving, with only 13 g of fat.
What Dishes to Serve with this Recipe?
This meal is best served with side dishes. For a wholesome meal and easy weeknight dinner, I recommend the following recipes.
This Recipe Goes Well with:
Other Recipes You Might Like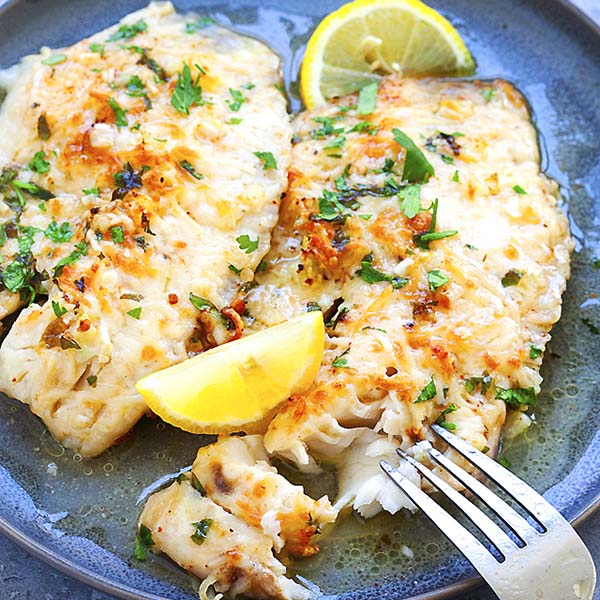 Lemon Parmesan Tilapia Recipe
Lemon Parmesan Tilapia with garlic, lemon juice and crusty Parmesan cheese is an easy tilapia recipe that takes only 20 mins to make. It's moist, light and delicious!
Ingredients
1 1/2

lbs.

tilapia fillet or cod, sole, halibut, etc.

(4 fillets)

2

tablespoons

olive oil

2

cloves

garlic, minced

1/4

teaspoon

salt

ground black pepper

3

dashes

cayenne pepper

1 1/2

tablespoons

freshly squeezed lemon juice

1/2

cup

shredded Parmesan cheese

1

tablespoon

chopped parsley

lemon wedges, for serving
Instructions
Rinse the tilapia fish fillets with cold running water. Pad dry with paper towels. Arrange them in a single layer in a baking dish. Add the olive oil, garlic, salt, black pepper, cayenne pepper and lemon juice.

Sprinkle the Parmesan cheese evenly on top of the tilapia. Top with chopped parsley.

Baked the fish in the oven for about 10 minutes, or until the fish is cooked through. Serve immediately with fresh lemon wedges.
Recipe Notes
You can use other white fish to make this recipe: cod, sole, swai, halibut, pollock, etc.
Nutrition Facts
Lemon Parmesan Tilapia Recipe
Amount Per Serving (4 people)
Calories 285
Calories from Fat 117
% Daily Value*
Total Fat 13g 20%
Cholesterol 96mg 32%
Sodium 426mg 18%
Potassium 544mg 16%
Total Carbohydrates 1g 0%
Protein 39g 78%
* Percent Daily Values are based on a 2000 calorie diet.
If you try my recipe, please use hashtag #rasamalaysia on social media so I can see your creations! Follow me on Facebook | Instagram | Pinterest | Twitter for new recipes, giveaways and more.