Chicken Lo Mein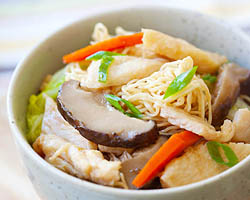 http://rasamalaysia.com/chicken-lo-mein/
Traditionally, Lo Mein is a popular noodle style in Hong Kong where noodles are boiled, drained and then stirred in with clear broth or on the side or with a house special soy sauce. The 'stirred noodles' are served with vegetables, wontons, and meats such as BBQ pork, Cantonese beef stew, etc. However, the popular chinese take-out Lo Mein here in America is a whole other version. American-chinese Lo Mein is prepared with boiled noodles, and then stir-fried with vegetables, meat, etc. in a house special sauce, and MSG laden.
A personal house special Lo Mein can be as easy and flexible as you want it to be. Simply put, use fresh noodles, or spaghetti, your choice of protein, or seafood and vegetables, a light sauce, smoky hot wok, and there you go – a healthy yet delicious home-cooked Lo Mein. My favorite Lo Mein dish has always been Chicken Lo Mein. Noodles tossed in light sauce, and then cooked with chicken broth. For added flavor, mix in some chinese mushroom and some seasonal vegetables.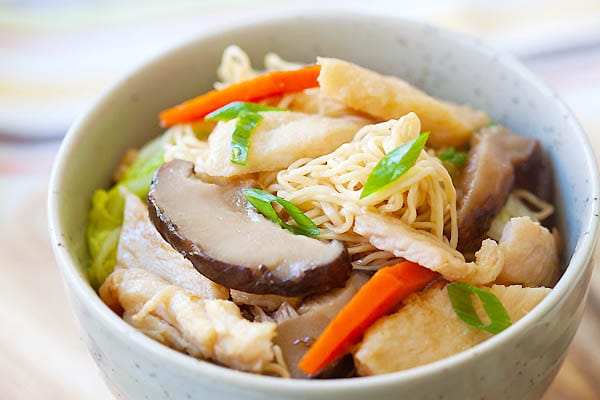 Chicken Lo Mein is one of the most popular take-out items you can find on the menu of Chinese restaurants worldwide. But of course if you are not in that much of a rush to get your noodle fix, you will find that it is such a simple dish to prepare at home and such a joy to customize it to your own liking.
Click Images Below for Similar Recipes:
LOVE THE RECIPE & PHOTOS? PLEASE SHARE:
Sign Up for Email Updates
Enter your email for new updates: recipes, giveaways, and more!