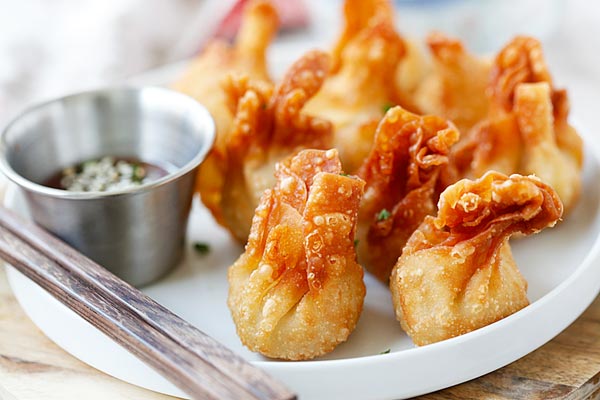 Chicken Wontons Recipe Recipe
Chicken wontons – easiest and the best fried chicken wontons ever! Takes 20 mins to make including wrapping. Super crispy & yummy.
Makes 12 | Prep Time: | Cook Time: | Total Time:
Ingredients:
1/2 lb ground chicken
1/4 lb shrimp, chopped into small pieces
1 stalk scallion, cut into rings
1/2 teaspoon cornstarch
1/4 teaspoon salt
1 dash fish sauce, optional
1/2 teaspoon sesame oil
3 dashes ground white pepper
12 pieces wonton wrappers
Water, for sealing
Oil, for deep frying
Dipping Sauce:
3 tablespoons Thai sweet chili sauce
2 teaspoons lime juice
1 tablespoon chopped cilantro leaves
Pinch of white sesame seeds
Method:
In a bowl, mix the ground chicken, shrimp, scallion and cornstarch until well combined. Add the salt, fish sauce, sesame oil and white pepper. Stir to mix well. Set aside.
Wrap the wontons with the wonton wrappers by placing a piece of the wonton wrapper on your palm. Add 1/2 tablespoon of the filling in the middle of the wrapper. Dip your index finger into some water and trace it on the outer edges of the wonton wrapper. Fold and pinch the edges of the wonton wrapper up and seal the wonton tight so there is no opening at the top and the wonton is securely enclosed.
Heat up some cooking oil in a wok or frying pan and deep fry the wontons until golden brown. Serve hot with sweet chili sauce or eat plain.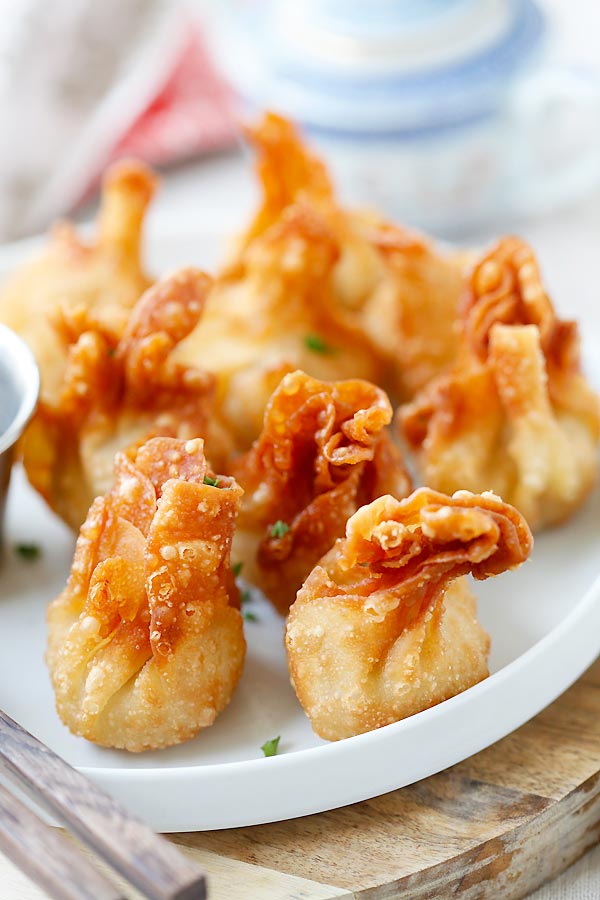 Chicken Wontons
Chicken wontons – easiest and the best fried chicken wontons ever! Takes 20 mins to make including wrapping. Super crispy and yummy, get the easy recipe.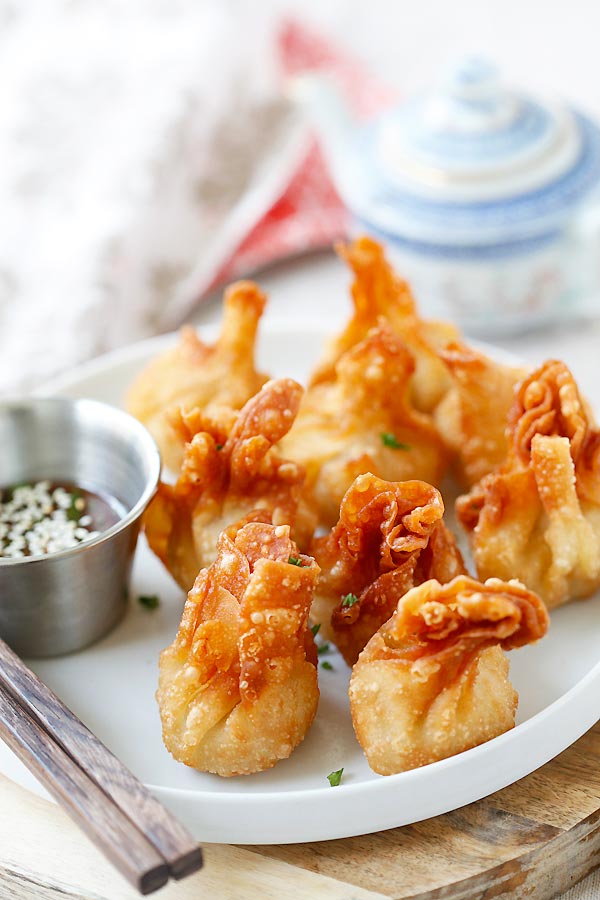 This year, Lunar New Year falls on Feb 19, six weeks away from now. I can't wait to start baking some of my favorite Lunar New Year goodies. I am also looking forward to eating some seriously good Chinese food: jiaozi, dumplings, potstickers, and so much more. Chinese New Year (check out all my Chinese New Year recipes) is my favorite time of the year!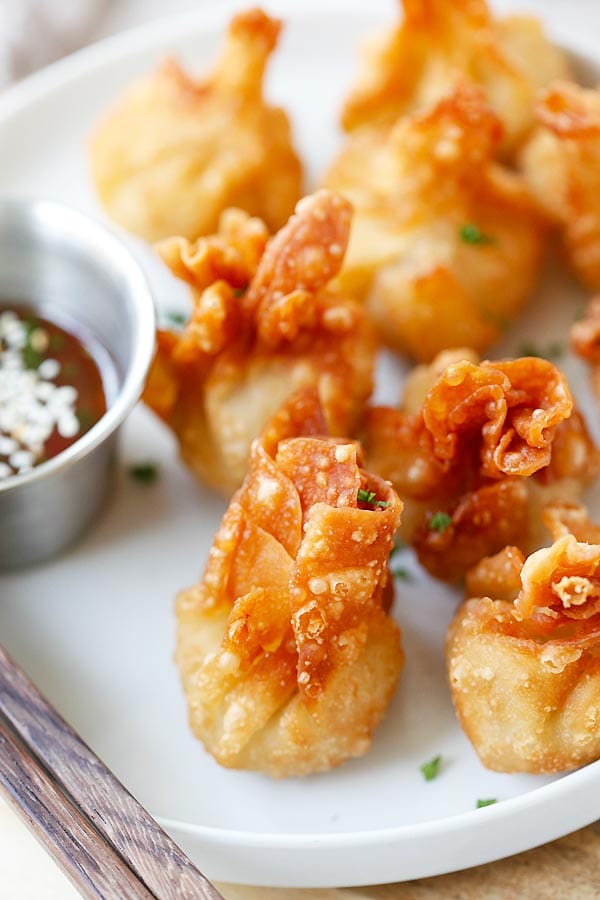 I will be sharing some amazing Lunar New Year recipes with you in the next few weeks. Let's start with chicken wontons. Wontons are little morsels of ground meat wrapped in a wheat-based wrapper. They are always dainty, appetizing, and the most amazing food ever! Wontons can be made into wonton soup, steamed shrimp wonton, Sichuan spicy red oil wonton, or fried wonton. There are also endless possibilities with the filling—ground pork (most common), chicken, turkey, vegetables, shrimp, seafood, or combinations.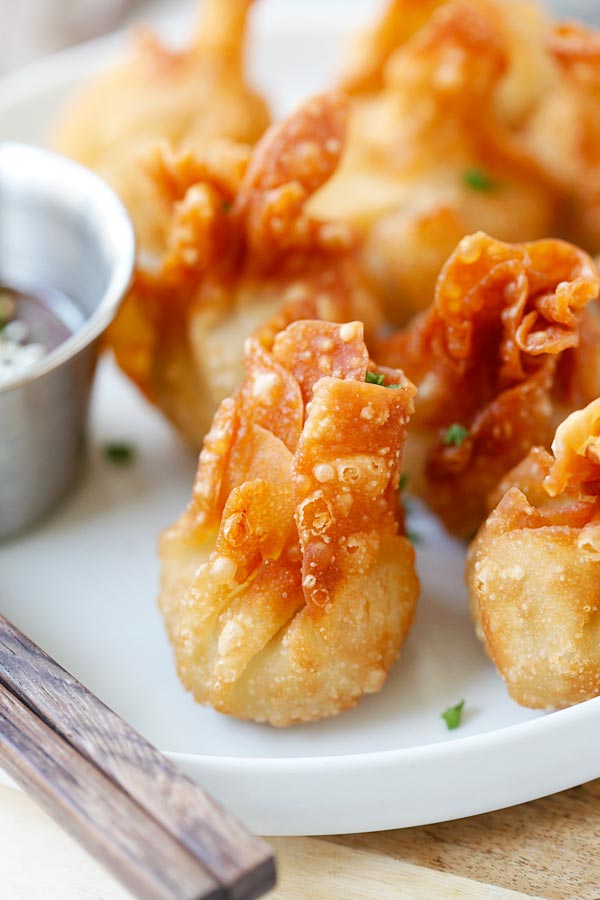 These chicken wontons are filled with ground chicken, shrimp, and then deep-fried to golden perfection. Every bite is bursting with flavors. They can be eaten alone or with some dipping sauce. For this recipe, I serve it with Thai sweet chili sauce, which is perfect for the chicken wontons. Once you eat one, you just can't stop until you finish everything so double up your portion and make a big batch because they will be gone in no time!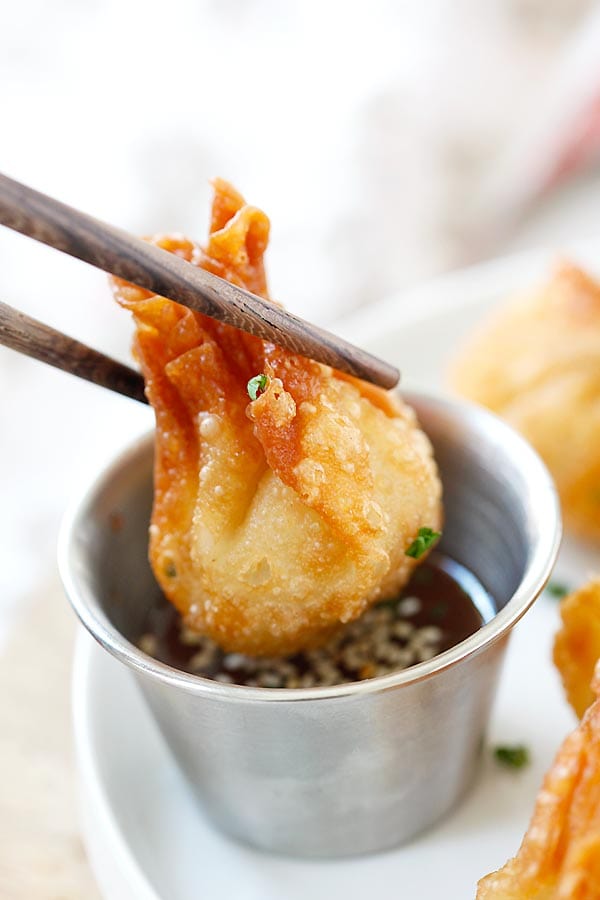 Many people don't like deep-frying but there is no way to have great wontons if you don't deep-fry. This chicken wontons recipe is seriously good and so easy and quick to make, a total of 20 minutes including wrapping the wontons. So, fire up your wok, pan, or deep-fryer because everyone is going to love these chicken wontons so much.
Enjoy!
Rate This

Recipe Name

Preparation Time

Cook Time

Total Time

Average Rating


Based on 3 Review(s)