Fried Wontons Recipe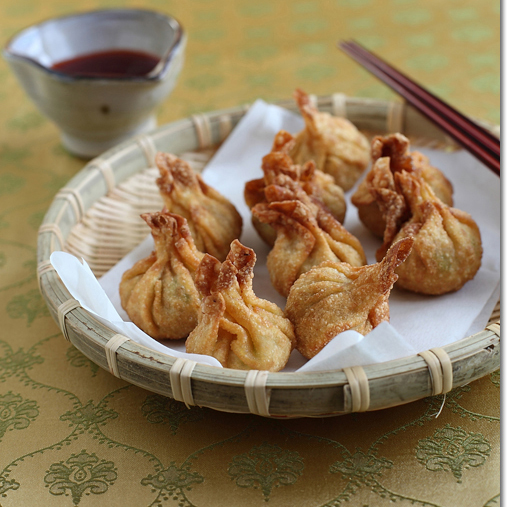 http://rasamalaysia.com/chinese-recipe-fried-wontons/
(Chinese recipes, prepare authentic Chinese food now!)
Fried wontons are especially popular in the Chinese restaurants here in the United States. Fried wontons are commonly served as an appetizer and comes with a pinkish-red sweet and sour dipping sauce. Everyone loves fried wontons…they are crispy and filled with savory meat or meat and seafood filling, and the sweet and sour sauce makes them even more appetizing. Wontons come in small parcels and are available in many forms: deep-fried, boiled, steamed, or in soup.
Whenever I have a craving for something light, appetizing, yet not overly complicated to make, I would make fried wontons. They are so pretty and delicious, and it takes less than 30 minutes to make them!
For this fried wontons recipe, I used some shrimp and mixed them with ground pork. I also added some water chestnuts to give the fried wontons that extra crunchiness and interesting texture. You can be totally flexible with the fillings and use chicken or turkey instead of pork. You can add some shrimp, scallop, or even crab to the filling or just plain with meat. Fried wontons always come out delicious regardless of the protein used.
Here is my easy fried wontons recipe that you can make at home. Enjoy!
Sign Up for Email Updates
Enter your email for new updates: recipes, giveaways, and more!