Coconut Shrimp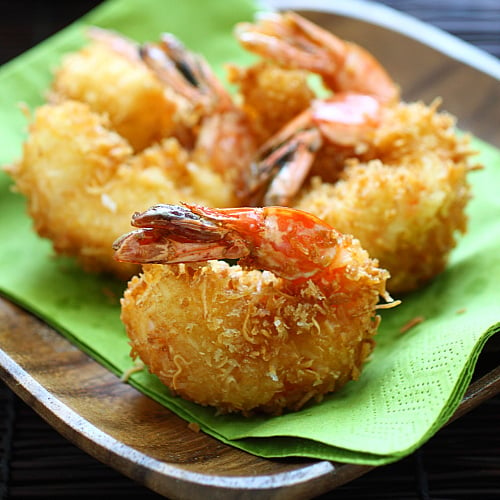 http://rasamalaysia.com/coconut-shrimp/
Recently, there is a new takeout place near my neighborhood that sells all sorts of popular items—Korean BBQ ribs, japchae, chicken karaage, tonkatsu, coconut shrimp, etc. I have fallen in love with its coconut shrimp and have been packing them for lunch, at least twice a week. The coconut shrimp is unlike others that I have tried before—the shrimp has a juicy sweet taste that bursts in my mouth and the coating is crispy, airy, without being greasy…
While I love going there for my coconut shrimp fix, it's quite expensive as the $12 lunch box gets me only 4 shrimp. So, I decided to just make my own. I used Tiger shrimp, which is ideal for coconut shrimp because of the texture, but I find the frozen Tiger shrimp in the US pretty tasteless. To sweeten up my coconut shrimp, I added some sugar into the beaten egg, which is for the dipping of the coconut shrimp before coating with the panko and coconut flakes. To make the coconut shrimp extra crispy, I dipped the shrimp into the beaten egg and the coating twice. The end result is an amazing serving of coconut shrimp—plump, juicy, crispy, with a tint of sweetness. I made spicy tartar sauce as the dipping sauce.
I asked my nanny to taste the goods, and she said that it's the BEST that she has ever tasted. She immediately asked for my coconut shrimp recipe. Try it yourself, coconut shrimp makes a great party food that is sure to please.
You Might Also Like These Recipes Below:
LOVE THE RECIPE & PHOTOS? PLEASE SHARE:
Sign Up for Email Updates
Enter your email for new updates: recipes, giveaways, and more!