Ginger and Scallion Beef (姜葱牛肉)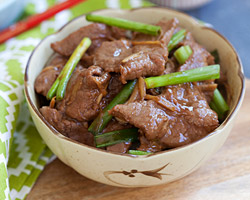 http://rasamalaysia.com/ginger-and-scallion-beef/
Ginger and Scallion Beef (姜葱牛肉)
A fellow Malaysian at Ohio Wagyu sent me some of his farm-raised wagyu beef. He flew the beef overnight to me, and when I received them, they were still ice cold and frozen. My favorite of all was the flank steak, which I used to make the ponzu and miso butter steak, and the leftover, I made them into Chinese ginger and scallion beef.
Ginger and scallion stir-fry is one of the very first Chinese recipes I learned when I first started cooking (you can read how I learn Chinese cooking and my journey to be a great cook in my cookbook introduction chapter). The combination of fresh ginger, scallion, a protein of your choice, with a light oyster-based sauce and a dose of wok hei (breath of wok) is always so inviting and delicious. The thought of a hot-off-the-wok ginger and scallion stir-fry always get me ravenously hungry.
Please find my simple and easy ginger and scallion beef recipe after the jump. Enjoy!
Click Images Below for Similar Recipes:
LOVE THE RECIPE & PHOTOS? PLEASE SHARE:
Sign Up for Email Updates
Enter your email for new updates: recipes, giveaways, and more!