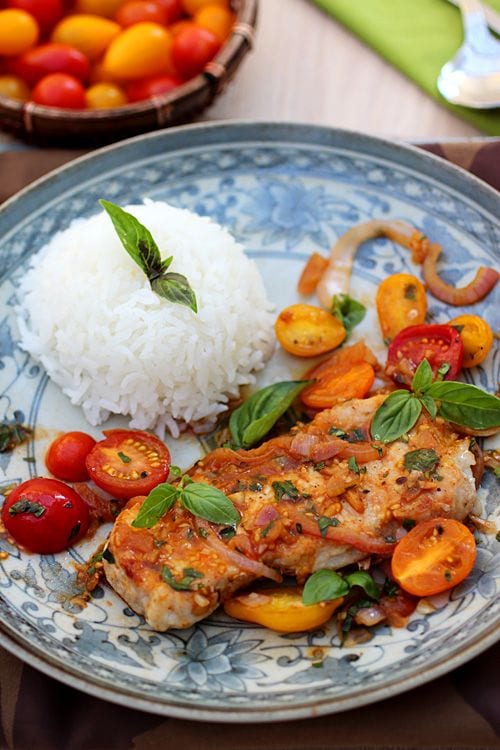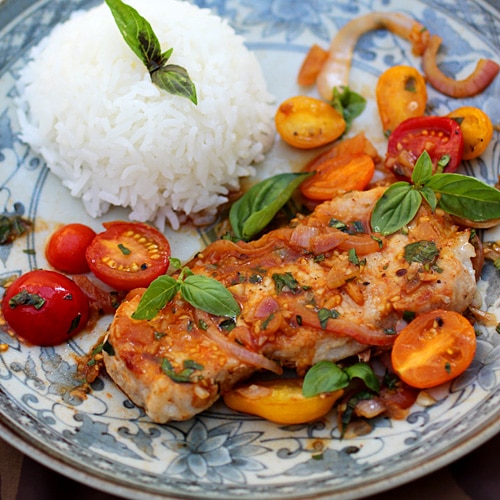 Sauté Pork with Tomatoes
Sauté Pork with Tomatoes – The pork chop is sweet and sour in taste, and great especially served with rice. Enjoy!
Prep time:
Cook time:
Total Time:
Ingredients:
4 teaspoons cooking oil
4 boneless center-cut pork loin about 1/2 inch thick
1/2 teaspoon salt
1/2 teaspoon freshly ground black pepper
1/2 cup thinly sliced shallots
1 tablespoon minced garlic
2 tablespoons Chinkiang vinegar (black vinegar)
2 cups red and yellow grape tomatoes, halved
1/8 teaspoon sugar
3 tablespoons chopped basil
Method:
Sprinkle the pork chops evenly with 1/4 teaspoon salt and 1/4 teaspoon ground black pepper.
Heat up a large non-stick wok or skillet. Add in 1 teaspoon oil, coat well. Cook the pork chops until desired tenderness.
Transfer the pork chops to serving plates. Add in the remaining oil. While the oil is heating, combine and toss the tomatoes with the remaining salt, ground pepper and sugar in a bowl. Set aside.
When oil is ready, add the sliced shallots and minced garlic and cook until aromatic. Next, add in vinegar and stir well. Gently add the tomatoes into the wok and stir to combine. Cook until the tomatoes are soft, approximately 2-3 minutes.
Turn off the heat, add in 2 tablespoons chopped basil and stir well. Divide the tomato mixture equally among the pork chops and garnish with the remaining basil. Serve with warm steamed rice.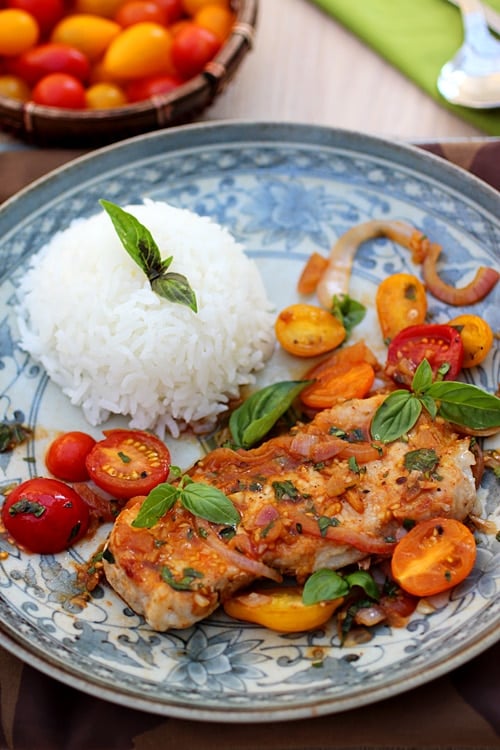 It's been scorching hot lately, I'm not sure if it's global warming, but seriously, I think this is probably the hottest summer ever in Southern California.
Anyway, last month, I made the Spicy Basil Beef Salad from the Cooking Light magazine and there is another recipe that I earmarked: Sauté Pork with Tomatoes. I hardly ever make pork chops at home, and thought the recipe looks very delicious, colorful, and easy to prepare.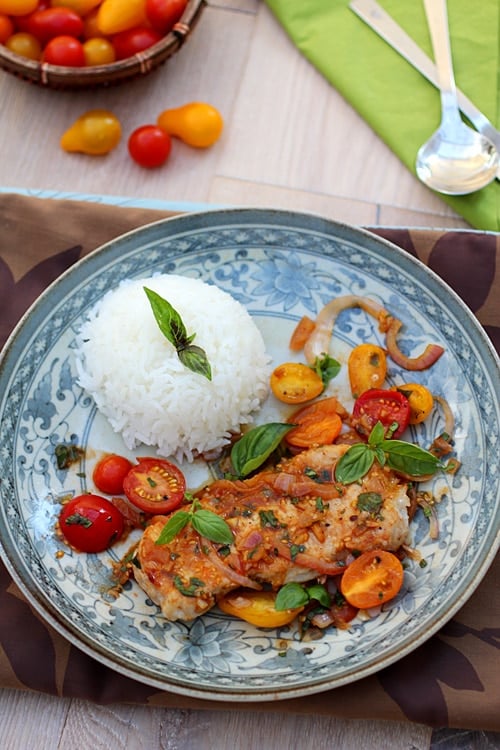 So I got myself some pork chops, some grape tomatoes, and made everything on my skillet. It took only 15 minutes to make. As it's so hot lately, I like to prepare quick dinners so I don't get stuck in the kitchen for too long.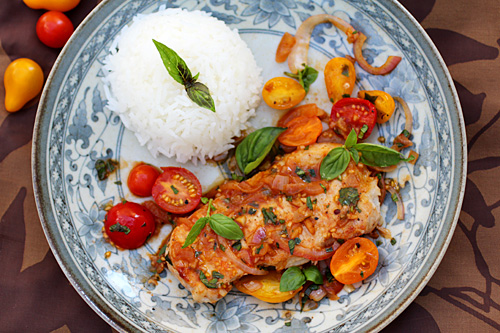 I invited a couple of friends over for dinner, having great conversations, eating this delicious pork chops, drink some wine, and have the AC on full blast. The pork chop is sweet and sour in taste, and great especially served with rice. Enjoy!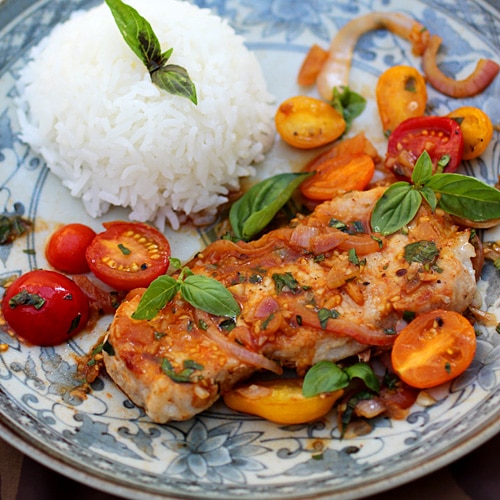 Rate This
Recipe Name
Preparation Time
Cook Time
Total Time
Average Rating

Based on 1 Review(s)