Shrimp Wontons Recipe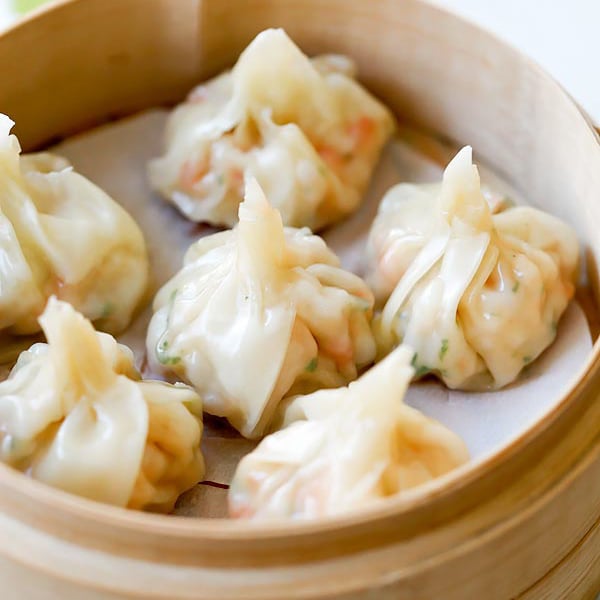 http://rasamalaysia.com/shrimp-wontons/
And while I am at this, I would like to warn you of lighter posts in the coming two weeks as I am just going to take things slow during this festive season (and you should, too!).
Shrimp Wontons Recipe
Ingredients:
3/4 lb shrimp (shelled and deveined)
1 teaspoon salt
1 teaspoon oil
1 teaspoon peeled, grated fresh ginger
1 teaspoon sugar
1 tablespoon Chinese rice wine
1 teaspoon sesame oil
2 teaspoons corn starch
3 sprigs coriander (leaves only, minced)
2 water chestnuts, peeled and finely chopped
White pepper powder to taste
1/2 beaten egg (for sealing wontons)
Method:
Coarsely chop shrimp into pieces (not too small) and mix well with the above seasonings. Set aside. Fill each wonton skin with 1 heaping teaspoon of filling and seal the wonton skin with the beaten egg.
Boil the wontons in boiling water for a couple of minutes or until they start floating. Serve hot with ginger vinegar dipping sauce and/or garlic chili sauce.
Ginger Vinegar Dipping Sauce Recipe
Ingredients:
2 teaspoons peeled, grated fresh ginger
2 tablespoons of soy sauce
2 tablespoons of dark vinegar
1 tablespoon of chopped scallion

Method:
Mix the above ingredients and set aside.
Garlic Chili Sauec Recipe
Ingredients:
4 garlic cloves
8 dry red chilies (minced)
2 teaspoons of grated fresh ginger
Salt to taste
Method:
Blend the above ingredients and stir fry them with oil until fragrant. Set aside.
Click Images Below for Similar Recipes:
LOVE THE RECIPE & PHOTOS? PLEASE SHARE:
Sign Up for Email Updates
Enter your email for new updates: recipes, giveaways, and more!