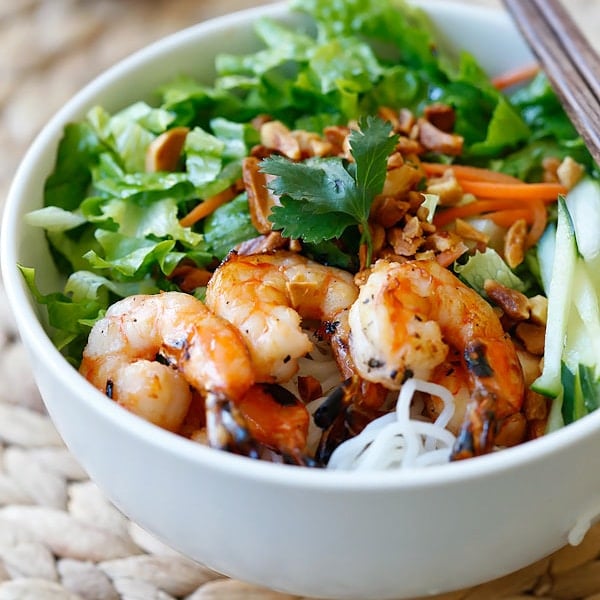 Vietnamese BBQ Shrimp Vermicelli
Vietnamese BBQ Shrimp Vermicelli or Bun Tom Heo Nuong is a delicious and healthy noodle dish with shrimp and lots of vegetables, served with a sauce | rasamalaysia.com
Ingredients:
8 oz rice sticks
12 medium-sized shrimp, shelled (but leave tail intact) and deveined
3 lettuce leaves, thinly cut
1/2 small cucumber, cut into thin strips
1 cup fresh bean sprouts
1/2 small carrot, peeled and cut into thin strips
Some cilantro leaves, coarsely chopped
Some mint leaves, coarsely chopped
Some perilla leaves, coarsely chopped (optional)
Some Thai basil leaves, coarsely chopped (optional)
3 tablespoons roasted peanuts, coarsely ground
BBQ Shrimp Marinade:
1 teaspoon fish sauce
3 heavy dashes black pepper powder
A pinch of turmeric powder
Nuoc Cham (Fish Sauce or Vietnamese Dipping Sauce) Recipe:
1/4 cup fish sauce
1/2 cup warm water
1/4 cup sugar + 1 tablespoon sugar (if you like it sweeter)
3 tablespoon lime juice
Method:
Cook the rice sticks according to the package instructions. Rinse with cold water thoroughly after cooking, drain in a colander and set aside.
Marinate the shrimp with all the ingredients in the BBQ Shrimp Marinade for 30 minutes. Prepare and cut all the vegetables and herbs.
Fire up your BBQ pit and grill the shrimp until they are properly cooked. Divide the rice sticks, vegetables and herbs into 3 portions and transfer them into 3 bowls. (The rice sticks should sit on top of the vegetables and herbs). Transfer 4 shrimps into each serving, sprinkle some ground peanuts, and pour some nuoc cham (fish sauce) into the noodles. Serve immediately.
Add fish sauce, water, sugar and lime juice in a small bowl and mix well. Make sure the sugar is completely dissolved.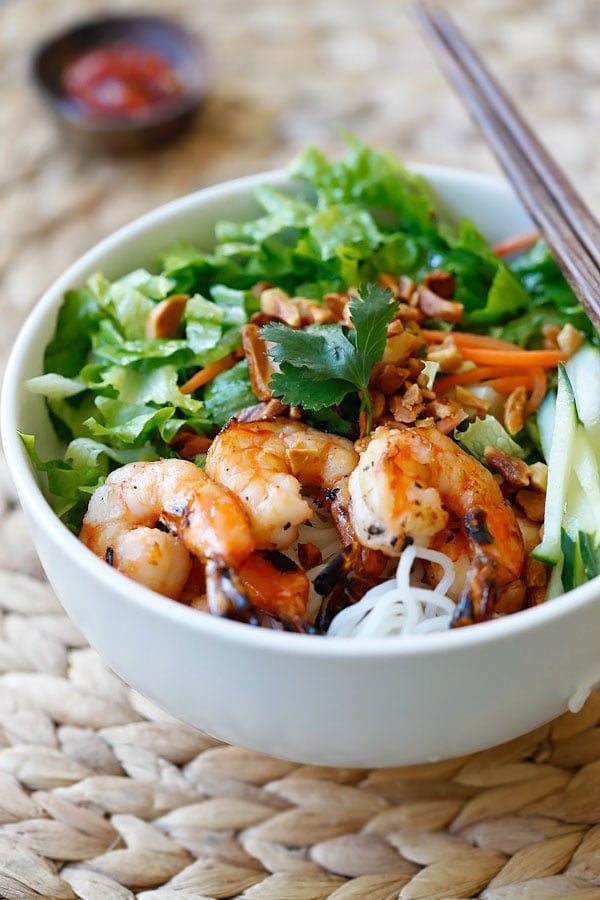 Vietnamese BBQ Shrimp Vermicelli
Vietnamese BBQ Shrimp Vermicelli or Bun Tom Heo Nuong is a delicious and healthy noodle dish with shrimp and lots of vegetables, served with a sauce.
Originally published in July 17, 2010. Updated with new photos.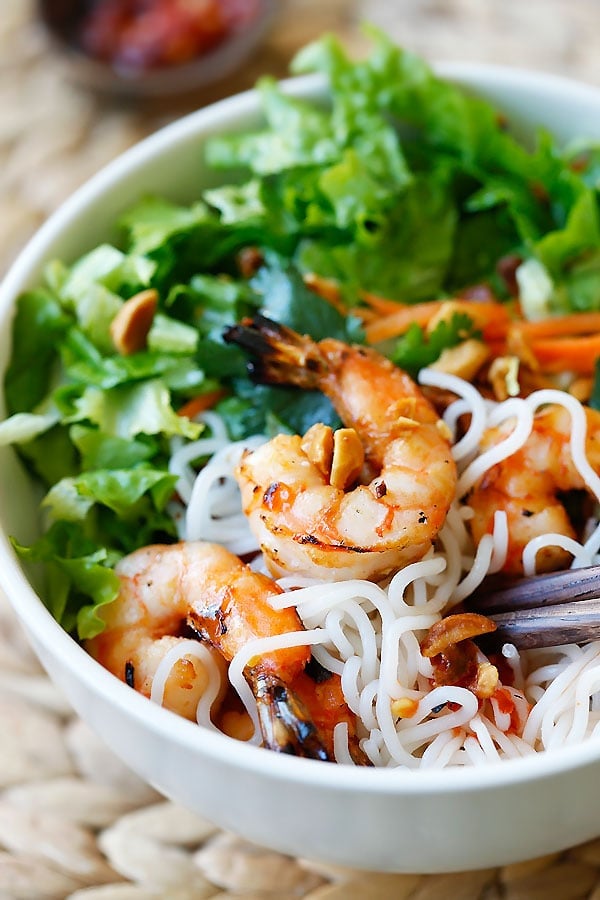 Vietnamese BBQ  Shrimp Vermicelli or Bun Tom Heo Nuong is one of my favorite Vietnamese bun dishes. If you have tried Vietnamese food, I am sure you are familiar with bun, or dry rice vermicelli in nuoc cham (fish sauce) and topped with either grilled pork (thit), BBQ shrimp, sugarcane shrimp (chao tom), cha gio, tau hu ky, or a combination of them. I love Vietnamese bun because it's not only tasty, but very healthy as it's not greasy and comes with all sorts of vegetables and herbs. Every bite is refreshing and appetizing; a noodle dish that is both filling and satisfying.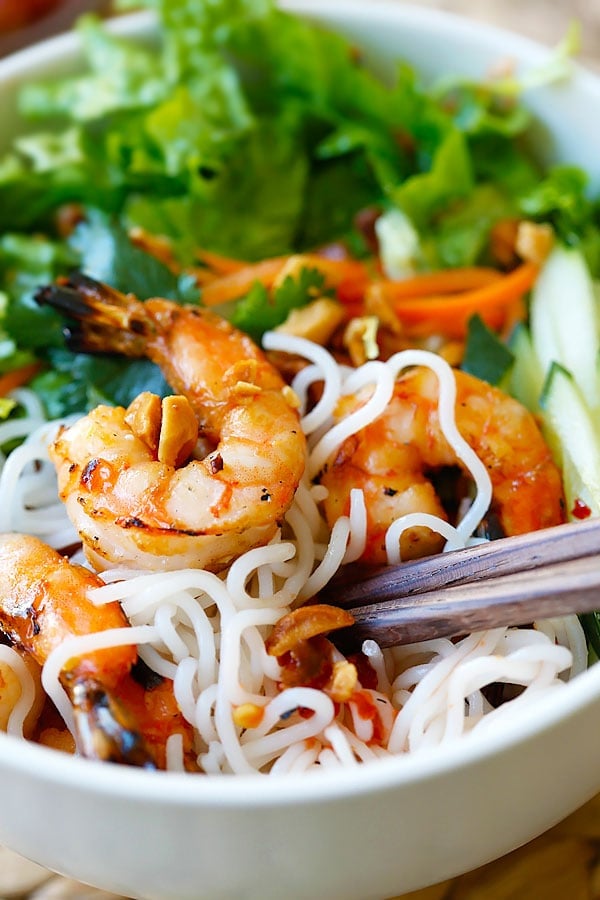 Summer is in high gear now so I made some BBQ shrimp and turn them into this BBQ shrimp vermicelli. It's really quite easy to make. All you have to do is gather your fresh vegetables: cabbage, carrots, bean sprouts, cilantro, and mint leaves. (You can also add herbs such as perilla and Asian basil leaves, if you like.) For the rice vermicelli, you can get them dry at Asian markets. Please take note you will need rice sticks, which are slightly "fatter" than rice vermicelli. The packaging has Vietnamese and it will say "Bun" and the English label is "Rice Sticks." For the fish sauce or nuoc cham, I have a great recipe that goes well with the vermicelli, as well as other Vietnamese recipes on this site.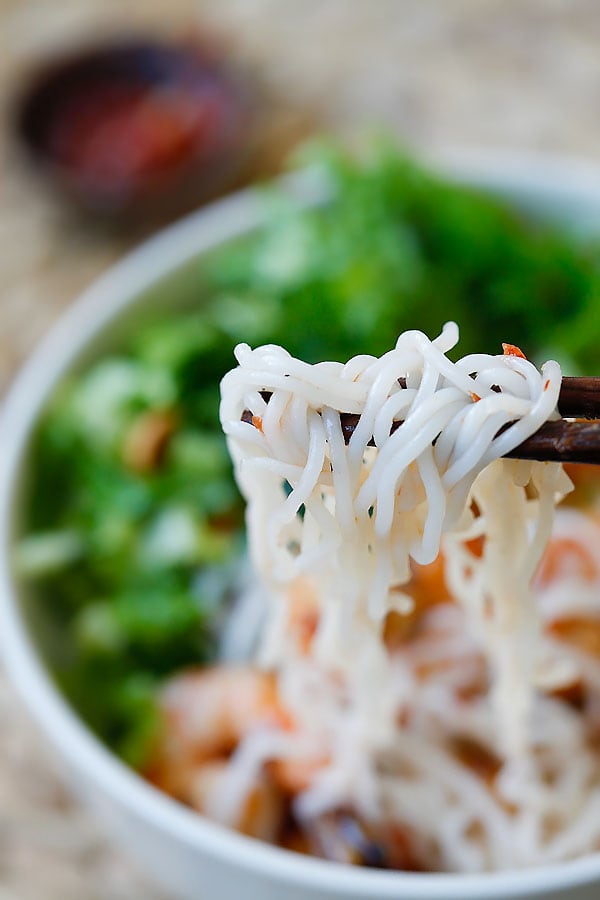 If you love Asian noodles, this is a great dish to try. As I mentioned above, you can have a few toppings if you want—shrimp, pork, cha gio, tau hu ky, etc. Regardless of your choice, it's absolutely pleasing to the palate.
If you love Vietnamese food, do check out my collections of popular Vietnamese recipes.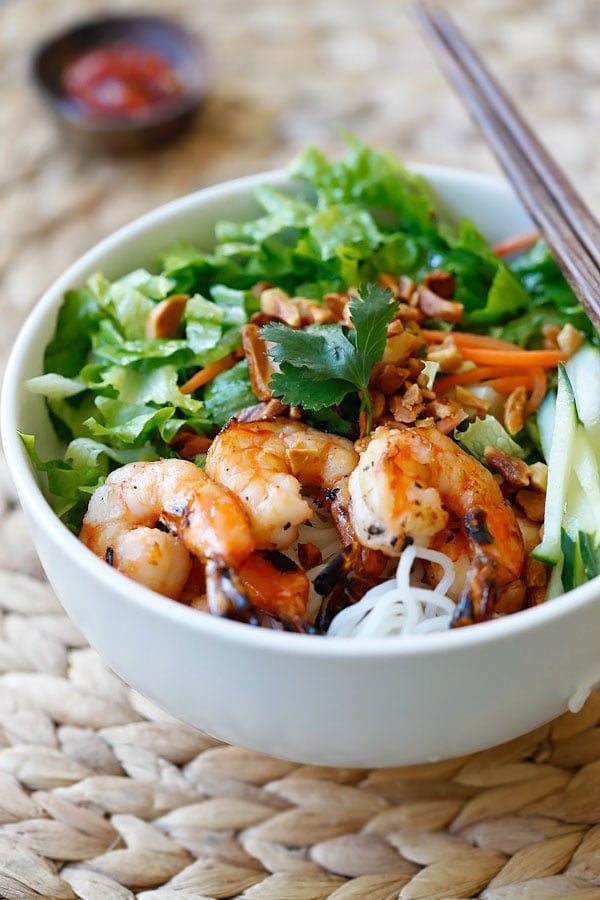 Rate This
Recipe Name
Vietnamese BBQ Shrimp Vermicelli
Average Rating

Based on 1 Review(s)