Pork Chow Mein (Cantonese Style) - this easy and authentic Cantonese recipe is made with crispy egg noodles, shredded pork, and mushrooms.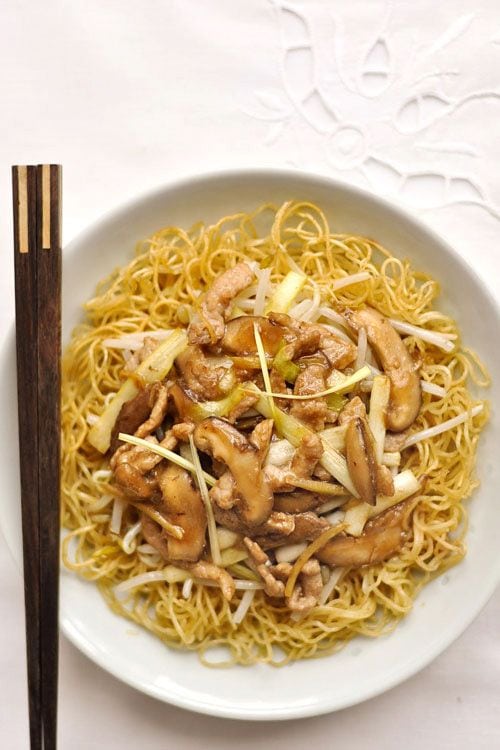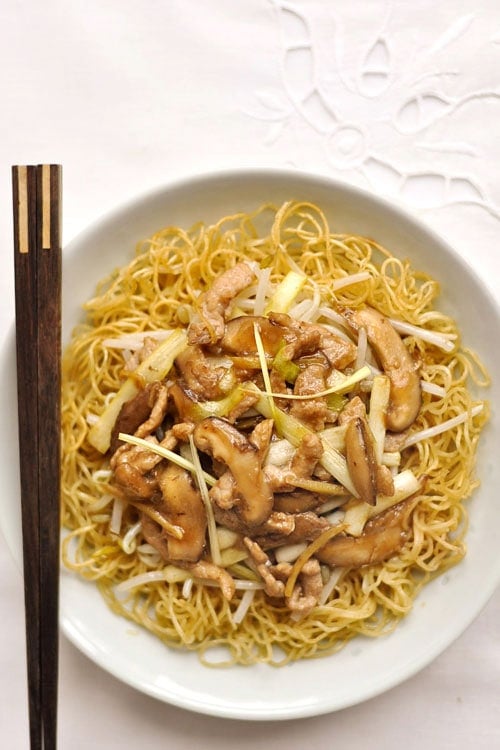 What is Pork Chow Mein?
Pork Chow Mein is made with delicious Cantonese fried noodles, topped with shredded pork.
The best part of this recipe is definitely the crispy noodles, a well known aspect of Hong Kong noodles.
In Hong Kong, the recipe is called 'Fried Noodles with Shredded Pork' that is, the Yuk See Chow Mein (肉絲炒麵) in Cantonese.
Restaurants cook these noodles mostly by deep frying, which should be the fastest way to get a bed of golden-looking noodles. In our kitchens, however, we may simply prepare this by shallow frying, a healthier way of cooking yet still retaining the beauty of this dish–crispy noodles with crunchy greens and flavorful meat in hot sauce.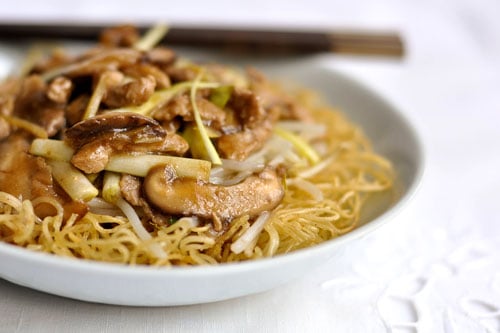 Ingredients for Pork Chow Mein
Soft egg noodles
Lean pork
Black mushroom
Bean sprouts
Yellow chives
Ginger
Soy sauce
Wine
Cornstarch
White pepper
Oyster sauce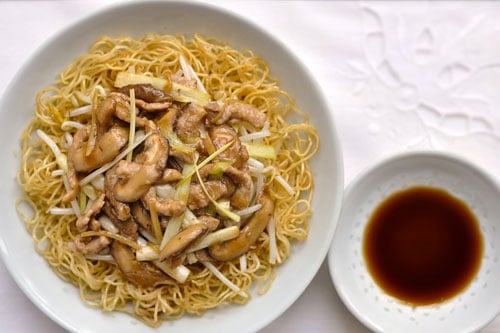 Frequently Asked Questions
What is the difference between lo mein and chow mein?
Lo mein is boiled while chow mein is fried. They use the same noodles.
How many carbs are in pork chow mein?
This recipe has 58g of carbs per serving.
How many calories?
This recipe has 341 calories per serving.
What Dishes to Serve with this Recipe?
This dish is best served as an entree. For a wholesome Cantonese meal and easy weeknight dinner, I recommend the following recipes.

Pairs well with: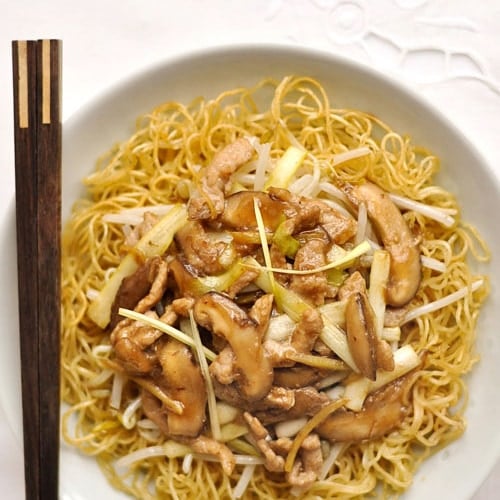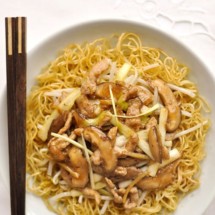 Cantonese Fried Noodles Recipe (肉絲炒麵)
Cantonese Fried Noodles (Pork Chow Mein) recipe - crispy noodles with crunchy greens and flavorful meat in hot sauce.
Ingredients
300

g

soft egg noodles

100

g

lean pork, shredded

4

pcs

dried black mushroom

50

g

bean sprouts

100

g

yellow chives

1/2

tablespoon

julienned ginger
Marinade for Dried Mushrooms:
Marinade for Bean Sprouts and Yellow Chives:
Sauce:
1

tablespoon

oyster sauce

1/2

teaspoon

sugar

1

teaspoon

soy sauce

1 1/2

teaspoon

corn starch

3/4

cup

water from soaking the dried mushrooms
Click Here for Conversion Tool
Directions
Briefly blanch noodles (or according to the packet instructions) to make them al dente. Then immediately rinse the noodles under running cold water for another half minute. Loosen the rinsed noodles in a colander and air- dry it for about an hour before frying, a simple but important step for making the noodles crispy.

Rinse dried mushrooms thoroughly; soak them in 3/4 cup water until soft. Squeeze water in mushrooms and cut them into thin slices. Reserve the 3/4 cup water. Marinade pork, mushrooms for about 10 to 15 minutes.

Rinse bean sprouts and yellow chives. Cut chives into sections, about 4 cm long. Put them in a colander to drain off any excess water. Right before cooking, sprinkle in salt, and mix it well with the sprouts and chives.

Make sure all ingredients are ready to go before frying noodles as they need to be cooked while the fried noodles are still crispy.

Heat wok over high heat, add oil and distribute it over the centre and halfway up the sides. As the oil starts to smoke lightly, lay noodles flat in the wok. Turn to medium heat, do not move the noodles till they turned golden on the bottom side. The noodles might get stuck to the wok if they are moved before heated enough. Then flip to the other side, and add another table spoon of oil, continue to fry them till they turned crispy on the second side.

Dish up noodles and lay them on a plate.

Heat another table spoon of oil in wok over medium heat, saute julienned ginger, dried mushrooms, followed by shredded pork. Stir constantly for about 2 minutes or till done. Toss in bean sprouts and yellow chives, turn to high heat and stir fry them for half a minute, or, just before they get wilted. Then pour in well-mixed sauce and keep stirring. As soon as the liquid boils, they are done.

Ladle all the cooked ingredients with the sauce on top of the crispy noodles. Serve hot with black vinegar as the dipping sauce. Enjoy.
Recipe Notes
Recipe from Taste Hong Kong, tastehongkong.com
To avoid noodles sticking to wok, it is important to make sure the wok and oil are well-heated. For presentation, it is better to top the noodles with meat and sauce, but I would suggest combining them all before sending to mouth.
Nutrition Facts
Cantonese Fried Noodles Recipe (肉絲炒麵)
Amount Per Serving (4 people)
Calories 341
Calories from Fat 36
% Daily Value*
Fat 4g6%
Cholesterol 79mg26%
Sodium 572mg25%
Potassium 390mg11%
Carbohydrates 58g19%
Protein 17g34%
Vitamin A 1135IU23%
Vitamin C 16.2mg20%
Calcium 49mg5%
Iron 2.2mg12%
* Percent Daily Values are based on a 2000 calorie diet.