Grilled corn on the cob - buttery, sweet and slightly spicy grilled corn recipe with homemade compound honey Sriracha butter. This corn grill is so delicious!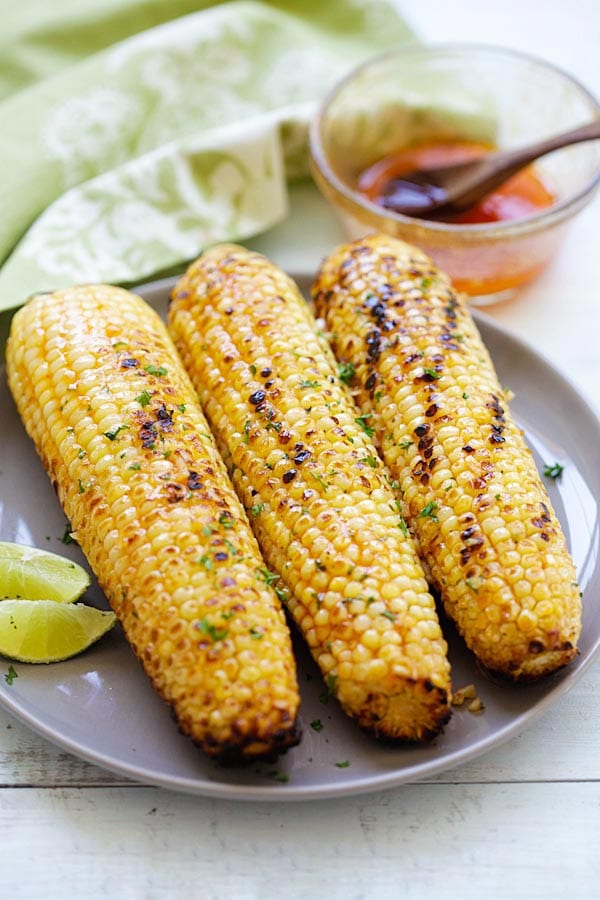 Grilled Corn on the Cob Recipe
It's summer and I've been cooking up a storm in my backyard, for examples: grilled chicken thighs, grilled chicken wings and grilled fish.
I am so excited to share an easy and quick grilled corn recipe with you. Honey sriracha butter is a delicious compound butter than you can use on all kinds of foods: honey sriracha shrimp kebab and also this fresh corn grill recipe.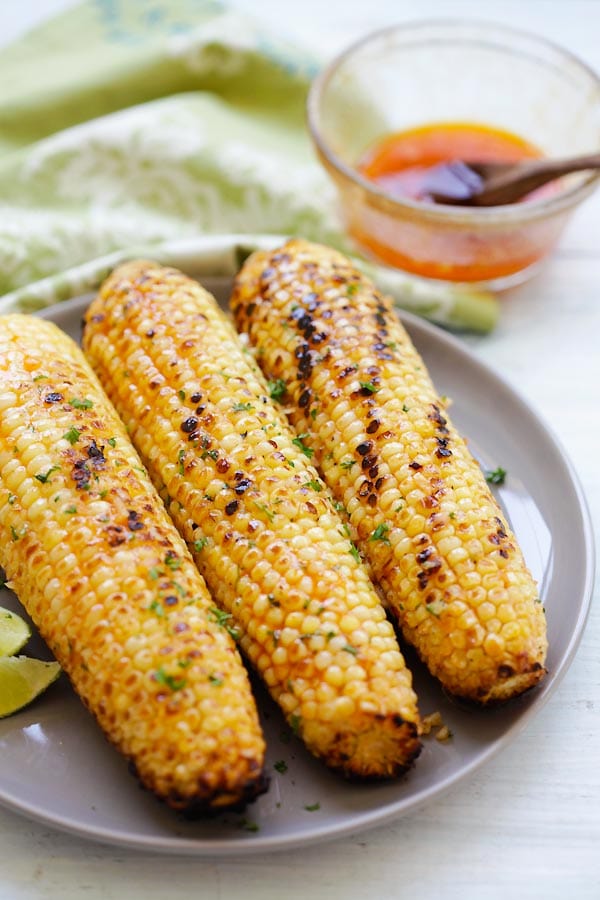 You'll learn how to grill and cook corn with and without husk, how long to cook and the best ways to use compound butter to make one of the best grilled sweet corn ever!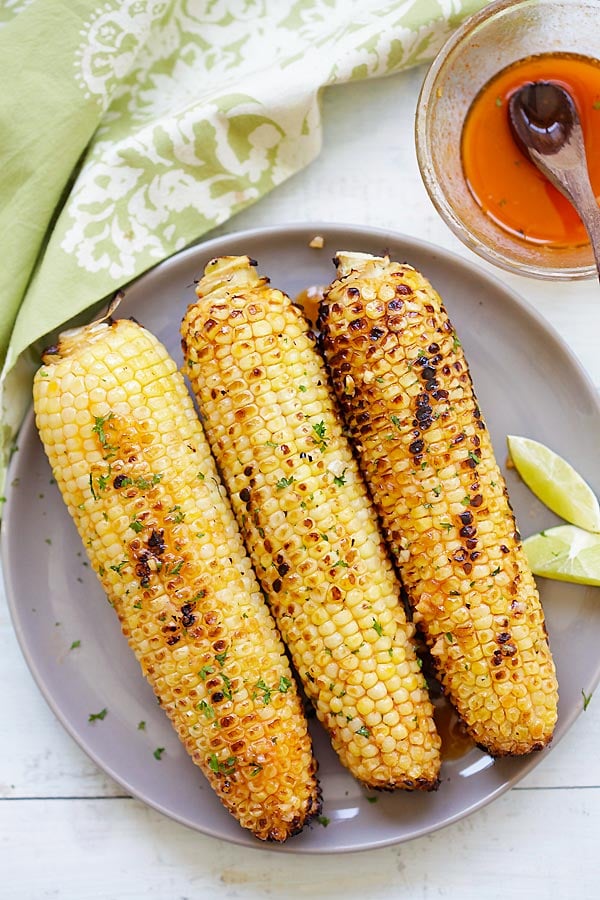 Other Recipes You Might Like
Roasted Corn on the Grill
To roast corn, first you need a seasoning. I used my homemade compound butter of honey, Sriracha and unsalted butter as the seasoning.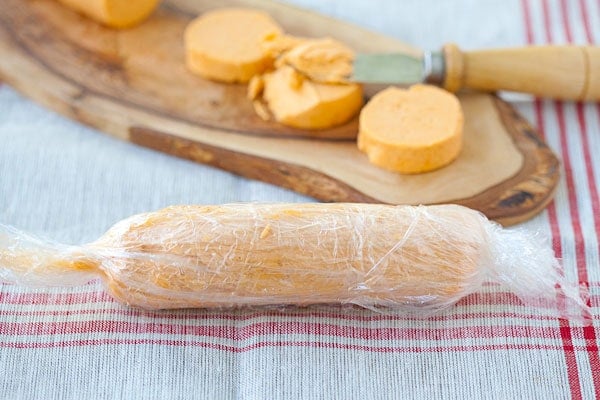 Just brush the butter on the corn and roast. The taste is buttery, sweet, with the slight heat from the Sriracha.
A bite into the corn kernels immediately transports me to corn heaven. This is the best corn recipe ever!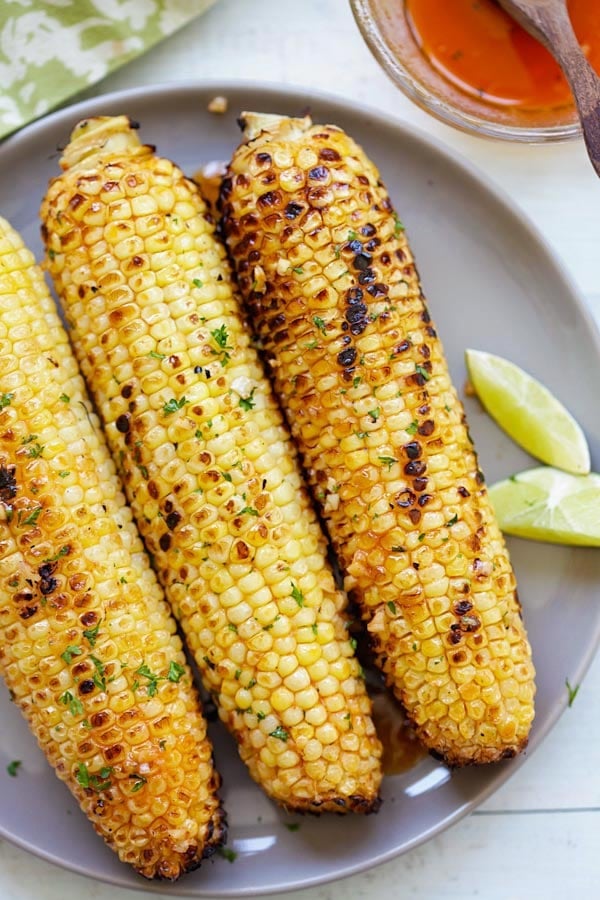 Frequently Asked Questions
Can I Grill Corn in Foil?
Yes, you can wrap corn on the cob with aluminum foil. Place the foil-wrapped corn on the grill to cook it.
How to Grill Corn with Husk?
Keep the husk and beard (silk) on each corn but before grilling, gently pull down the husk on each cob, keep the husk attached at the bottom.
Remove the silk (beard) from the cob as much as you can, some of them will still cling to the cob. Season the corn with seasonings and grill away from direct heat.
Close the cover and barbecue for about 10 minutes, turning every 3 minutes or so until the corn kernels are cooked through.
Remove the corn from the heat, peel off the husk completely and eat on the cob.
How Many Calories Per Serving?
This recipe is only 157 calories per serving.
What to Serve with this Recipe?
Serve this dish with other summer recipes. For a summer backyard BBQ party, I recommend the following recipes.

Pairs well with: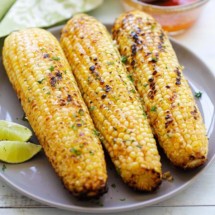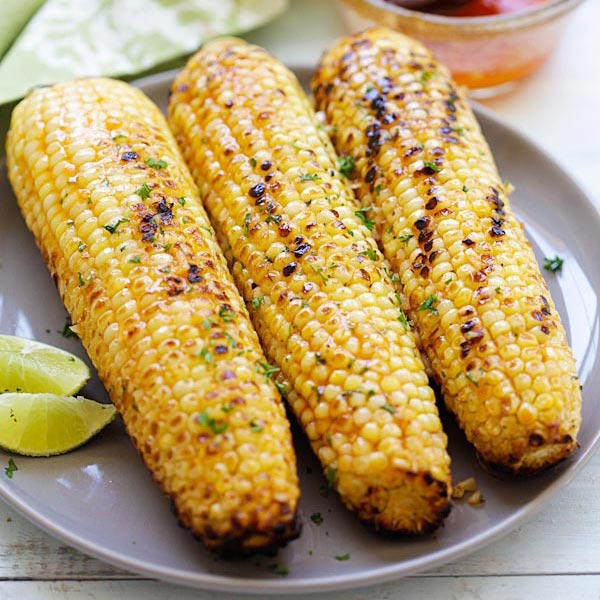 Honey Sriracha Butter Grilled Corn Recipe
Honey Sriracha Butter Grilled Corn - buttery, sweet and slightly spicy grilled corns with honey sriracha butter. So easy and so good!
Click Here for Conversion Tool
Directions
Melt the Honey Sriracha Butter in a microwave and brush it generously on the corn.

Grill on outdoor grill on medium heat for about 10 minutes, making sure that you keep rotating the corn to cook and slightly char eventually. While grilling, brush more honey sriracha butter on the corn. Serve as is or with squirts of lemon juice from lemon wedges, if using.
Recipe Notes
You may cook the corn indoor on a grill pan or on skillet, or bake in the oven at 375F for about 15 minutes, rotating to the other surface half time. Click here for the recipe on how to to make the Honey Sriracha Butter. 
Nutrition Facts
Honey Sriracha Butter Grilled Corn Recipe
Amount Per Serving (2 people)
Calories 157
Calories from Fat 18
% Daily Value*
Fat 2g3%
Sodium 714mg31%
Potassium 523mg15%
Carbohydrates 34g11%
Protein 6g12%
Vitamin A 380IU8%
Vitamin C 31.7mg38%
Iron 1.1mg6%
* Percent Daily Values are based on a 2000 calorie diet.