These amazing peanut and cornflakes cookies are rich, crispy and crunch. The recipe is so easy and calls for simple pantry ingredients. So yummy!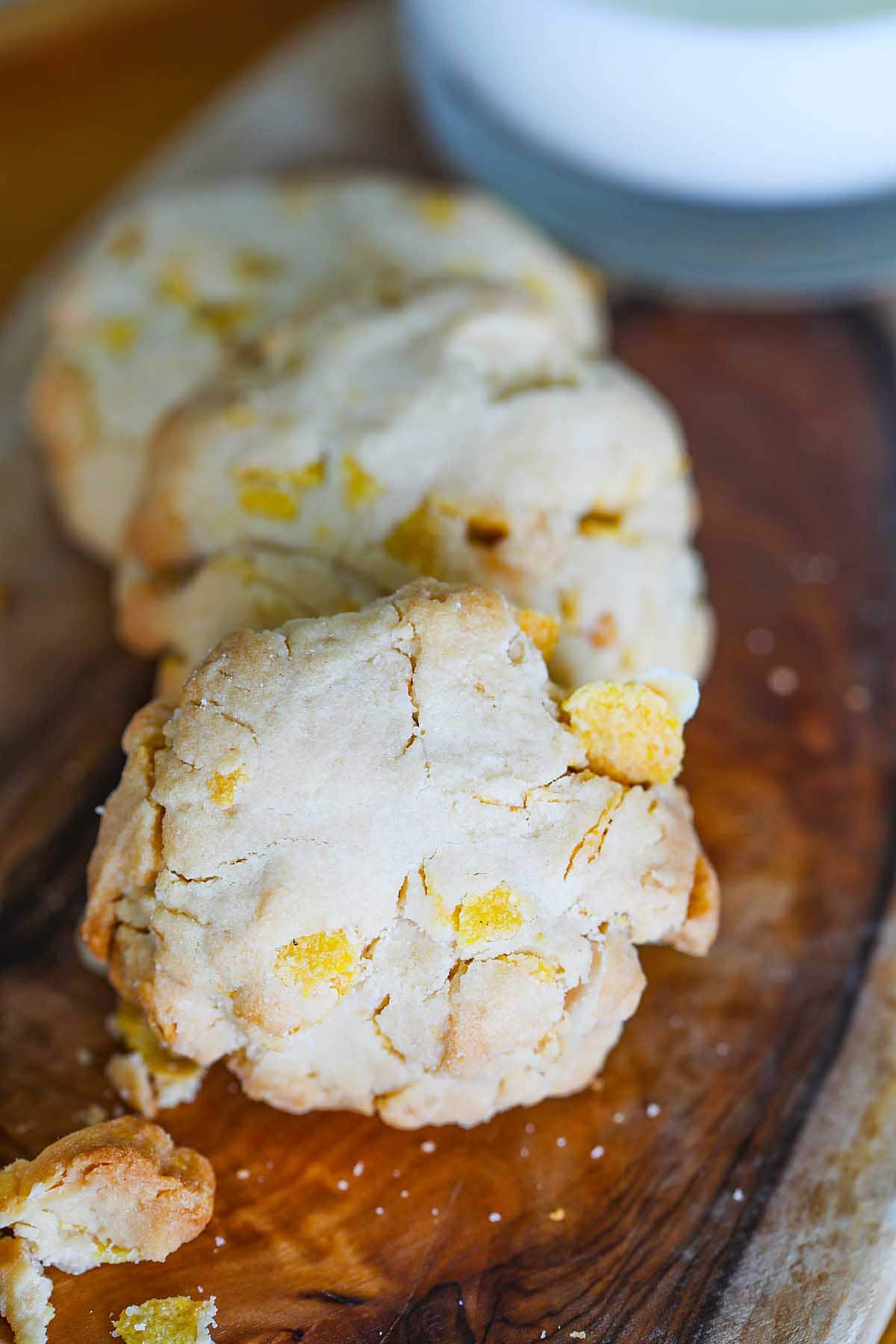 Peanut and Cornflake Cookies
Make these amazing peanut and cornflakes cookies, rich, crispy, and crunchy cookies with your pantry ingredients. They are so easy to make and yummy!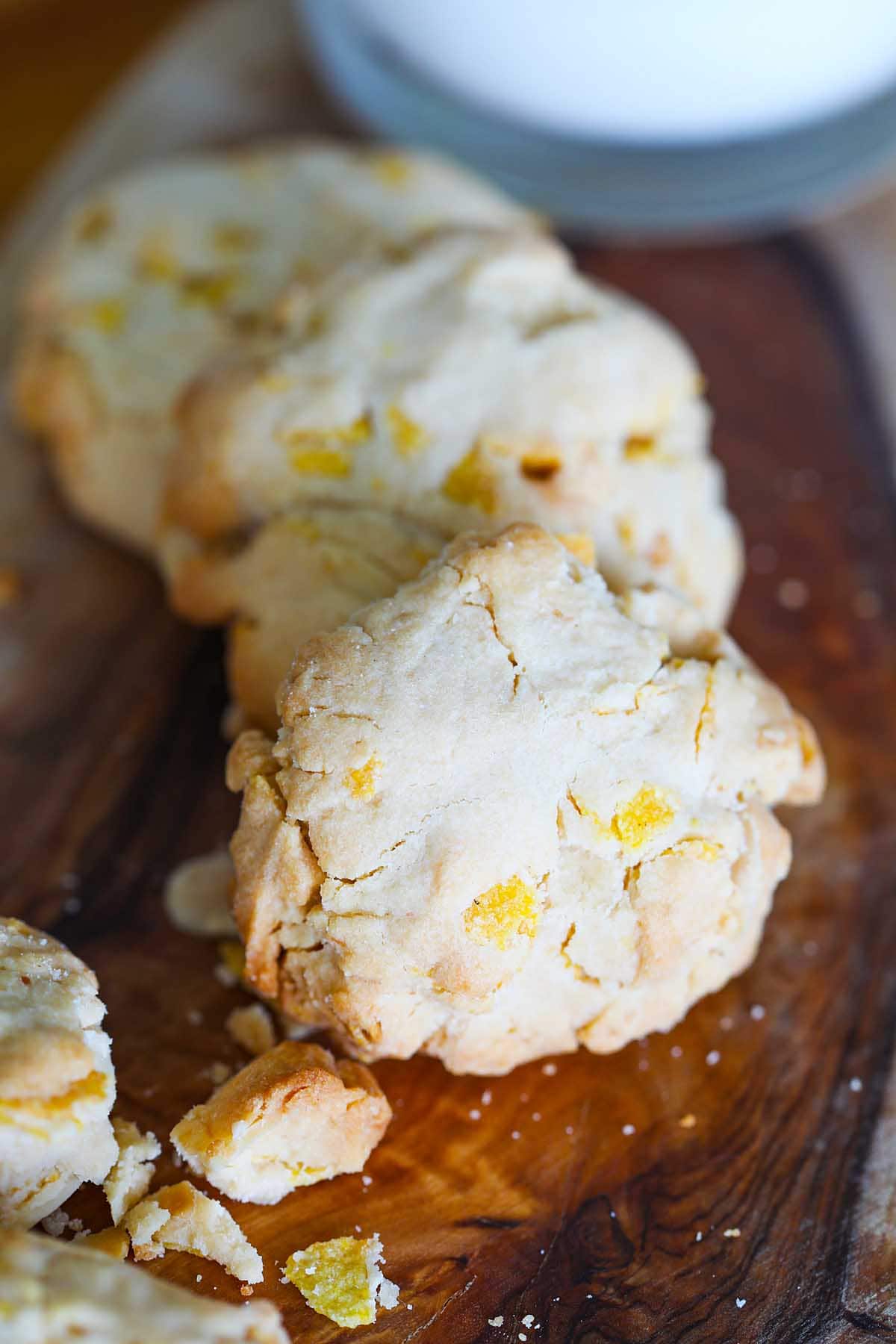 This past couple of weeks, I have been totally consumed by following the very popular Korean Drama "You Who Came from the Star" that I have pretty much neglected this blog.
The Rasa Malaysia kitchen has been closed as I follow the episode after episode every day and night.
Plus the rainy weather here in Southern California just gives me the perfect excuse—no natural light for food photography—to just indulge in the Korean alien and human love affair.
It's actually quite liberating, to live in the Korean drama love bubble for a little bit and not having to worry about new recipe development for Rasa Malaysia.
I need my break, too.
Other Recipes You Might Like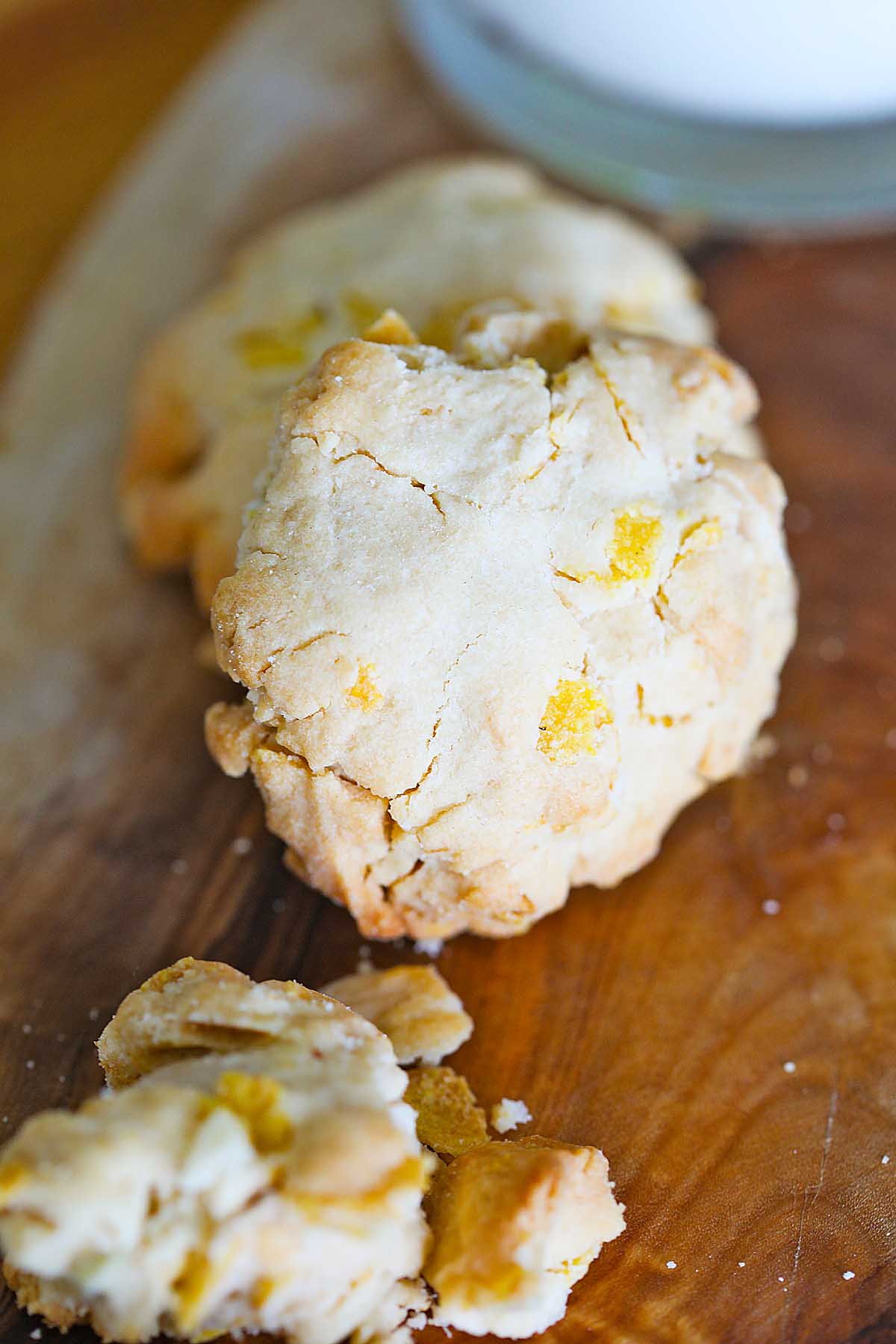 Of course I am truly lucky that I have my contributor CP Choong covering for me by sharing a few amazing baking recipes: mini Nutella cheesecake, mini brownie butter cake, Nutella pound cake.
She actually shared this peanut and cornflake cookies recipe with me a few months ago but I haven't gotten to posting the recipe on the blog until now.
So here it is, the crispy, aromatic, crunchy peanut and cornflake cookies, perfect for your weekend's baking.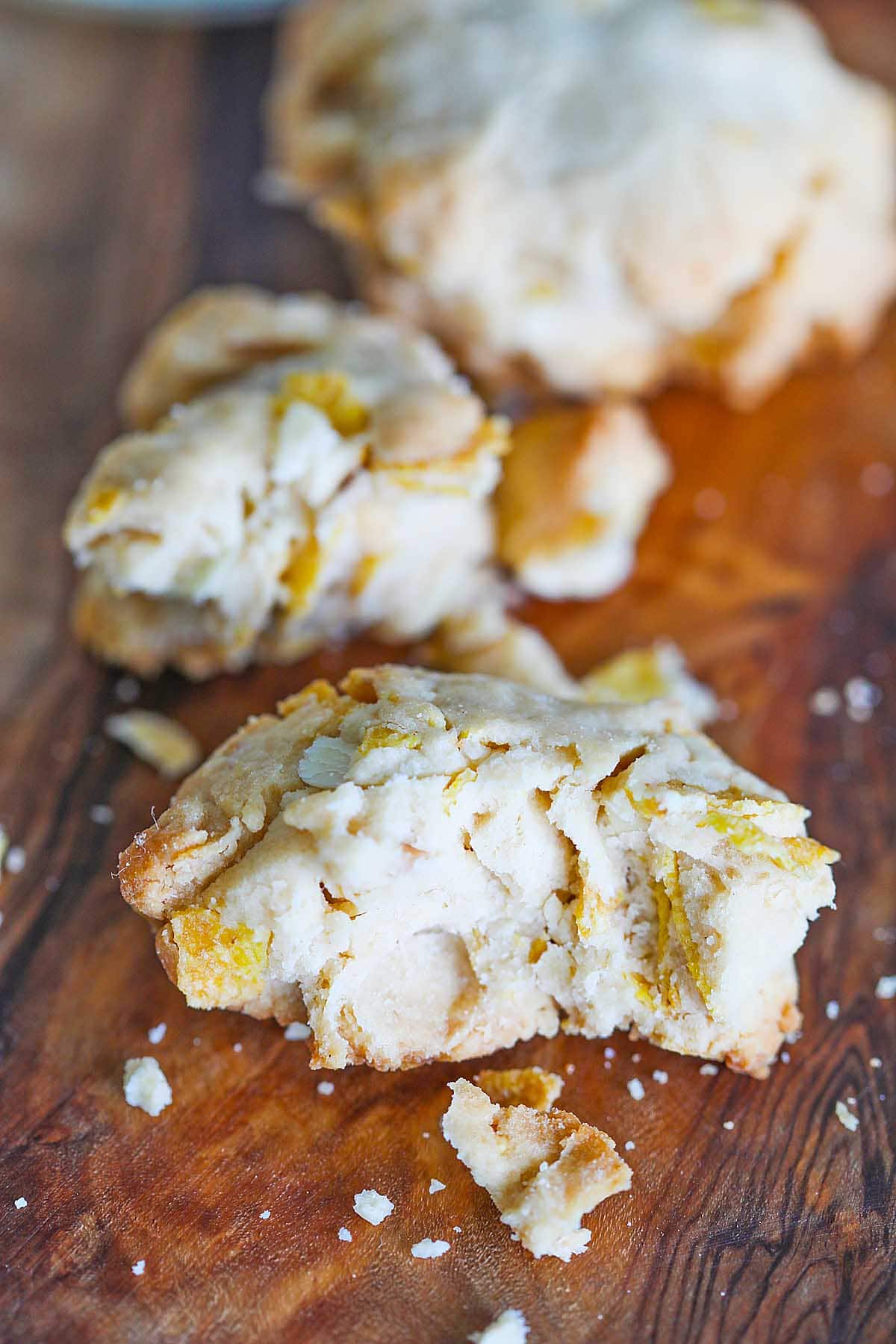 If you are like me and follow TV drama, this is a great snack to have while you are taking in the sappy love story or happy romance of the drama world.
Get yourself a cup of coffee, and if you're in a wintery place, bundle up, wear your socks, cover up with your favorite throw or blanket while sitting/lying on the couch, turn on your TV or computer screen, and then just sit back, relax, and enjoy.
Life can be as simple as that, drama, coffee, and cookies!
This peanut and cornflake cookies (chocolate cornflakes!) combine the two best ingredients for cookies, and I am sure you will love this recipe very much. Have a wonderful weekend!
How Many Calories per Serving?
This recipe is only 234 calories per serving.
5 Secrets to 20 Min Dinners
Get tricks for quick & easy meals!
Yield: 4 people
Peanut and Cornflake Cookies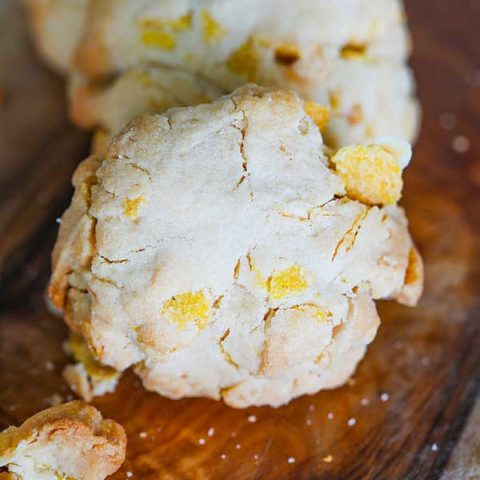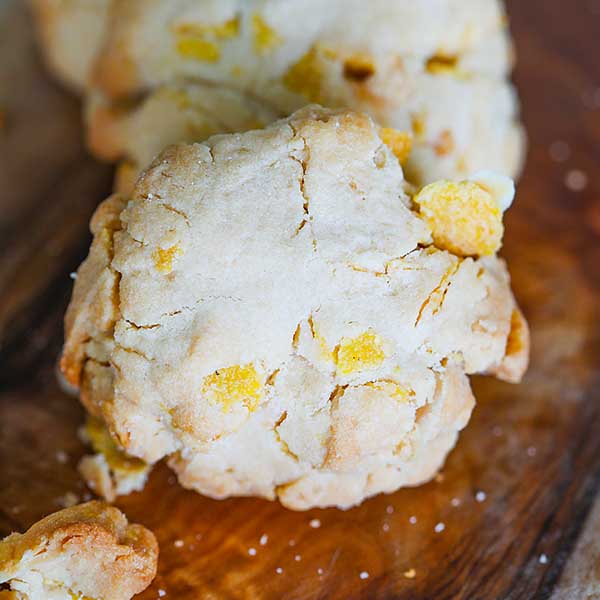 Peanut and Cornflakes Cookies. Make these amazing rich, crispy, and crunchy cookies with your pantry ingredients, so addictive!

Prep Time 30 minutes

Cook Time 20 minutes

Total Time 50 minutes
Ingredients
60 g (1/4 cup) unsalted butter
60 g (1/4 cup) shortening
80 g (1/3 cup) peanut butter
70 g (1/2 cup) icing sugar
1 egg
300 g (2 ½ cups) cake flour
2-3 cups or 100 g chocolate corn flakes , I used 50g Coco Crunch and 50g Corn Flakes
50 g (1/2 cup) almond flakes
Instructions
Preheat oven to 170°C-180°C (325-350°F), set the rack on upper level of oven.
Line a baking tray with parchment paper.
In a large mixing bowl, combine unsalted butter, shortening and peanut butter, then mix well to soften.
Sieve in icing sugar and beat till mixture is fluffy.
Pour in beaten whole egg in batches and mix well.
Sieve in cake flour and mix well.
Toss in chocolate corn flakes and almond flakes. Mix well to form dough. Divide dough into 30 g each portion (approximately ¼ cup)
Roll each portion into ball, then flatten slightly. Arrange on baking tray.
Bake in preheated oven for 18-20 minutes till golden brown.
Notes
1. Use the chunky type of peanut butter in this recipe for a crunchier bite.
2. The chocolate corn flakes may be crushed beforehand, so that they can be easily added into the dough.
Nutrition Information
Yield
4
Serving Size
4 people
Amount Per Serving Calories 234Total Fat 45gSaturated Fat 14gUnsaturated Fat 0gCholesterol 73mgSodium 213mgCarbohydrates 90gFiber 4gSugar 21gProtein 19g