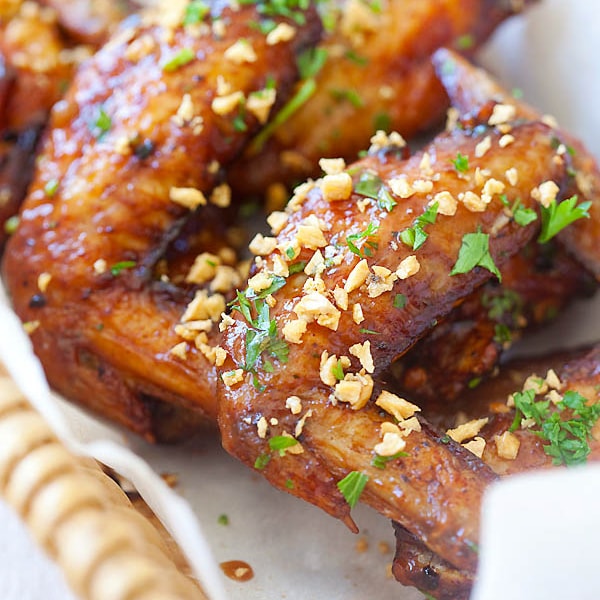 Pok Pok Wings (Vietnamese Fish Sauce Wings)
Pok Pok wings are Vietnamese fish sauce wings by Andy Ricker's Pok Pok restaurant. Easy Pok Pok Wings that you can make at home: tasty and addictive.
Prep time:
Cook time:
Total Time: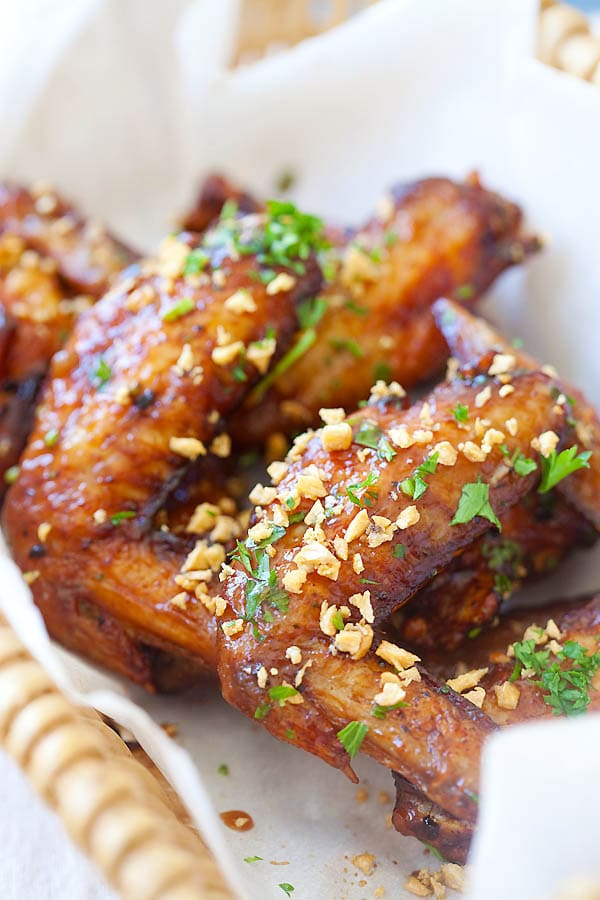 Pok Pok—the pounding sounds that a pestle made against a mortar during the making of Som Tam (Thai green papaya salad)—is a rising restaurant empire in the United States. A humble start in Portland, Oregon, Pok Pok has expanded to New York City, the culinary capital of the United States. Recently, renowned food writer Francis Lam wrote a fascinating piece on the New York Times and described Andy Ricker's arrival to New York as "…the Beatles were about to touch down at Kennedy." Pok Pok wings are legendary and much celebrated in the foodie world; in fact, it's the single commodity that has pretty much launched the growing empire of Pok Pok.
I have never been to the original Pok Pok, nor have I been to the newly opened Pok Pok New York. But I have long wanted to taste these famous wings. My friend Brian L, a Portand resident and mega foodie once told me that those Pok Pok wings were addictive and absolutely delightful. If I can't make it to any of the Pok Pok restaurants, I have to try making it.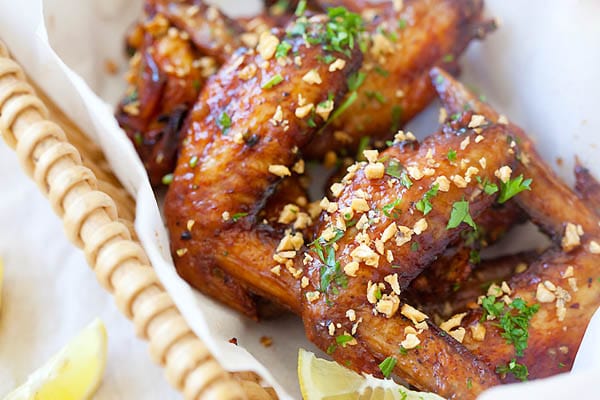 Pok Pok Wings Recipe
Adapted from Food & Wine
Serves 3-4 as an appetizer | Prep Time: 10 Minutes | Cook Time: 20 Minutes
Ingredients:
1/4 cup fish sauce
1/4 cup superfine sugar
8 cloves garlic, 5 crushed and 3 minced
1 1/2 pounds chicken wings
2 tablespoons vegetable oil, plus more for frying
1/3 cup cornstarch
1 tablespoon chopped cilantro
1 tablespoon chopped mint
Method:
In a bowl, whisk the fish sauce, sugar and crushed garlic. Add the wings and toss to coat. Refrigerate for 3 hours, tossing the wings occasionally.
Heat the 2 tablespoons of oil in a small skillet. Add the minced garlic; cook over moderate heat until golden, 3 minutes. Drain on paper towels.
In a large pot, heat 2 inches of oil to 350°. Pat the wings dry on paper towels; reserve the marinade. Put the cornstarch in a shallow bowl, add the wings and turn to coat. Fry the wings in batches until golden and cooked through, about 10 minutes. Drain on paper towels and transfer to a bowl.
In a small saucepan, simmer the marinade over moderately high heat until syrupy, 5 minutes. Strain over the wings and toss. Top with the cilantro, mint and fried garlic and serve immediately.
Cook's Notes:
The original recipe called for only 4 garlic but I doubled them because I love garlic and found the marinade to be overpowering because of the smell of the fish sauce.
For the glaze, you can prepare new fish sauce (1/4 cup) plus sugar (1/4 cup) mixture and reduce it to a syrupy consistency if you are skeptical about using the marinade.
Most-Pinned Recipes
Ginger Garlic Baked Chicken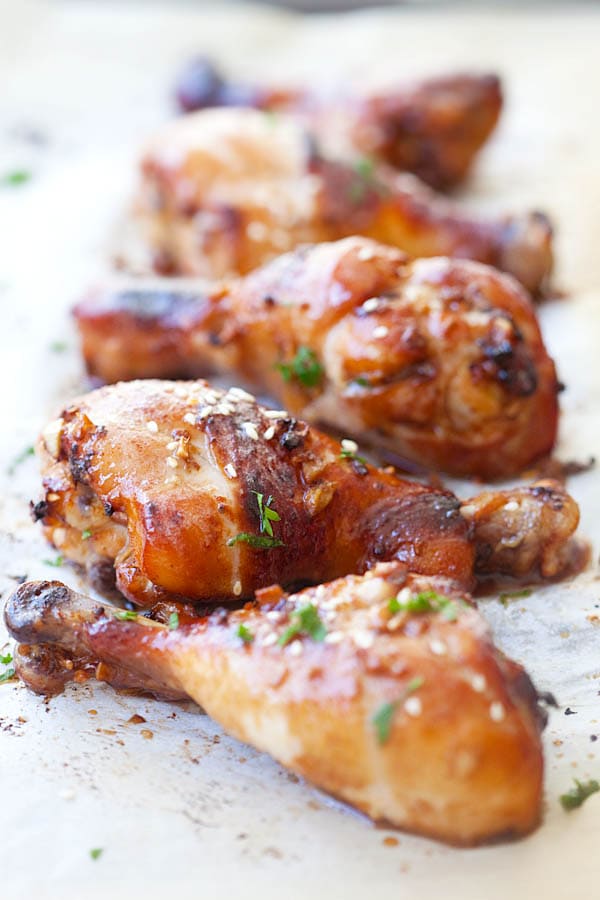 Crab Rangoon (Cream Cheese Wontons)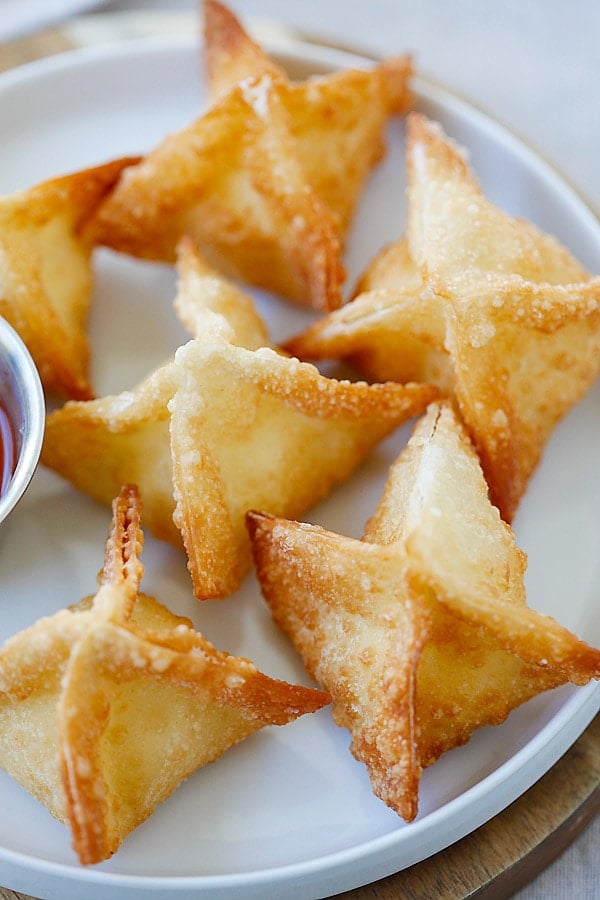 Chicken Wontons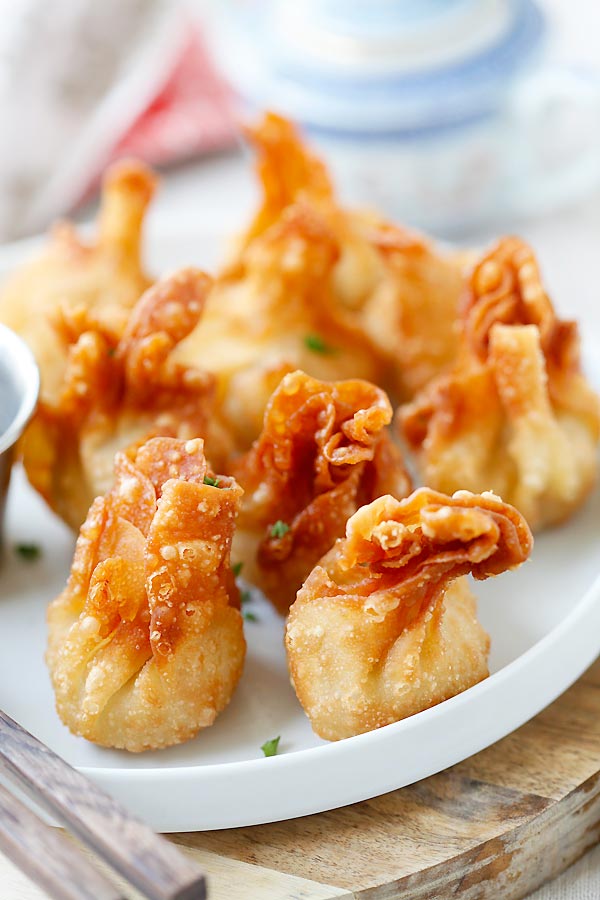 Onion Scallion Beef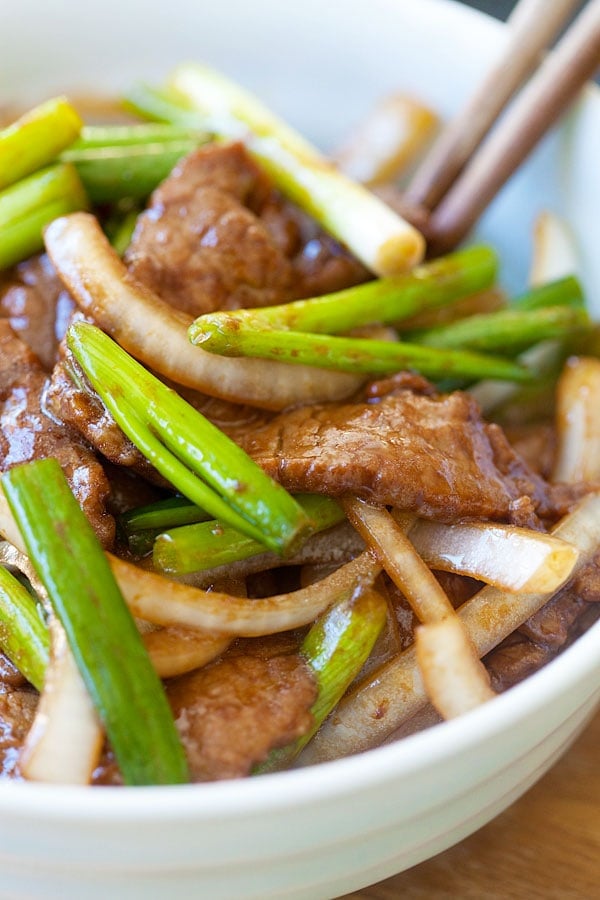 Thai Chicken Sate with Peanut Sauce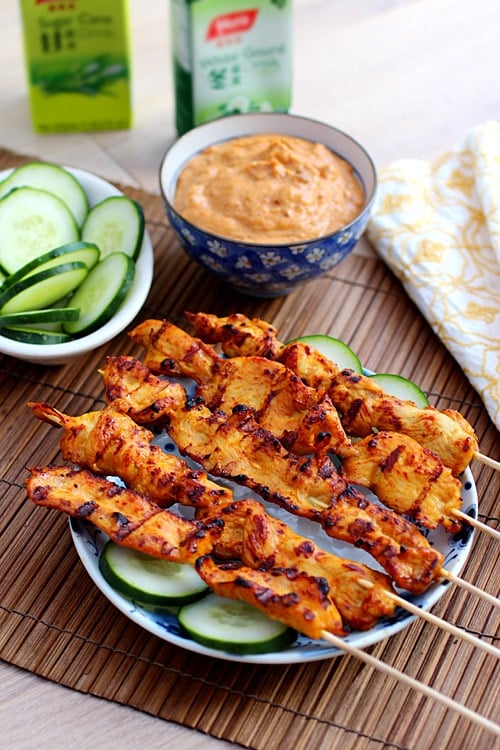 Thai Peanut Sauce