Honey Sriracha Salmon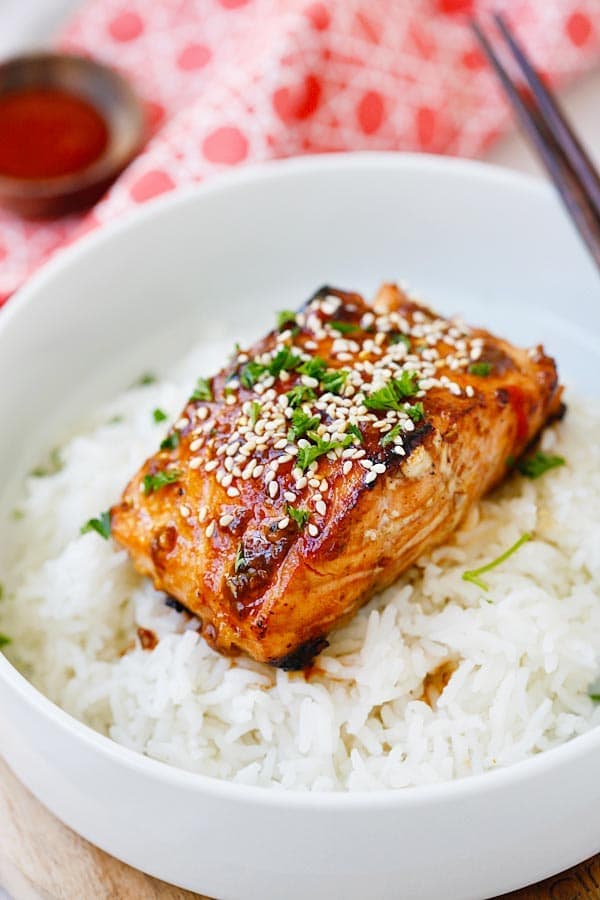 This sweet and spicy Sriracha-glazed salmon is one of the recipes in the "The Skinnytaste Cookbook: Light on Calories, Big on Flavor" by Gina Homolka at Skinnytaste.com, a fellow food blogger and friend.
The SkinnyTaste Cookbook is a chart-topper cookbook, ranking #2 on the New York Times Best Sellers List currently.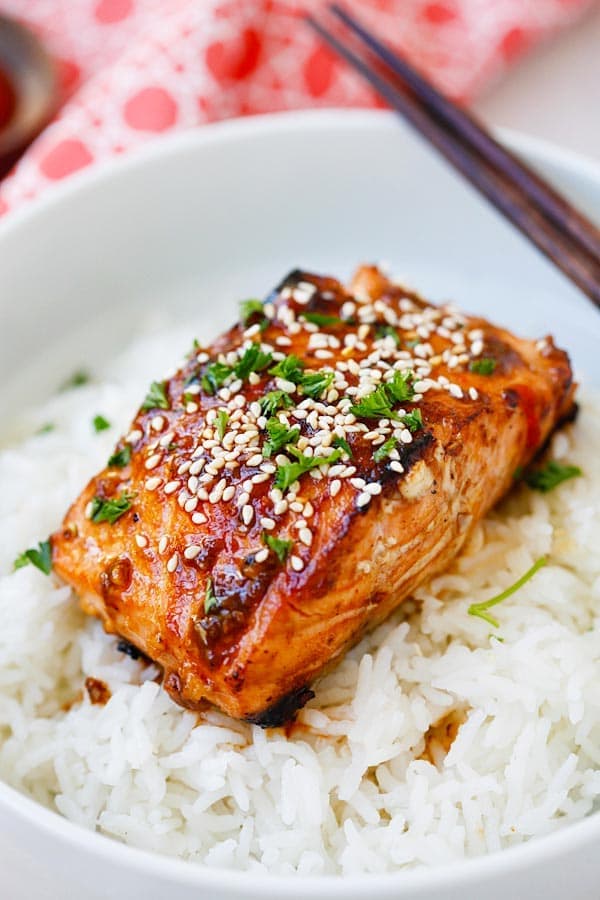 Other Recipes You Might Like
I know Gina many years ago through email exchanges but we only met about two years ago at Disneyland in Anaheim.
Gina came to town and I was too excited that I punctured all four (yes, all four) tires in her hotel parking lot by driving over the one-way car park spikes, totally blind to the "DO NOT ENTER" sign.
We still couldn't stop laughing about it. But honestly, this is just how I am; totally clumsy, careless, and I simply can't seem to see or follow instructions. I get too giddy and excited when meeting new friends.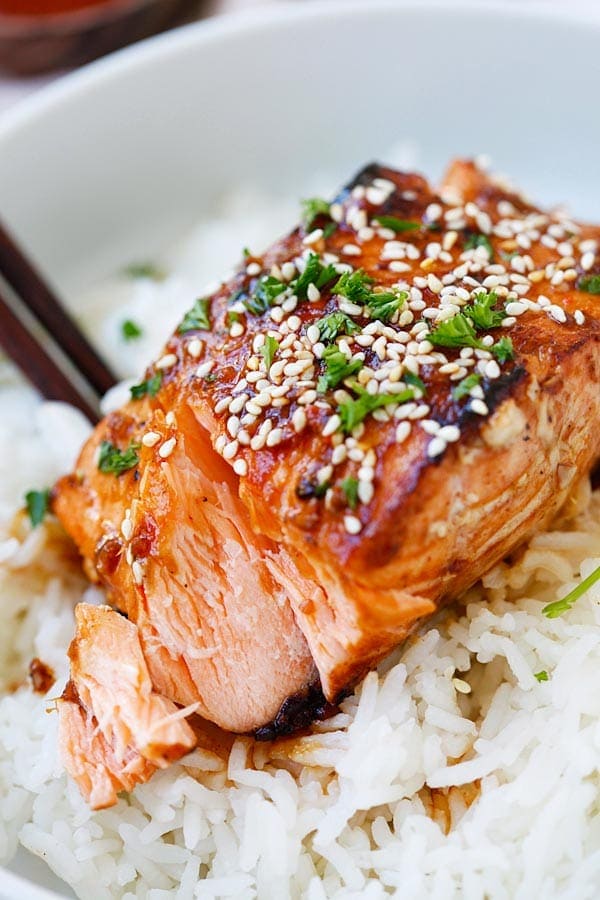 We recently reconnected while I was in New York City. I introduced Gina to the amazing Malaysian food, while chatting and catching up.
I had no doubt that her cookbook would do very well, as I know just how hardworking and dedicated she is. All her successes are not by luck or chance, but her passion, drive, talent, and diligence.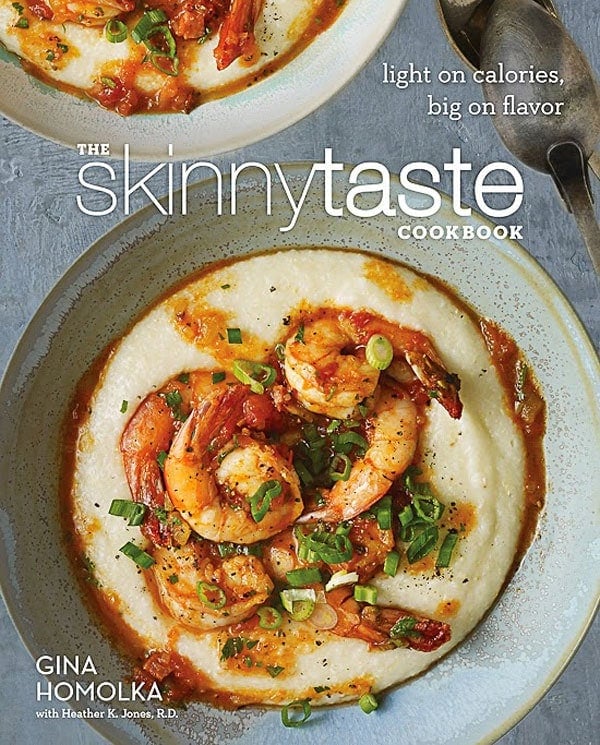 The Skinnytaste Cookbook features 150 amazing recipes: 125 all-new dishes and 25 must-have favorites. All the recipes in the cookbook come complete with calories and nutrition information.
The pictures in the cookbook are gorgeous. I chose to make this salmon because I love the sweet and spicy flavor, plus who can resist Sriracha chili sauce?
The salmon turned out moist, juicy, with the perfect balance of sweetness and heat. I absolutely enjoyed the dish.
Gina is America's most trusted home cook when it comes to easy, flavorful recipes that are low-calorie and made from all-natural, easy-to-find ingredients.
Pick up a copy of The Skinnytaste Cookbook on Amazon now, or you can win a copy of the cookbook here.
How Many Calories Per Serving?
This recipe is only 221 calories per serving.
5 Secrets to 20 Min Dinners
Get tricks for quick & easy meals!
Yield: 4 people
Honey Sriracha Salmon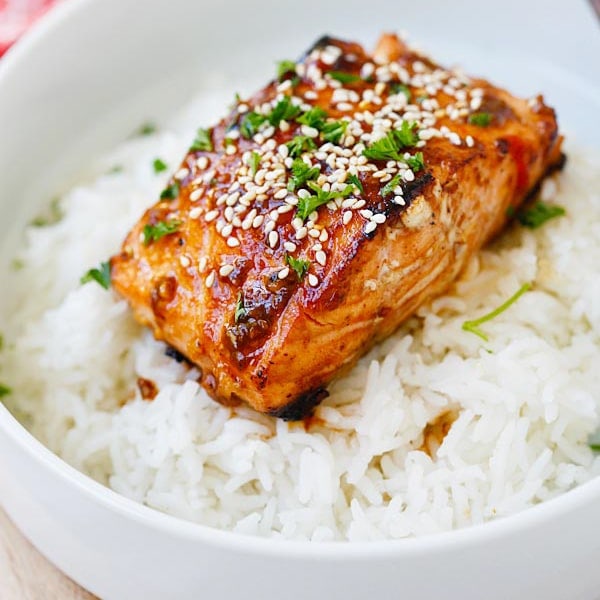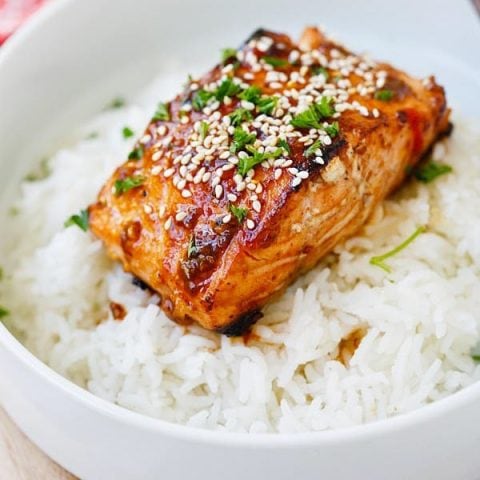 Sweet & Spicy Sriracha-glazed Salmon in the Skinnytaste cookbook. Moist, juicy, and so yummy.
Ingredients
1/4 cup reduced-sodium soy sauce or tamari* for gluten-free
2 tablespoons honey
1 tablespoons rice vinegar
1 tablespoon Sriracha sauce to taste
1 tablespoon grated fresh ginger
1 tablespoon minced garlic
1 pound (0.4 kg) wild salmon fillet, cut into 4 (4 oz./115 g) pieces
1 1/2 teaspoons sesame oil
2 tablespoons chopped scallions for garnish
Instructions
In a 1-gallon zip-top plastic bag, combine the soy sauce, honey, vinegar, Sriracha, ginger, and garlic. Add the salmon, toss to coat evenly, and refrigerate for at least 1 hour, or up to 8 hours, turning the fish once.
Remove the salmon from the bag, reserving the marinade. Heat a large saute pan over medium-high heat ad add the sesame oil. Rotate the pan to coat the bottom evenly and add the salmon. Cook until one side of the fish is browned, about 2 minutes. Flip the salmon and cook until the other side browns, 2 more minutes. Reduce the heat to low and pour in the reserved marinade. Cover and cook until the fish is cooked through, 4-5 minutes.
Place a piece of salmon on each of 4 serving plates and sprinkle with the scallions.
Notes
*Read the label to be sure this product is gluten-free.
Nutrition Information
Yield
4
Serving Size
4 people
Amount Per Serving
Calories

221
Total Fat

9g
Saturated Fat

1g
Unsaturated Fat

0g
Cholesterol

62mg
Sodium

947mg
Carbohydrates

11g
Fiber

1g
Sugar

9g
Protein

24g