Soy Glazed Salmon - this oven baked salmon recipe is so easy and features a savory and flavorful soy sauce glaze that's finished in 10 minutes.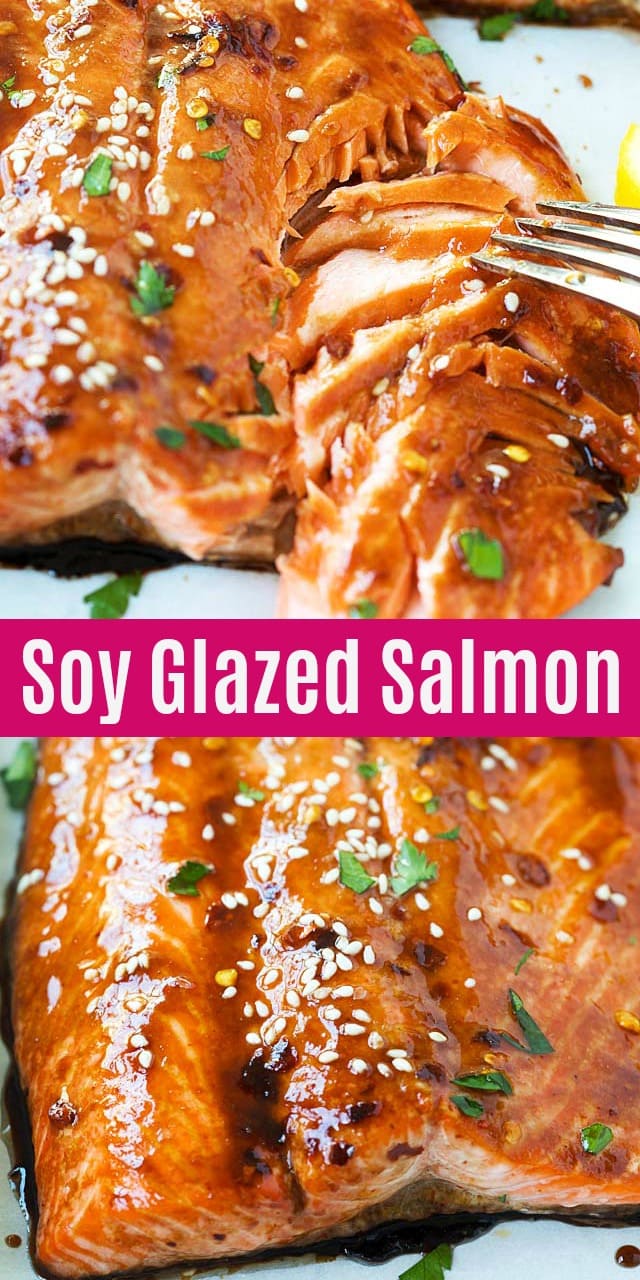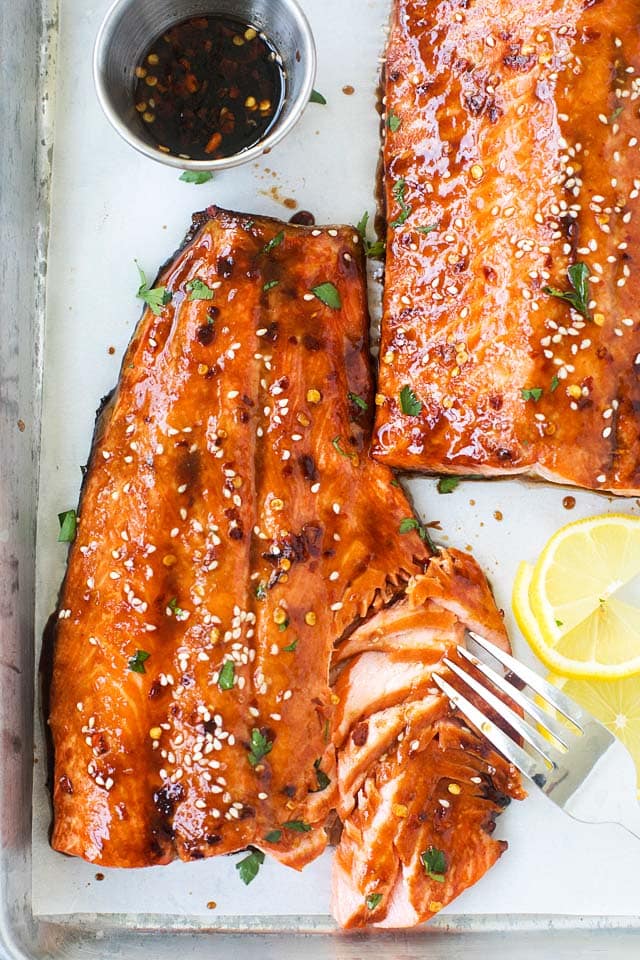 Baked Salmon with Soy Sauce Glaze
Soy Glazed Salmon is an easy oven baked salmon recipe you can make at home with a delicious soy salmon glaze. It takes just 10 minutes active time and 20 minutes in the oven and dinner is done.
The glazed salmon uses an Asian soy-sauce mixture. It's savory, sweet and packed with mild heat. It is one of the best salmon recipes ever!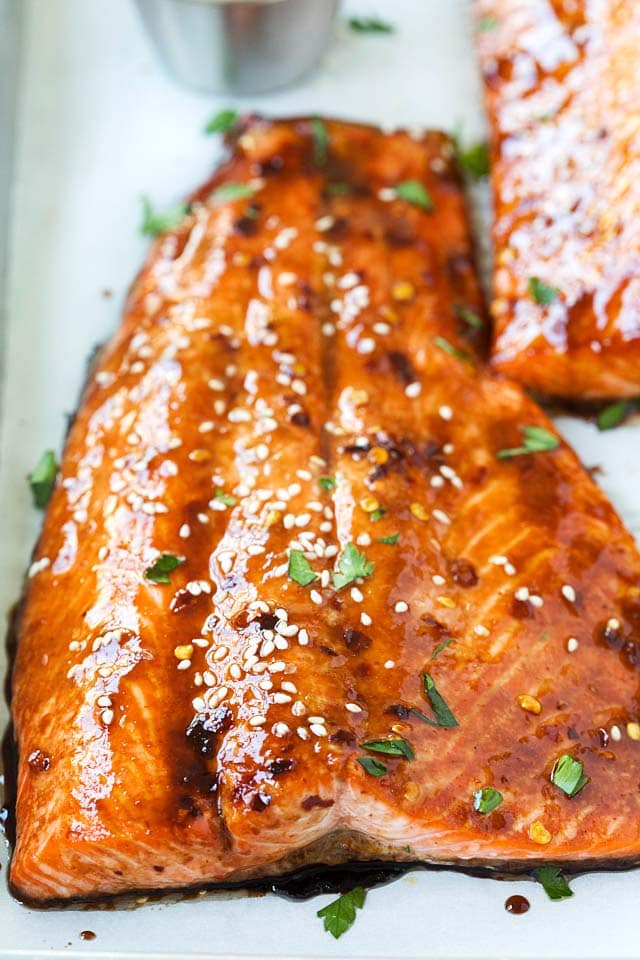 Other Recipes You Might Like
Ingredients for Salmon Glaze
The main ingredients are pantry items and accessible in regular supermarkets or food stores. You can get them at the International aisle or ethnic food section of your store:
What to Buy? Wild Salmon or Farmed Salmon?
As I live in California, the salmon we have is Pacific salmon. Most Pacific salmon is wild, but some are farmed.
There is also Atlantic salmon. Unfortunately, it's an endangered species and there is no more left commercially. All Atlantic salmons are now farmed.
If you can find wild caught Pacific salmon, definitely buy that.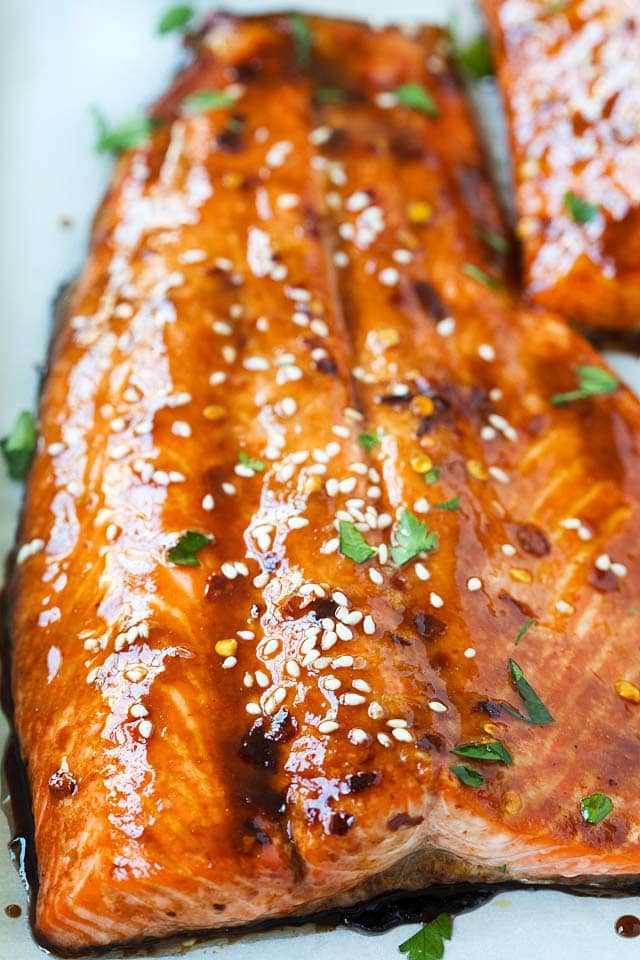 Which Cut of Salmon to Buy?
If you have access to a fish market, you might be able to buy a whole salmon, but it's probably too big for daily consumption.
When it comes to buying salmon at a grocery store, there are a few common cuts to choose from:
Salmon fillet, which is flat and not as thick. This is the cut I recommend for this Soy Glazed Salmon recipe.
Salmon steak – this is a thick, cross-section cut around the fish. It looks like a piece of fish steak.
Supreme cut – this is a slice of salmon filet, which is usually rectangle in shape. There is no bone in the fillet. You can also use this cut for this Soy Glazed Salmon recipe.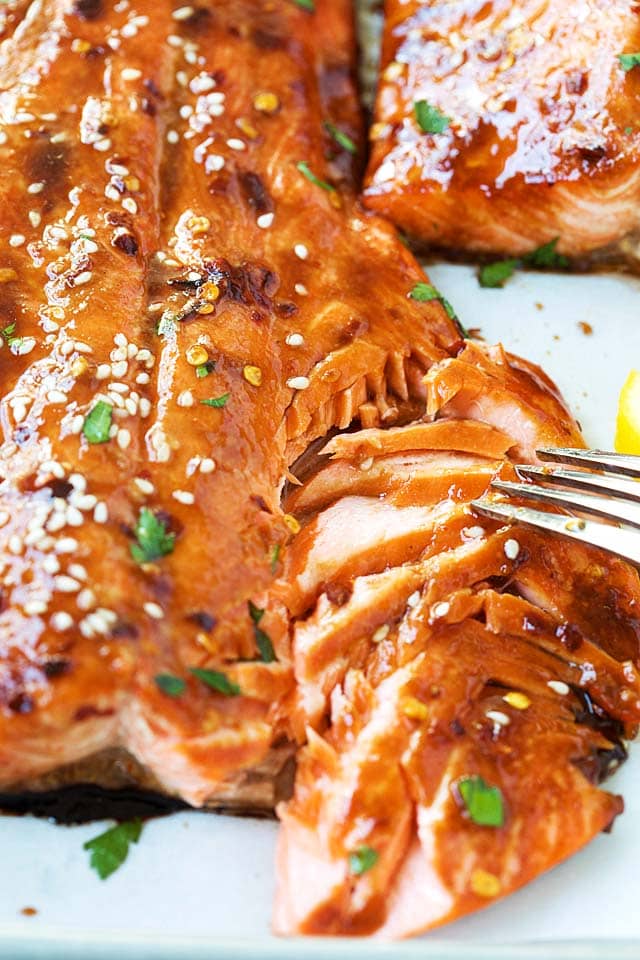 Frequently Asked Questions
How Long Can You Marinate Salmon?
Marinate for no longer than 30 minutes.
How Many Calories?
This recipe has 267 calories per serving.
Serve Soy Glazed Salmon With:
For a wholesome dinner, make the following dishes.

5 Secrets to 20 Min Dinners
Get tricks for quick & easy meals!
Yield: 4 people
Soy Glazed Salmon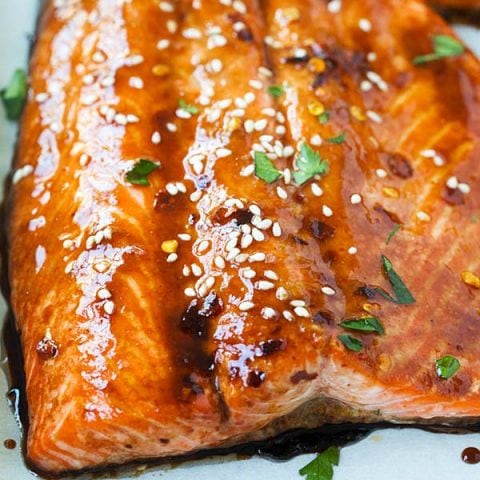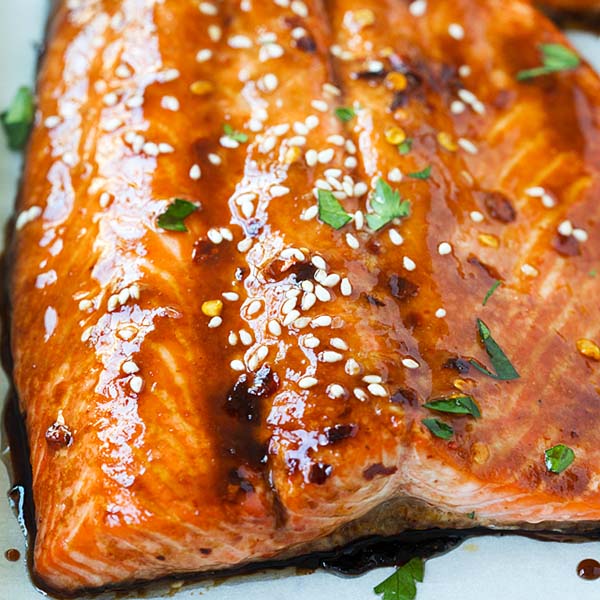 Soy Glazed Salmon - this oven baked salmon recipe is so easy and features a savory and flavorful soy sauce glaze that's finished in 10 minutes.
Ingredients
1 1/2 lbs. (0.6 kg) salmon fillet
1 tablespoon soy sauce
1 tablespoon oyster sauce
1 tablespoon brown sugar
1 teaspoon sesame oil
1/4 teaspoon red pepper flakes
white sesame, for garnishing
chopped parsley, for garnishing
Instructions
Preheat oven to 375°F (190°C). Rinse the salmon with cold water and pat dry with paper towels. Cut the salmon into two pieces if they are too big. Transfer the salmon fillets (skin side down) on a baking sheet lined with parchment paper or aluminum foil.
Combine the soy sauce, oyster sauce, brown sugar, sesame oil and red pepper flakes together. Stir to mix well.

Brush the soy sauce mixture on the surface of the salmon fillets.

Bake in the oven for 20 minutes or until the salmon is cooked through. Top the salmon with white sesame and parsley, serve immediately.

Nutrition Information
Serving Size
4 people
Amount Per Serving
Calories

267
Total Fat

11g
Saturated Fat

1g
Cholesterol

93mg
Sodium

452mg
Carbohydrates

3g
Sugar

2g
Protein

34g