Chinese Fried Rice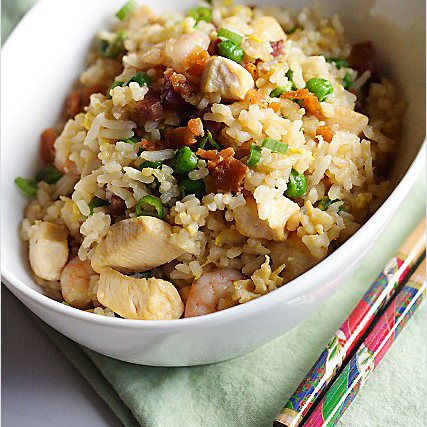 http://rasamalaysia.com/chinese-recipe-fried-rice-deluxe/
Chinese fried rice, everyone's favorite dish needs no introduction from me.
As simple as it is, there are many versions of Chinese fried rice–plain, with chicken, shrimp, lap cheong (Chinese sausages), pork, beef, vegetables, salted fish, eggs, or combination. Regardless of the variations, Chinese fried rice always whets my appetite.
This is Hong Kong-style Chinese fried rice. I love salted fish fried rice, but I also wanted Chinese sausage (lap cheong) and baby shrimp, hence I came out with this Chinese fried rice recipe….
A good Chinese fried rice calls for overnight rice. If you don't have it, you can cheat. The next time you have takeout or eat out at Chinese restaurants, get an extra serving of rice. Keep it in your fridge overnight, and you will have the perfect overnight rice for Chinese fried rice.
This is my Chinese fried rice recipe and now you can make Chinese fried rice at home.
CHINESE RECIPES: POPULAR & ALL-TIME FAVORITES
Sign Up for Email Updates
Enter your email for new updates: recipes, giveaways, and more!