Crispy Fried Chicken (Martin Yan's-Style)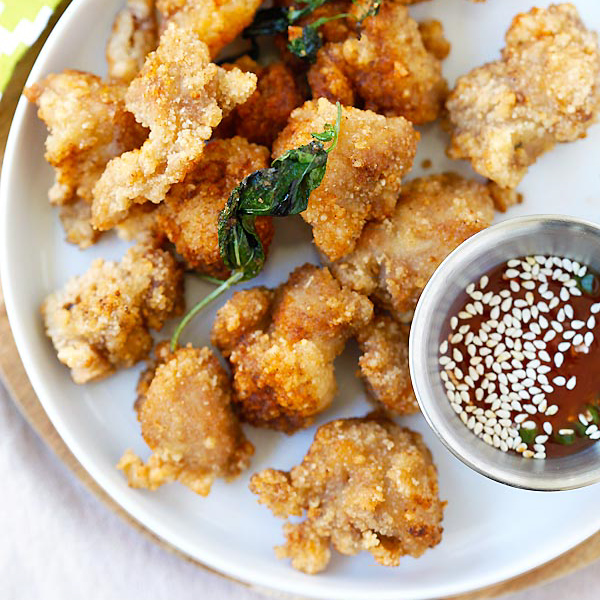 http://rasamalaysia.com/crispy-fried-chicken-recipe/
Crispy Fried Chicken (Martin Yan's-Style)
Martin Yan. The mere mention of the name Martin Yan conjures up visual pictures of my childhood days in Penang, Malaysia.
I am a fan of Martin Yan, since I was little. I remember my family and I would crowd in front of the TV watching "Yan Can Cook." Back then, I didn't understand English completely but I loved the entertaining cooking show that Chef Yan brought to the world. Chef Yan was always having fun in the kitchen; he was witty, humorous, had mad chopping and cutting skills. Most of all, the dishes he made were always mouthwatering, he did it with such grace and sophistication. Chef Yan is the master TV chef for Chinese food.
Martin Yan's China is his most recent cookbook and this crispy fried chicken is an adaptation of his recipe. When Chef Yan was traveling in Guangzhou, he chanced upon a street vendor selling crispy chicken nuggets flavored with fermented bean curd (腐乳)—a pungent yet deeply-flavorful Chinese ingredient where bean curds are fermented in brine and flavored with Chinese rice wine and red chilies. For this specific street-style crispy fried chicken recipe, it calls for red fermented bean curd (南乳), a common ingredient in Cantonese-style cooking. As soon as I read the recipe, I knew I had to make it.
The red fermented bean curd might smell sharp, but as a flavoring agent, it lends a nice intense and yeasty aroma to the fried chicken. I just love it. Fermented bean curds can be found at Asian stores and they always come in a clear glass bottle. Look for those which are dark red in color. This ingredient also makes a great marinate for my other favorite Cantonese dish—roast chicken with red fermented bean curd (南乳烧鸡), yum!
Click Images Below for Similar Recipes:
LOVE THE RECIPE & PHOTOS? PLEASE SHARE:
Sign Up for Email Updates
Enter your email for new updates: recipes, giveaways, and more!