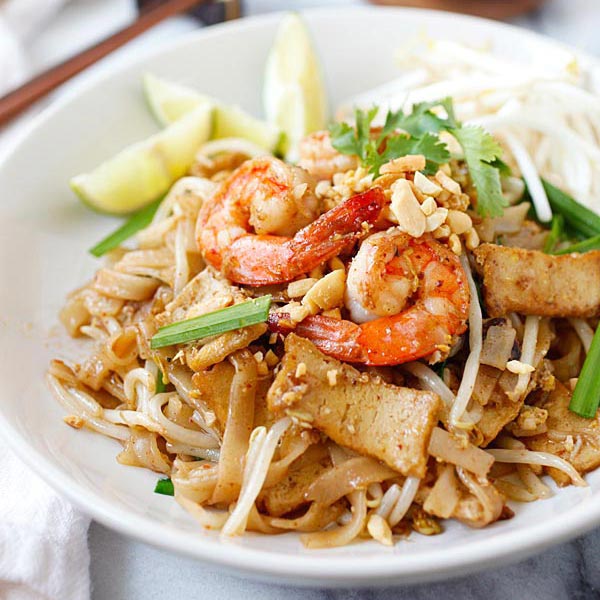 Shrimp Pad Thai
Shrimp Pad Thai – easiest and best Pad Thai recipe with shrimp. This homemade Thai fried noodle is better and healthier than takeout
Makes2
Ingredients:
8 oz dry skinny rice sticks
2 tablespoons oil
2 cloves garlic, minced
8 oz shelled and deveined shrimp
2 oz fried tofu, cut into pieces
2 eggs, lightly beaten
6 oz bean sprouts
1 oz chives or scallion, cut into 2-inch lengths
Tamarind Juice:
2 tablespoons tamarind
1/3 cup warm water
Sauce:
3 1/2 tablespoons fish sauce
4 tablespoons tamarind juice or 3 tablespoons Chinese rice vinegar or apple cider vinegar
1 1/2 teaspoons chili powder
2 1/2 tablespoons sugar
3 tablespoons water
Method:
Cook the skinny rice sticks according to the package directions. Strain in a colander and run cold running water until the noodles becomes cool. Set aside to drain.
Make the Tamarind juice by adding the tamarind and water together. Use your hand or a spoon to massage and squeeze the tamarind pulps to release the flavor. The tamarind juice should be dark brown in color, and slightly thick in its consistency. Extract 4 tablespoons of juice, set aside. Discard the tamarind pulps.
Mix all the ingredients for the Sauce in a small bowl. Set aside.
Heat the oil in a wok or skillet over high heat. Add the garlic and stir fry until aromatic. Add the shrimp, tofu, and continue stirring. As soon as the shrimp changes color, add the rice sticks and stir continuously, for 30 seconds. Use the spatula to push all the ingredients to one side of the wok or skillet. Add the eggs and let cook for about 1 minute or until the bottom sets. Fold the noodles over the eggs, and then add in the Sauce. Stir continuously until everything is well combined. Add the bean sprouts, chives and do a few quick stirs. Turn off the heat and serve the noodles immediately with the lime wedges and topped with the peanuts.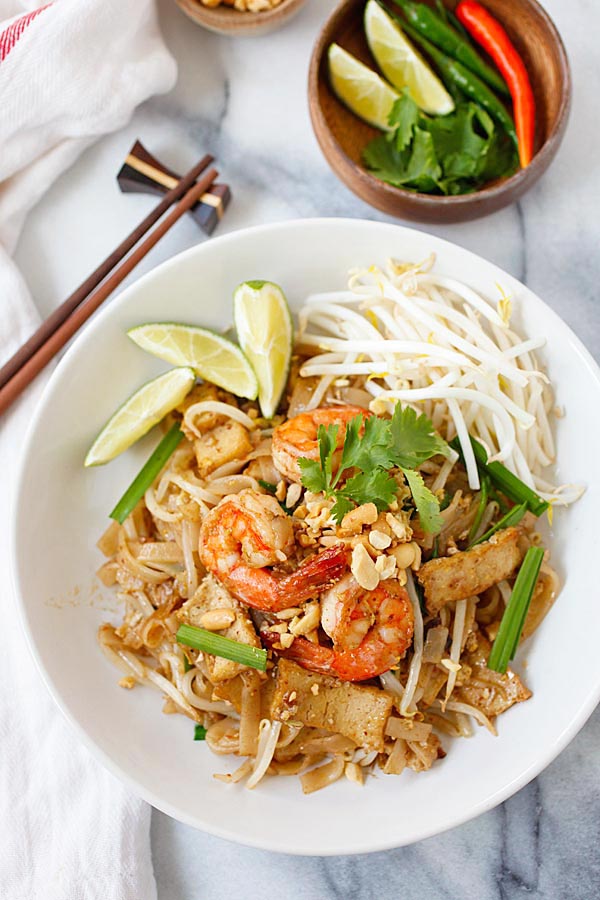 Shrimp Pad Thai
Shrimp Pad Thai – easiest and best Pad Thai recipe with shrimp. This homemade Thai fried noodle is better and healthier than takeout.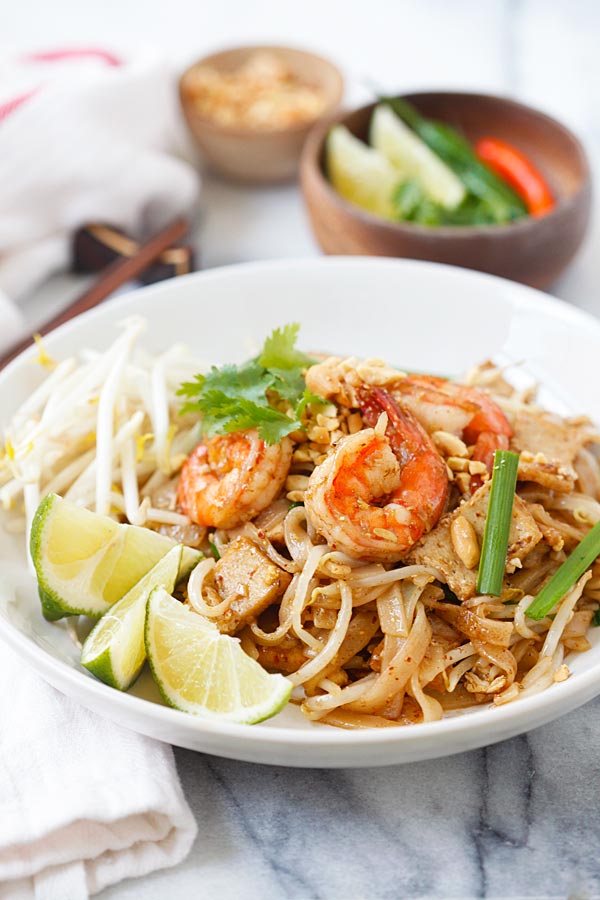 Pad Thai is a popular Thai stir-fried rice noodles dish with vegetables with a sweet and savory sauce and topped with crushed peanuts. You can make Pad Thai at home with chicken, shrimp, or a combination of chicken and shrimp. I love shrimp Pad Thai the best.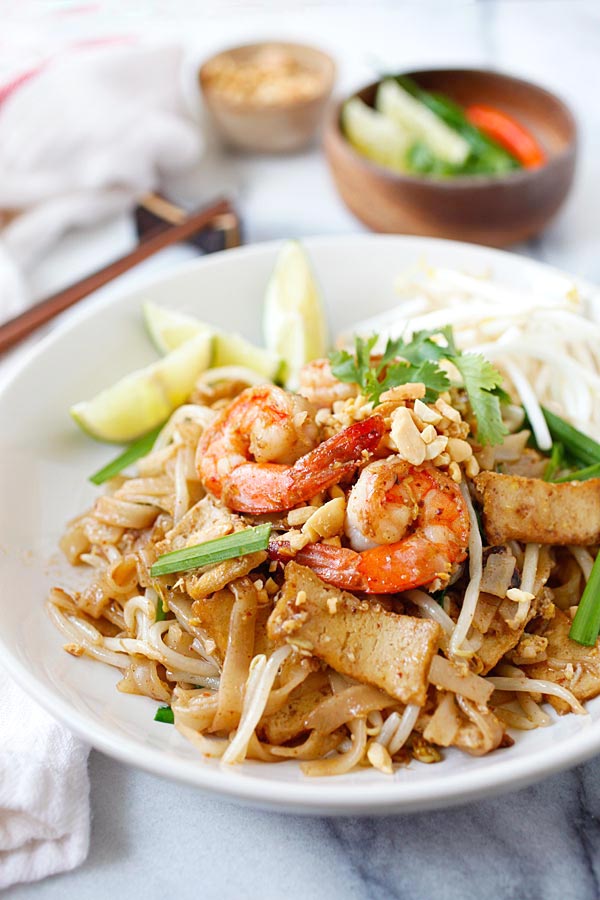 I had the best shrimp Pad Thai at Bangkok's international airport many years ago. I was on a transit and had a quick meal at the airport terminal. I ordered a serving of shrimp Pad Thai from a fast-food joint. Hot off the wok, my fried noodle was absolutely delicious, fresh, with the perfect balance of flavors. It was a tad spicy, savory, sweet and sour. I was instantly hooked.
Since then, Pad Thai has become a staple whenever I dine out at Thai restaurants. Somehow the ones I have tried here in the US pales in comparison. This is my shrimp Pad Thai recipe. Try it, it's healthier and better than your regular Thai takeout.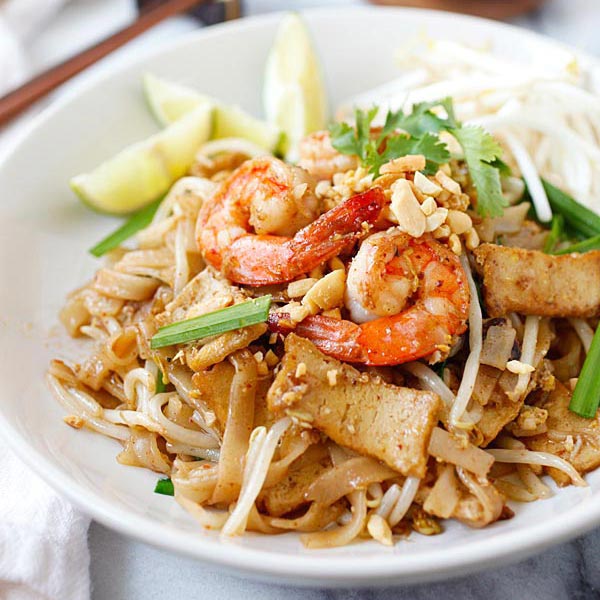 Rate This
Recipe Name
Average Rating

Based on 4 Review(s)