Three Cup Chicken (三杯鸡)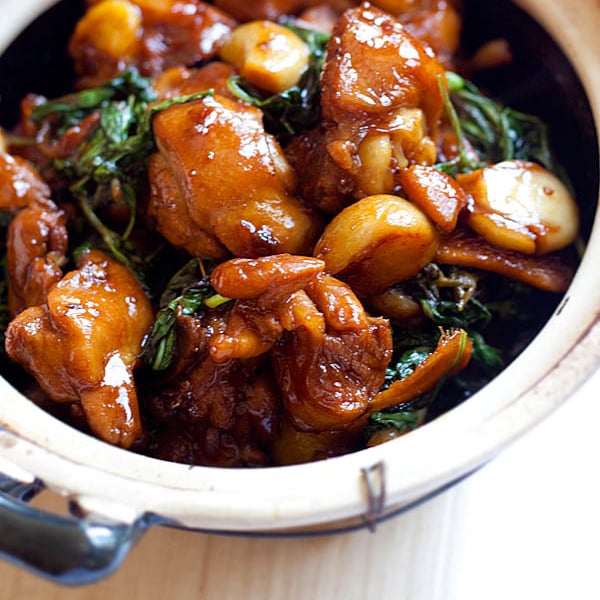 http://rasamalaysia.com/three-cups-chicken-recipe/
Three cup chicken (三杯鸡) is a classic Taiwanese dish, one that I never miss out whenever I eat out at Taiwanese restaurants. I love Taiwanese food–unpretentious, humble, and homey dishes that score high on yum-o-meter.
Taiwanese food is basically Chinese food with local influences, slightly different cooking methods, local adaptations and variations. Many Taiwanese dishes remind me of Chinese-Malaysian food, not due to proximity but the origin of such dishes from Fujian province where many early immigrants settled in Taiwan and Malaysia/Singapore.
The name "three cup chicken" (三杯鸡) comes from the three key ingredients: sesame oil, Chinese rice wine, and soy sauce. "Cups" refer to the equal ratio instead of literal measurement. A true and authentic Taiwanese three cup chicken calls for  basil leaves, the soul of the dish that lends an exotic aroma and minty nuance to the taste. Taiwanese also love their "three cup" recipe with squid (三杯小卷). Both are equally delectable.
Here is my three cup chicken recipe, adapted to my personal liking. I especially love the sauce with steamed white rice. It's wonderful! If you like Taiwanese recipes, you should also check out this pork and chicken rolls recipe.
LOVE THE RECIPE & PHOTOS? PLEASE SHARE:
Sign Up for Email Updates
Enter your email for new updates: recipes, giveaways, and more!