Banana Cake - the best and moist banana cake from scratch. Easy and healthy banana cake recipe without baking powder and calls for only five (5) ingredients.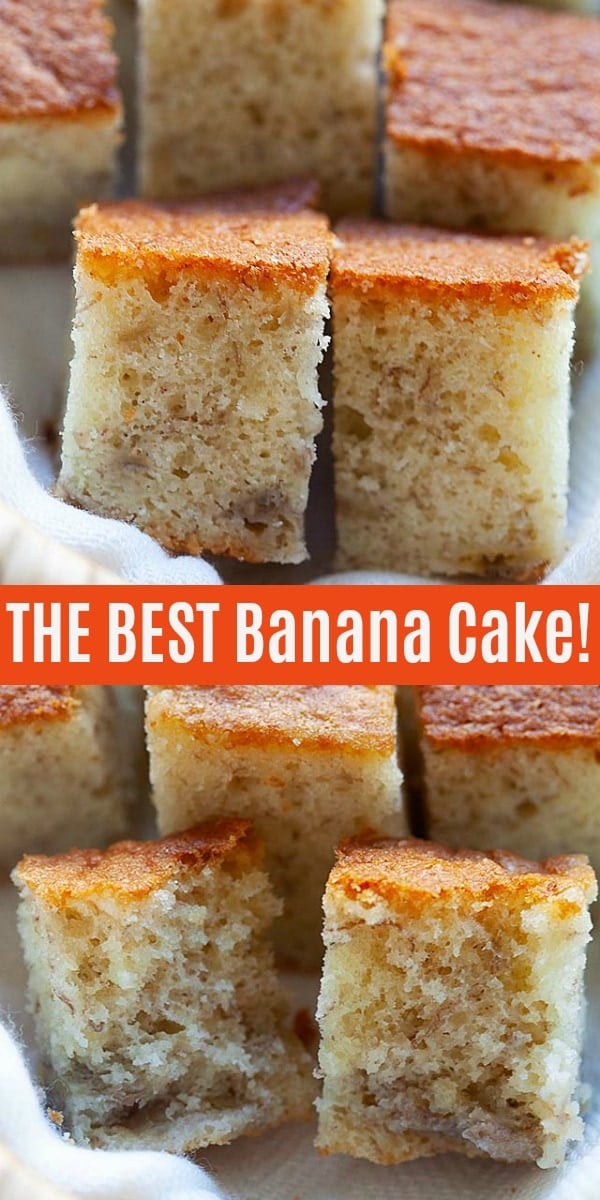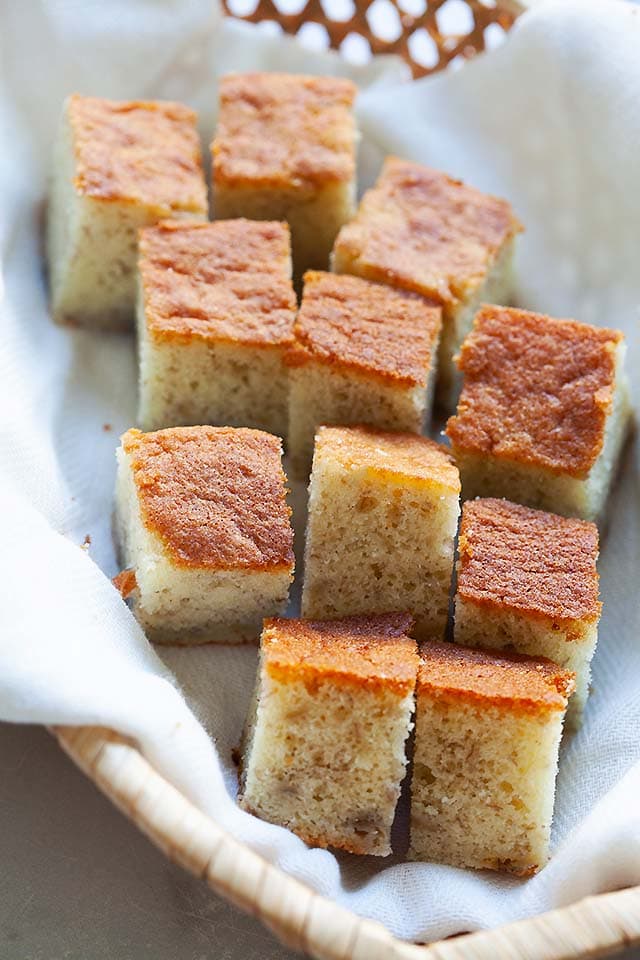 Banana Cake Recipe
For months, I have been testing out many recipes on the best banana cake, and this is IT, the holy grail of all banana cake recipes!
This easy banana cake recipe takes only five (5) ingredients. It's loaded with bananas, so moist, sweet, soft and absolutely addictive.
The banana cake is the BEST I've ever had!
There is no walnuts in the recipe, making it healthy and lower in calories. It's also purest in its taste.
Once you make this cake from scratch at home, you will never go back to banana bread, I can guarantee you!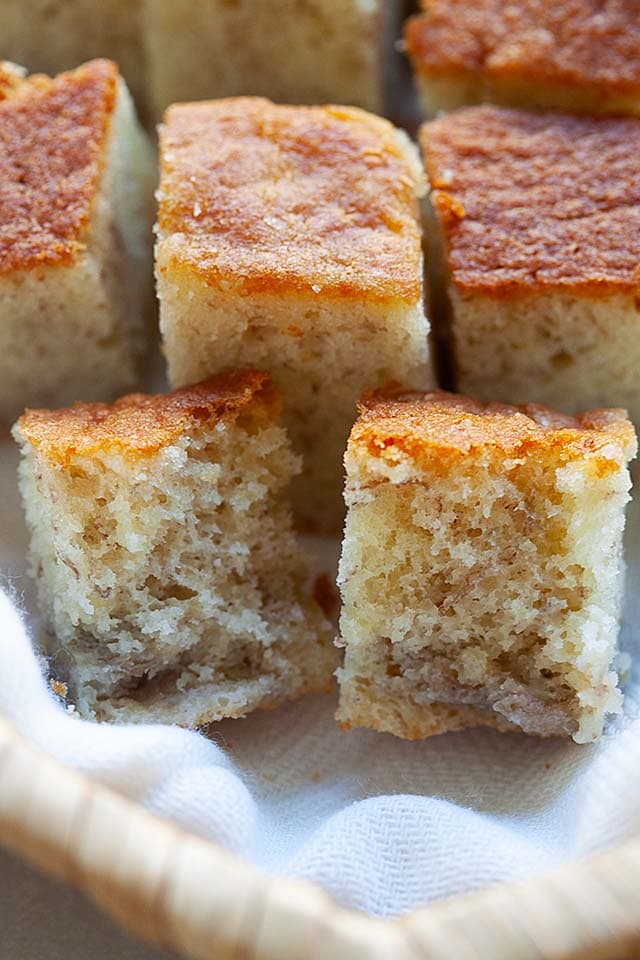 Other Recipes You Might Like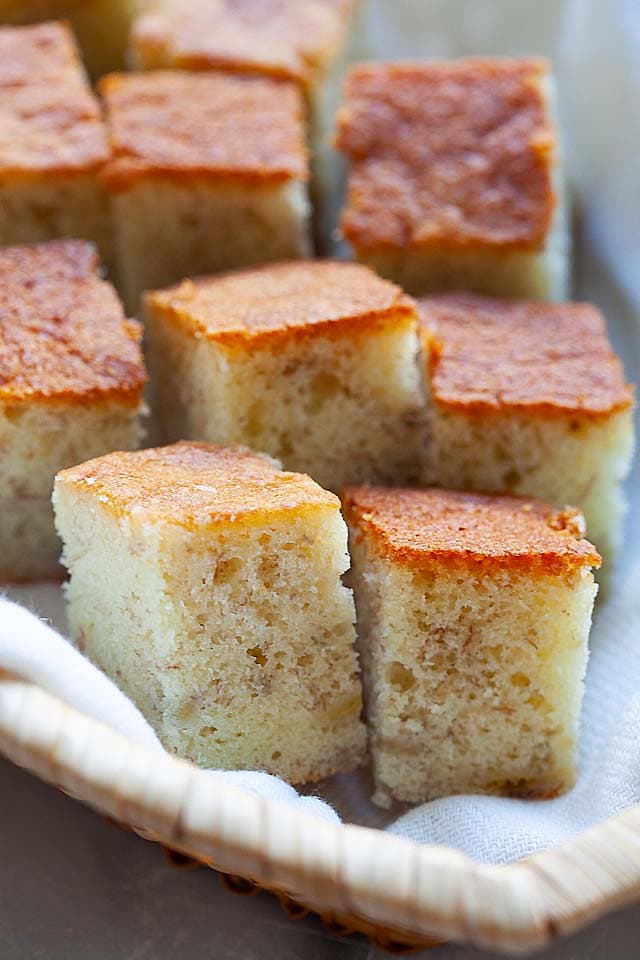 How to Make Banana Cake?
This easy recipe calls for very simple steps and uses special techniques unlike any recipes I have tried.
First, you beat the eggs until bubbly. Then you add the sugar and continue to beat until the mixture is foamy.
The little bubbles in the egg and sugar mixture make the cake super moist and light.
Next, you add the bananas, and then the melted butter and flour. Mix the ingredients gently, bake in the oven and you'll have gourmet banana cake!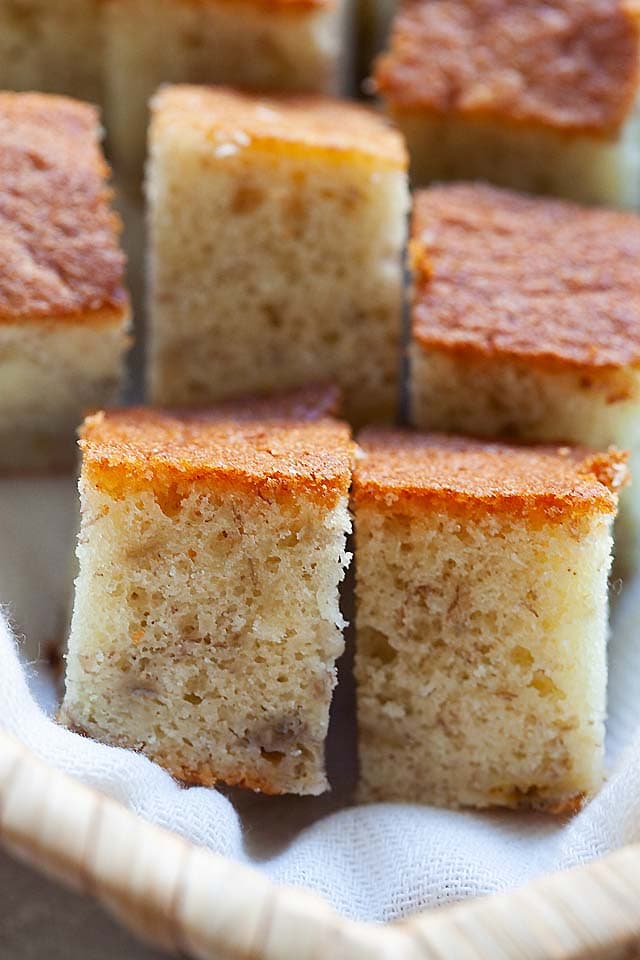 Baker's Tips
For the best results, please follow the tips below.
Use room temperature eggs. This is very important. If you have refrigerated eggs, soak the eggs with warm water until they become room temperature.
Sift the flour. This will ensure a softer texture.
DO NOT over stir the cake batter. You want to keep the bubbles in the batter so the cake is soft and light.
Use two pan for baking. This will make sure that the sides of the cake are thinner and hence make the cake extra moist and delicious.
Frequently Asked Questions
Is Banana Cake the Same as Banana Bread?
While both of them are very similar, they are different in texture, ingredients, techniques and recipe instructions.
The former is a cake prepared using banana as a primary ingredient and there is no walnuts in the recipe. The texture is also softer.
Banana bread is a type of quick bread made with all-purpose flour and has a denser texture. Banana bread usually has extra ingredients such as walnuts or chocolate chips.
Can I Store the Cake Overnight?
Yes, absolutely. You can store the cake overnight by wrapping it tightly with aluminum foil or plastic wrap.
This recipe yields very soft and moist cake so you won't have dry cake if you keep it overnight.
You can also keep the cake in the refrigerator. Reheat in a toaster oven or microwave before serving.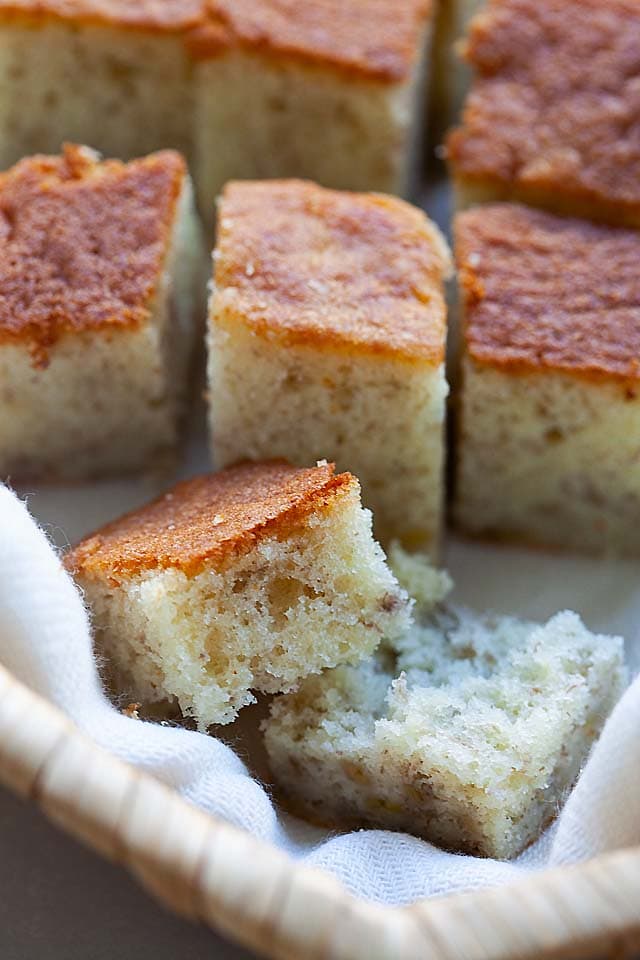 How Many Calories Per Serving?
This recipe is only 318 calories per serving. It serves 6 people.
What to Serve with this Recipe?
Banana cake is great with coffee or tea. For afternoon tea, I recommend the following recipes.

Pairs well with: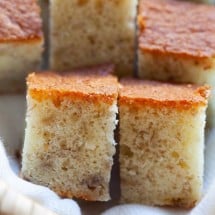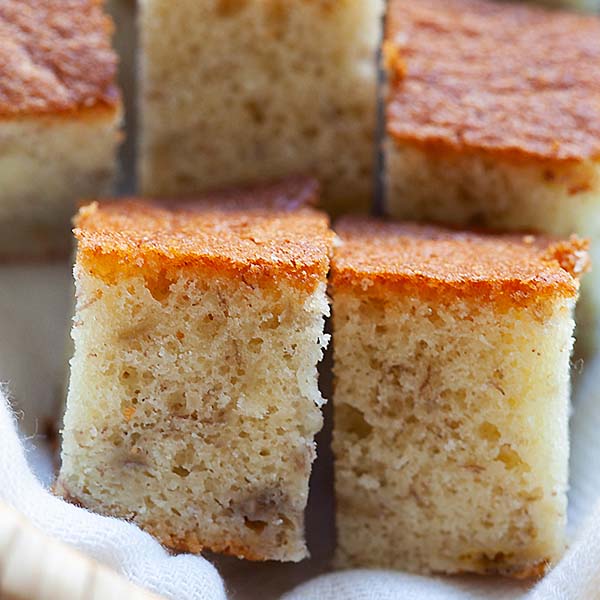 Banana Cake Recipe
Banana Cake - the best and moist banana cake from scratch. Easy and healthy banana cake recipe without baking powder and calls for only five (5) ingredients.
Ingredients
200

g

overripe bananas

(2 American bananas or 7 oz)

3

large eggs, room temperature

105

g

powdered sugar, granulated white sugar or brown sugar

(3.7 oz)

1

stick

unsalted butter, melted

(100g or 3.5 oz, I used Challenge brand butter)

120

g

self-raising flour

(4.2 oz)
Click Here for Conversion Tool
Directions
Preheat oven to 375° F (190° C). Grease a square cake pan (8" x 8" or 9" x 9") or loaf pan with butter, and then lined with parchment paper. Mash the overripe bananas in a bowl until fine, set aside.

Add the eggs into the bowl of a stand mixer. Beat on medium speed (speed 5) for 1 minute and increase to the highest speed (speed 10) for 2 minutes. The egg should become bubbly and foamy. Add the sugar and beat on the highest speed for 3 minutes. The egg and sugar mixture should be foamy, as pictured here.

Add the mashed bananas into the egg mixture. Gently stir 2-3 times to combine well.

Heat the butter in a microwave for 15-20 seconds or until it melts. Divide flour into 3 parts. Add half of the butter into the egg mixture, gently fold and stir 2-3 times with a spatula. Next add 1/3 of the flour, gently fold and stir around a few times until just incorporated. Add in the second part of the flour, stir gently to incorporate. Add the remaining butter, gently stir to mix and finally add the remaining flour. DO NOT OVER MIX.

Pour the banana cake batter into the pan. For the best results, stack two pans together for baking. To avoid the top of the cake becoming too brown, cover the top of the pan with aluminum foil after the cake top is set, after 30 minutes of baking. Bake for 45-55 minutes, or until a cake tester comes out clean in the center. Remove the cake from the oven, let cool on a wire rack for 30 minutes before cutting into pieces.
Recipe Notes
Please follow the metric measurement of the recipe for most accurate measurement.
Reduce the sugar if you want your banana cake to be less sweet.
Make sure you use room temperature eggs. If your eggs are refrigerated, warm up the eggs in a bowl with warm water. Soak the egg in the warm water for 5 minutes or until they become room temperature. This will make sure that your egg mixture is light and foamy.
You can also use a loaf pan to make this banana cake.
Recipe source: YouTube Brian Cuisine
Nutrition Facts
Banana Cake Recipe
Amount Per Serving (6 people)
Calories 318
Calories from Fat 162
% Daily Value*
Fat 18g28%
Cholesterol 122mg41%
Sodium 34mg1%
Potassium 191mg5%
Carbohydrates 41g14%
Protein 6g12%
Vitamin A 615IU12%
Vitamin C 3mg4%
Calcium 22mg2%
Iron 1mg6%
* Percent Daily Values are based on a 2000 calorie diet.