Betel Leaf (Daun Kaduk)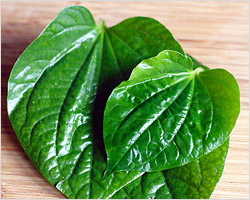 http://rasamalaysia.com/look-what-i-found/
I have been searching high and low for this herb and never thought I could get it here, so you could imagine how ecstatic I was when I finally found it in A Dong Market at Little Saigon here in Southern California. Well, sometimes it's all about where to look!
Thanks to my friend B at Wandering Chopsticks (who told me it's available in Little Saigon) and the friendly T&D at White On Rice Couple (who pointed me straight to the treasure), I now have access to this special ingredient that makes my mouth water just thinking about the possibilities: Malaysian Otak-Otak/fish custard wrapped with banana leaves, Nyonya Perut Ikan/stew preserved-fish stomach with vegetables (which sounds totally bizarre but very good), and the addictive Thai appetizer Mieng Kam (which is the reason why I fell in love with Thai food!). Such exotic and scrumptious culinary concoctions, made possible only by these little heart-shaped leaves. Amazing…
Called "daun kadok" or literally kadok leaves in Malay language, "la lot" in Vietnamese, these peppery-tasting wild betel leaves do wonders, here are the excerpt from Wikipedia:
"Betel leaves are used as a stimulant, an antiseptic and a breath-freshener. In Ayurvedic medicine, they are used as an aphrodisiac. In Malaysia, they are used to treat headaches, arthritis and joint pain. In the Philippines, Thailand, Indonesia and China they are used to relieve toothache. In the Philippines, they are used specifically as a stimulant. In Indonesia they are drunk as an infusion and used as an antibiotic. They are also used in an infusion to cure indigestion, as a topical cure for constipation, as a decongestant and as an aid to lactation…."
APHRODISIAC?! Time to load up buckets of wild betel leaves… *wink*
A Dong Market
Westminster, CA
Tel: (714) 999-5566
Click Images Below for Similar Recipes:
LOVE THE RECIPE & PHOTOS? PLEASE SHARE:
Sign Up for Email Updates
Enter your email for new updates: recipes, giveaways, and more!