Mongolian Beef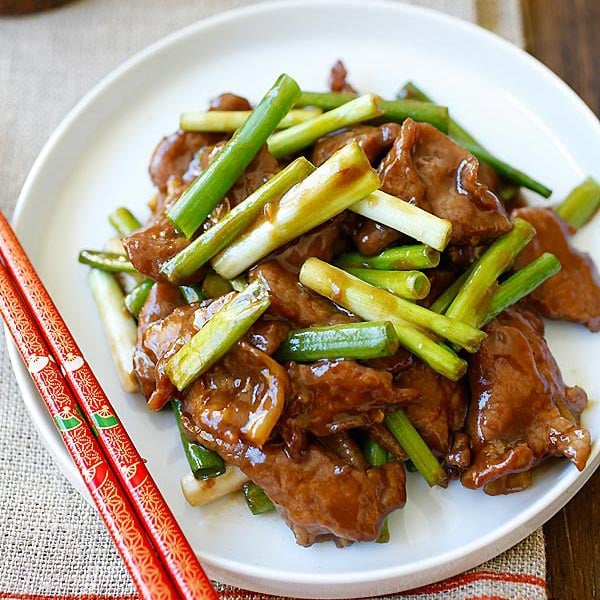 http://rasamalaysia.com/mongolian-beef-recipe/
Recently, I have shared many popular American Chinese food recipes and the responses were overwhelming. I got numerous emails from my readers trying out my recipes with great success. They thanked me profusely with some of the sweetest emails I've ever received and requested more popular Chinese recipes such as Mongolian beef and orange chicken. Mongolian beef is probably one of the most popular beef dishes in the United States, perhaps right after broccoli beef. Mongolian beef is not a traditional Mongolian dish. I am personally not sure about the origins of this recipe but according to Wikipedia, Mongolian beef is a Chinese-American creation. However, I have a Shang Palace Cookbook (Shang Palace is the signature Chinese restaurant at Shangri-La Hotels) and Mongolian beef is featured. I believe Mongolian beef is a legitimate Chinese dish that has been adapted by overseas Chinese restaurants.
Near my office at Beverly Hills—where Chinese restaurants are almost non-existent—I go to PF Chang when I need my Chinese lunch fix. While I am not a fan of PF Chang and chain restaurants, I have to say that PF Chang does a decent job with its Mongolian beef. In fact, Mongolian beef is probably one of the best items on their menu.
My Mongolian beef recipe is very close to the taste of PF Chang's, except that I used leeks instead of scallions. If you are not a fan of leeks, or can't get them where you live, scallions work, too. Now, tell me if your local Chinese restaurants (in the UK, Australia, Canada) serve Mongolian beef? I am really curious to know.
Click Images Below for Similar Recipes:
LOVE THE RECIPE & PHOTOS? PLEASE SHARE:
Sign Up for Email Updates
Enter your email for new updates: recipes, giveaways, and more!