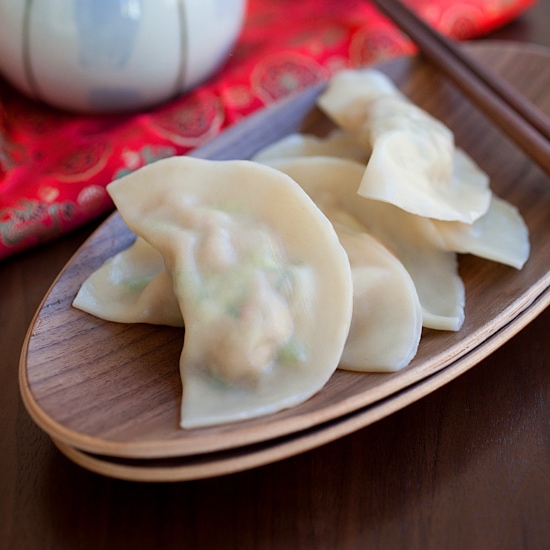 Pork Shrimp and Napa Cabbage Dumplings
Pork Shrimp and Napa Cabbage Dumplings. Easy breezy dumplings recipe that you can make at home in 15 minutes | rasamalaysia.com
Prep time:
Cook time:
Total Time:
Ingredients:
1 pack store-bought dumpling wrappers
Water, for wrapping
Filling:
8 oz ground pork
4 oz shelled and deveined shrimp, cut into small pieces
1/2 heaping cup thinly sliced Napa cabbage 1 stalk scallion, cut into small rounds
1 1/2 teaspoons Chinese Shaoxing wine or rice wine
3 dashes white pepper powder
1/2 teaspoon sesame oil
A good pinch of salt
Dipping Sauce:
Chinese black vinegar
Soy sauce
Peeled ginger, thinly cut into matchstick strips
Method:
Mix all the ingredients of the Filling in a bowl, stir and mix to combine well. Set aside. To make the Dipping Sauce, combine some 1 portion of black vinegar, 1/2 portion of soy sauce, and the ginger in a small sauce dish.
To assemble the dumplings, take a piece of the dumpling wrapper and add about 1 heaping teaspoon of the Filling in the middle of the wrapper. Dip your index finger into a small bowl of water and circle around the outer edges of the dumpling wrapper. Fold the dumpling over to form a half-moon shape. Finish by pressing the edges with your thumb and index finger to make sure that the dumpling is sealed tight. Place the dumplings on a flat and floured surface to avoid them from sticking to the surface. Repeat the same to use up all the Filling. Heat up a pot of water until it boils. Drop the dumplings into the boiling water and cover the pot. As soon as the dumplings start to float (meaning they are cooked), remove them using a slotted spoon, draining the excess water and serve immediately with the Dipping Sauce.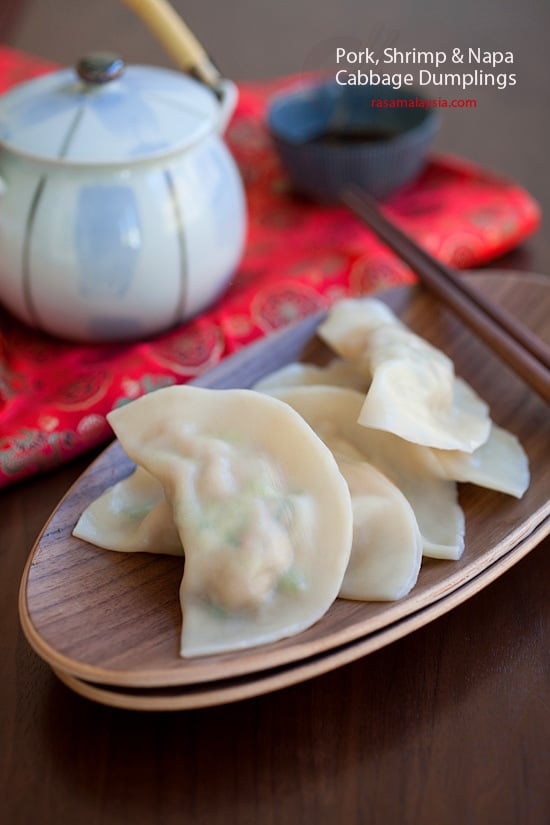 I am counting down to Lunar New Year which falls on this Friday. (Check out my Chinese New Year recipes.) On Lunar New Year's eve, family would gather together for a reunion dinner—a feast where plenty of dishes would be served. Growing up in Penang, Malaysia, our family reunion dinner would always be hotpot, or "steamboat" (called "圍爐") where we cook various ingredients in a boiling pot of soup. As a child, I would always look forward to Chinese New Year, as it's the happiest time of the year, with new clothes, new shoes, great foods, money ("red packets"), abundant joy and endless fun with my family and cousins.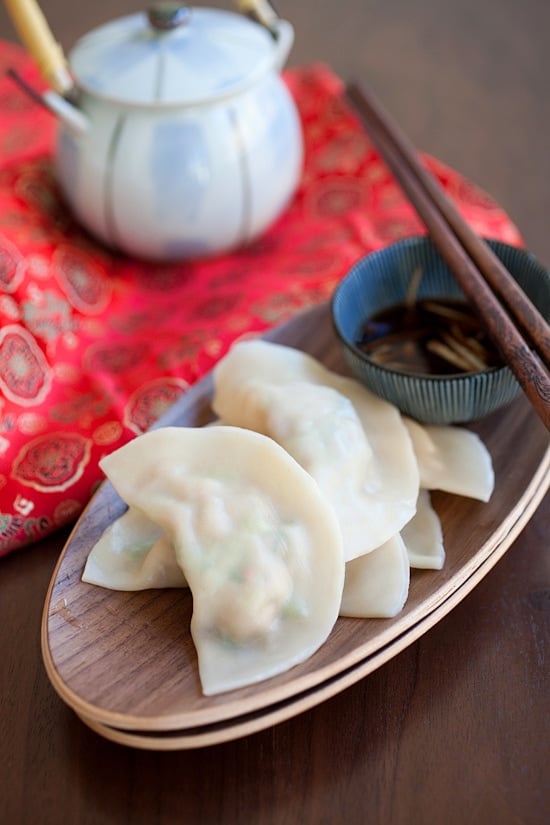 The first year I came to the United States as a graduate student, I celebrated Lunar New Year's eve with my friends from China. That was the first time I was introduced to dumplings, or jiaozi, as the staple for the reunion dinner. I remember my Chinese friends gathered around wrapping beautiful dumplings with the fillings, some made with pork and chives, and some with pork and napa cabbage. It was the first time I tasted Chinese-style dumplings, and it was then that I fell in love with them.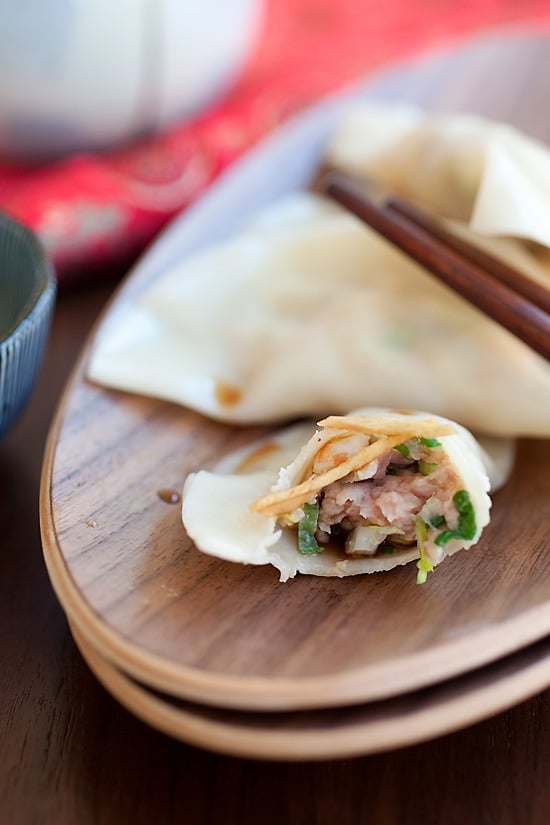 This is my easy pork, shrimp and napa cabbage dumplings. All the ingredients can be found at regular supermarkets. More importantly, these dumplings are extremely delicious: juicy, savory, with a nice and refreshing crunch from the fresh napa cabbage. They are absolutely delightful for the upcoming Lunar New Year celebration. For Lunar New Year recipe ideas, please check out my collection of Chinese recipes, Lunar New Year recipes, as well as my Dumplings recipes. Enjoy!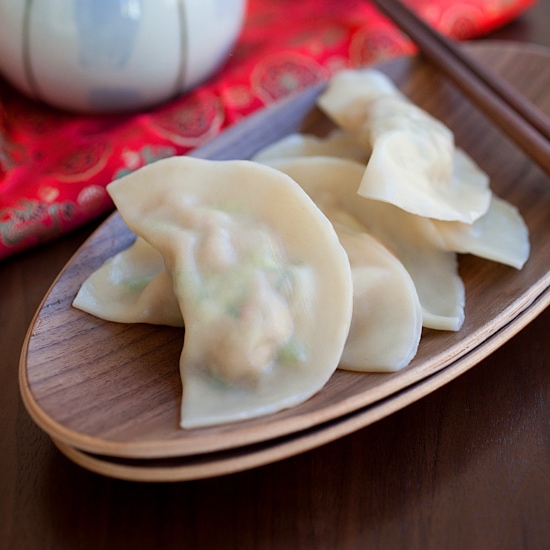 Rate This
Recipe Name
Pork Shrimp and Napa Cabbage Dumplings
Preparation Time
Cook Time
Total Time
Average Rating

Based on 3 Review(s)