Sichuan Red Oil Wontons (红油抄手)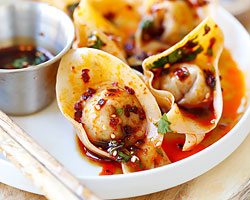 http://rasamalaysia.com/sichuan-red-oil-wontons-recipe/
Sichuan Red Oil Wontons (红油抄手)
The wonton has to be one of the most versatile food ever to be created. First of all, the stuffing, which is traditionally seasoned minced pork, can also be a combination of shrimp and pork, ala Cantonese style shrimp wontons. Or have leeks added, which is a popular Northern Chinese style. Then there is the cooking method. The traditional way is to boil and serve in a soup, such as the regular wonton soup. But it can also be deep-fried and served with dipping sauce. And then there's the Sichuan style, where the wontons are boiled, drained and then serve in a spicy chili oil black vinaigrette sauce. These are called Sichuan Red Oil Wontons.
Sichuan Red Oil Wontons are more popularly known as Red Oil Chao Shou (紅油抄手). When literally translated, Chao Shou means 'crossed hands' or 'arms folded'. The name may have originated from its similarity to the way people might fold their arms across their chests during the cold weather in Sichuan, which is exactly how the two lower corners of the wonton are folded after it's been shaped into a triangle, crossed over the meat filled mid section.
This tantalizing little appetizer is appealing anytime, especially during cold weather. One bite of the savory wonton accompanied by the heat of the chili oil is enough to warm the very cockles of your heart.
Click Images Below for Similar Recipes:
LOVE THE RECIPE & PHOTOS? PLEASE SHARE:
Sign Up for Email Updates
Enter your email for new updates: recipes, giveaways, and more!