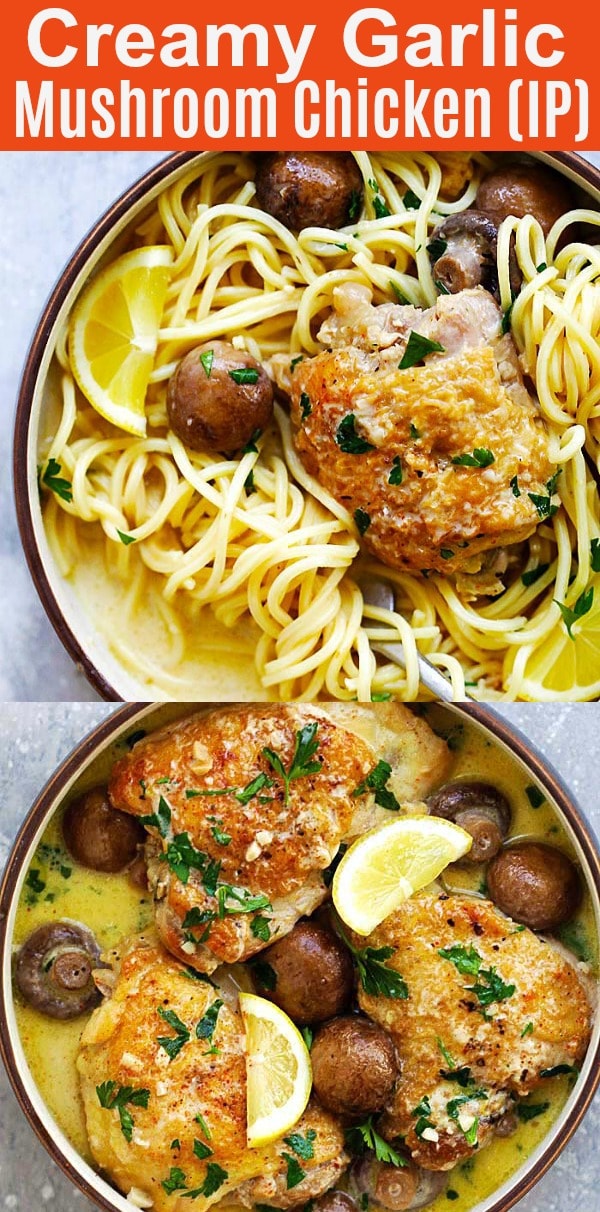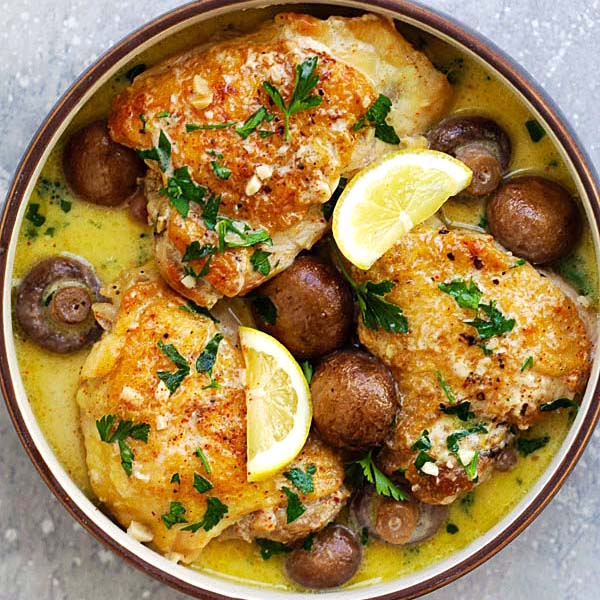 Creamy Garlic Mushroom Chicken (Instant Pot)
Creamy Garlic Mushroom Chicken made in Instant Pot. Easy delicious recipe for entire family
Prep time:
Cook time:
Total Time: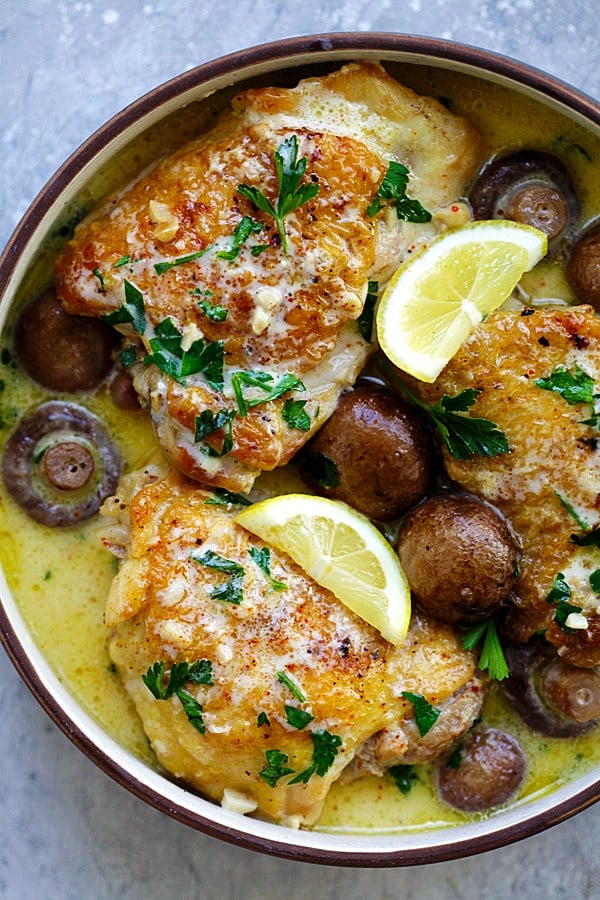 Creamy Garlic Mushroom Chicken
Garlic chicken with mushroom in a creamy sauce. This Instant Pot dinner recipe is so easy, fuss-free and perfect for a family dinner. The creamy sauce is delicious with rice or pasta.
I love serving this creamy garlic mushroom chicken with rice or plain spaghetti/pasta. Just ladle the chicken, mushroom and the creamy sauce over and you will have a perfect and delicious meal for the entire family. This recipe is tried and tested and even the pickiest eaters would approve.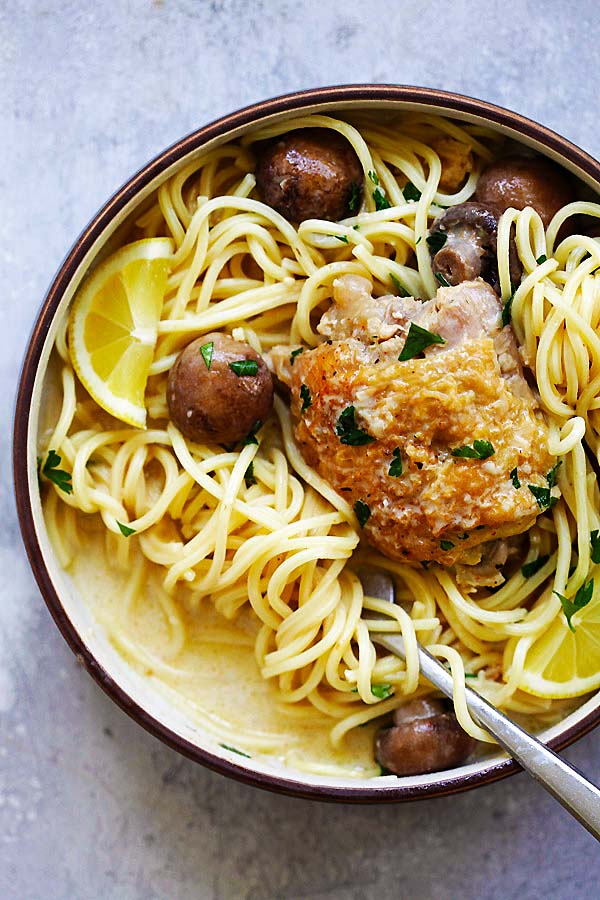 Creamy Garlic Mushrooms Chicken Recipe
Serves 4 | Prep Time: 10 Minutes | Cook Time: 15 Minutes
Ingredients:
1 1/2 – 2 lbs chicken thighs
Salt
Ground black pepper
1 tablespoon olive oil
3 cloves garlic, minced
6 oz Cremini or white mushrooms, stems trimmed
1/2 cup chicken broth
1/2 cup whipping cream or heavy whipping cream
1/4 teaspoon salt or to taste
3 dashes cayenne pepper
1 tablespoon lemon juice
1 tablespoon chopped parsley
Method:
Wash and rinse the chicken thighs with cold water. Pat dry with paper towels. Trim off the excess skin and fat with a pair of kitchen scissors. Season both sides of the chicken thighs with salt and pepper. Set aside.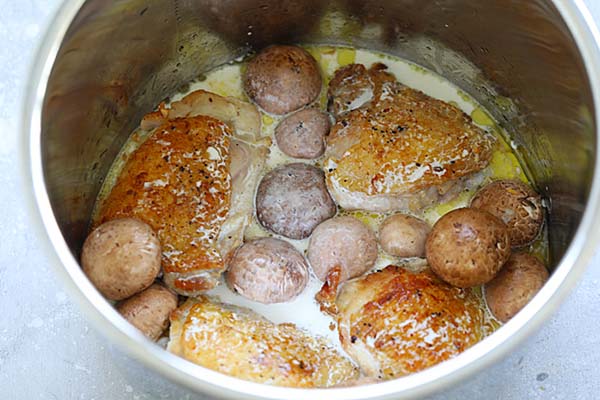 Turn on the Saute mode on your Instant Pot. As soon as the pot is fully heated (to make sure the chicken doesn't stick to the pot), add 1/2 tablespoon of the olive oil. Pan sear the chicken thighs (skin side down first) until both sides turn nicely brown. (You may pan-fry the chicken on a regular skillet or non-stick skillet.) Discard the chicken fat from the instant pot by spooning it out.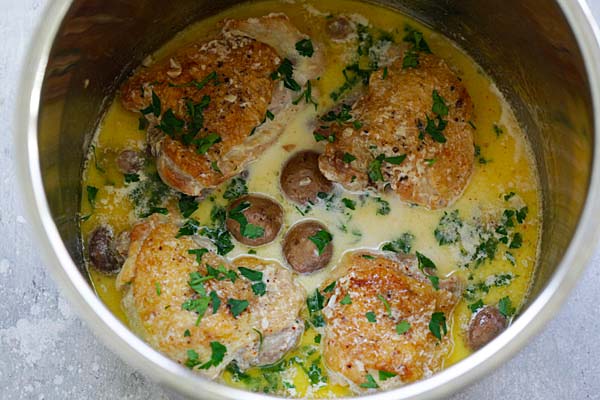 Add the remaining olive oil and saute the garlic a little bit. Add the mushrooms, chicken broth, whipping cream, salt and cayenne pepper. Cover the pot and select Manual and set to High pressure for 10 minutes. When it beeps, turn to Quick Release. When the valve drops, remove the cover carefully, add the lemon juice and chopped parsley, stir to mix well. Turn to Saute mode for a few minutes to reduce the sauce. Add more salt and lemon juice to suit your taste. Serve immediately with some plain spaghetti.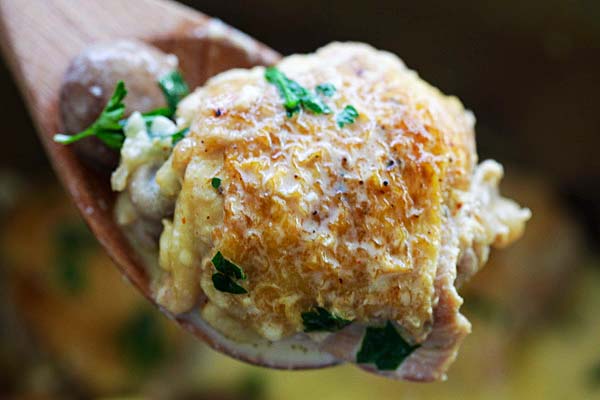 Cook's Notes:
I used a 6-quart Instant Pot.
You may use chicken breasts. If you use frozen chicken, increase the pressure cooking time by 50%, or a total of 15 minutes.
The whipping cream didn't curdle. You can certainly add the whipping cream after pressure cooking, when you add the lemon juice and chopped parsley.
If you don't have an Instant Pot, you can make this Creamy Garlic Mushroom on a stove top. Just pan-fry the chicken on a skillet and following the same method above. Simmer on low heat until the chicken thighs are cooked through.
ALL INSTANT POT RECIPES:
Trending Now
Crispy Leaf Potatoes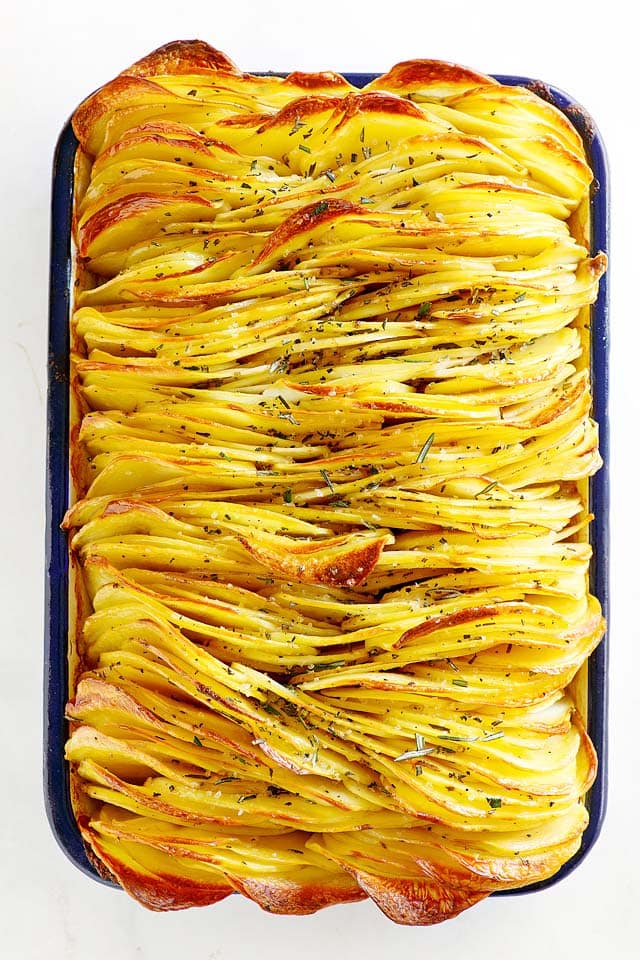 Dry Rub Baked Chicken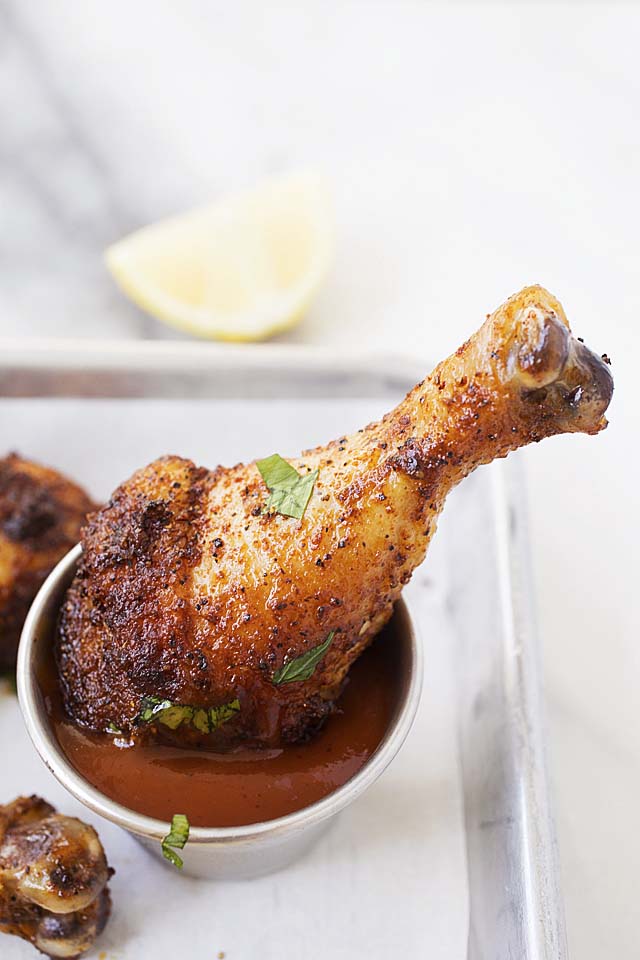 One-Pan Pasta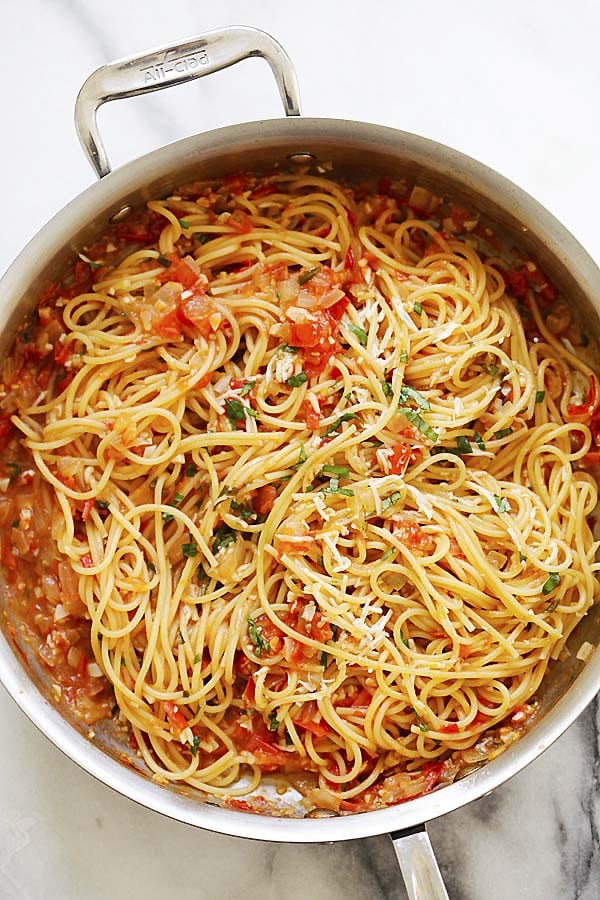 Cheese Puffs (Gougeres)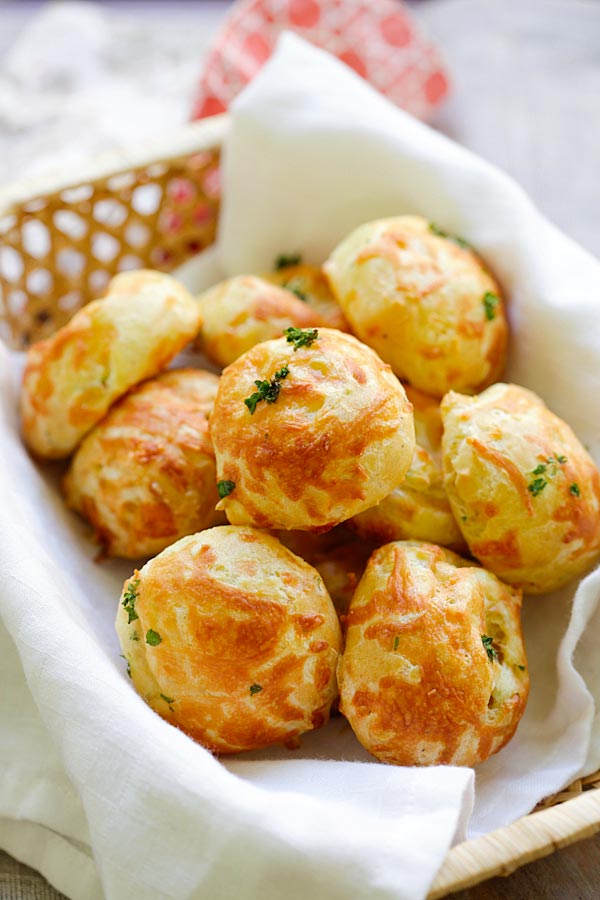 Baked Chicken and Potato Casserole