Lemon Garlic Chicken – juicy, moist and delicious chicken marinated with an amazing lemon chicken marinade. This chicken recipe is easy, quick and delicious with pasta or rice. A family-friendly dinner.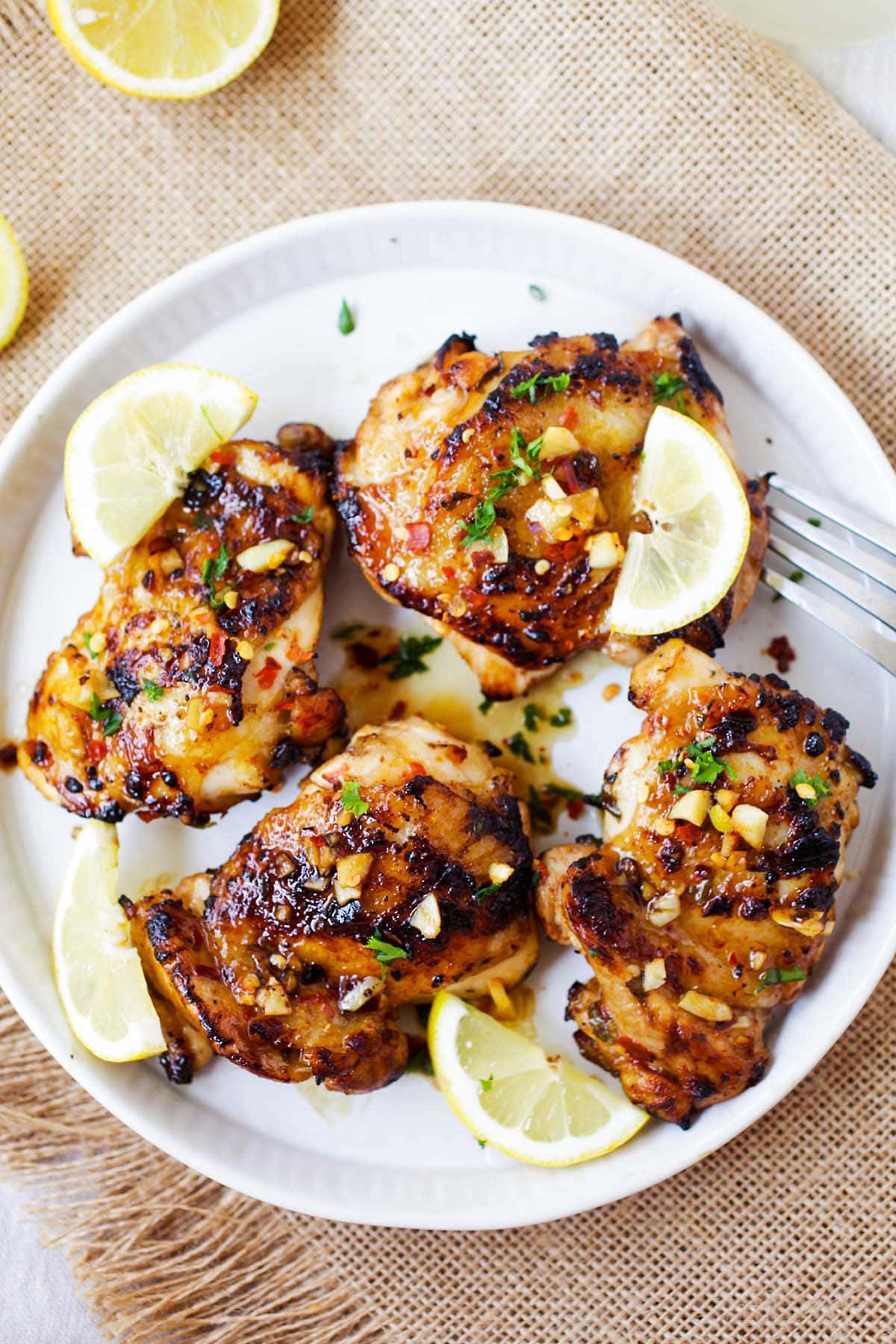 Tasty Lemon Garlic Chicken
This amazing lemon garlic chicken recipe is non-seasonal and can be made all year round. It can be grilled outdoors, baked in the oven, and even cooked in a pan or skillet.
This chicken is perfect on a busy weeknight when you don't have a lot of time in the kitchen. This lemon garlic chicken recipe is easy, quick and fuss free.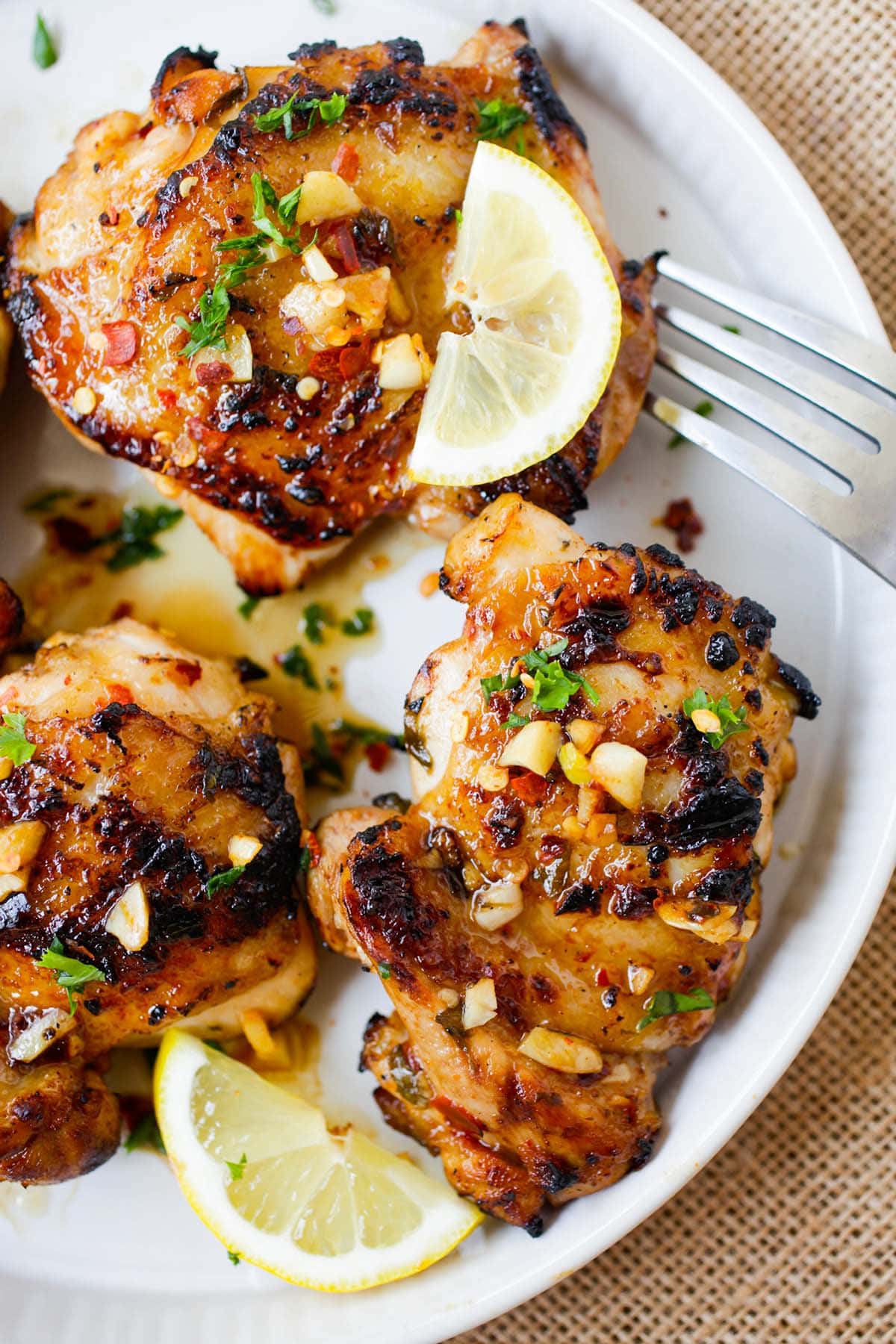 The Mouthwatering Quick Chicken Marinade
As you can tell from the photos, this lemon garlic chicken is super moist, juicy, mouthwatering, and absolutely delicious.
Imagine tender chicken thighs (deboned but skin on) marinated with a mixture of garlic, lemon juice, paprika, ground cumin, chili flakes, honey and olive oil.
The perfect balance of flavors burst in every bite, and have you wanting the chicken more!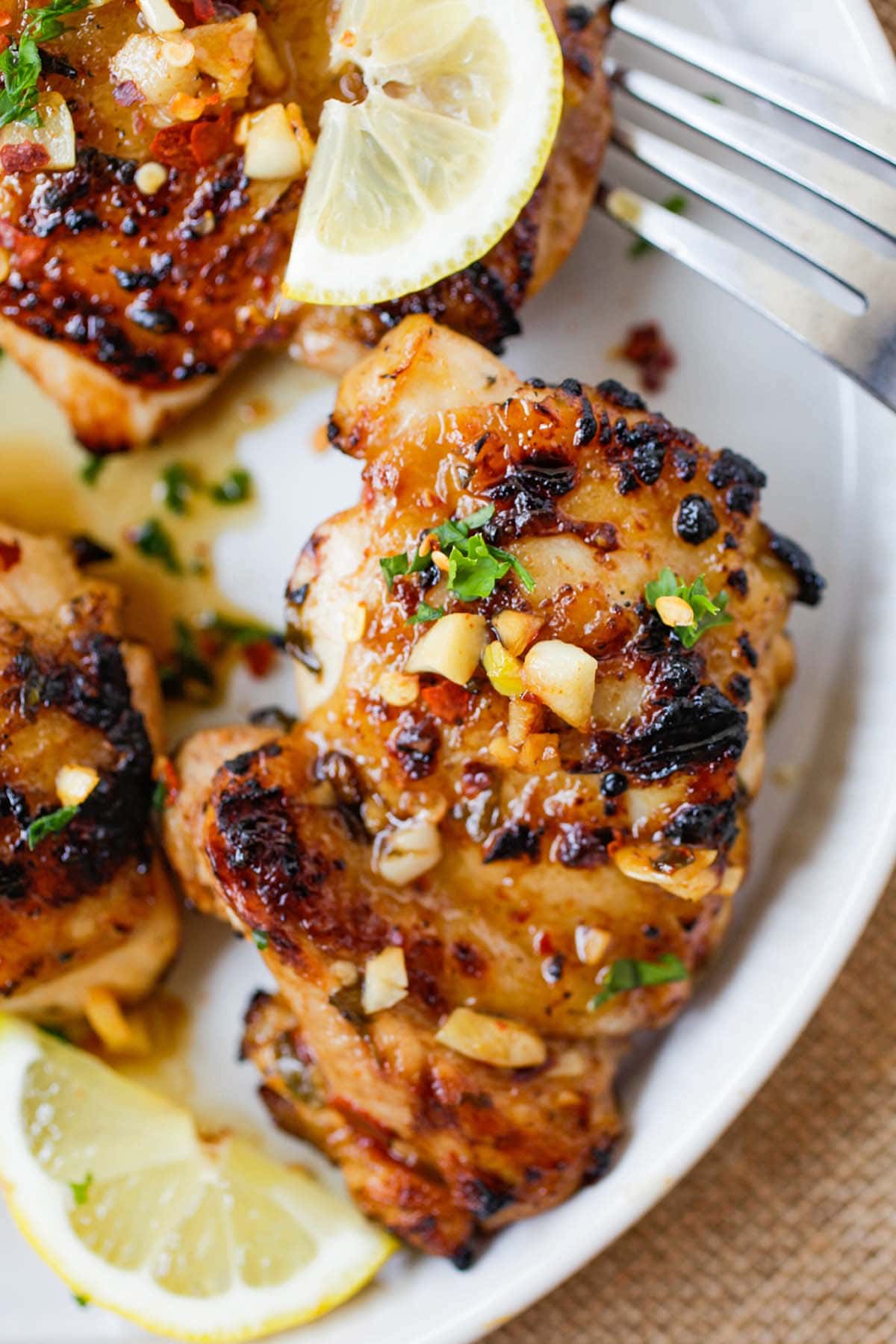 Ingredients for Lemon Garlic Chicken
Lemon
Garlic
Honey
Olive oil
Paprika
Chili flakes
Cumin
Parsley
You may use chicken breast if you prefer white meat. For me, dark meat is the best for this recipe and the skin is the best part of the chicken so I always keep the skin, however, skinless chicken will be yummy, too.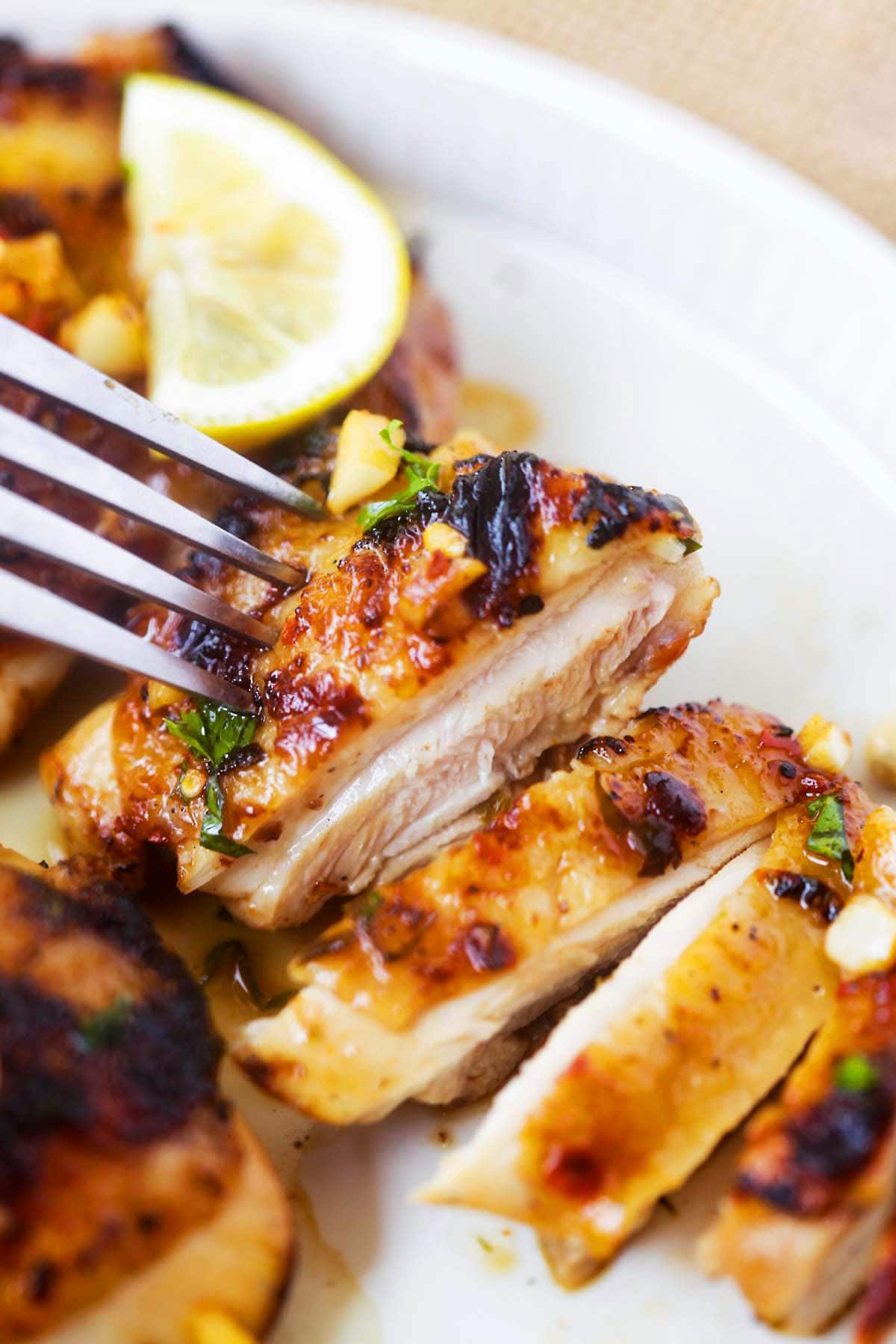 Frequently Asked Questions
How do you know if chicken is done cooking?
If the juices that come out of the chicken are slightly pink, it is probably not done yet. The chicken should be firm, rather than rubbery.
How long does it take to cook chicken?
It should take about 8 to 12 minutes, and the meat should run to 170 degrees F.
How many calories?
This recipe has 430 calories per serving.
What Dishes to Serve with this Recipe?
This dish is best served with pasta or rice. For a wholesome meal and easy weeknight dinner, I recommend the following recipes.
5 Secrets to 20 Min Dinners
Get tricks for quick & easy meals!
Yield: 3 people
Lemon Garlic Chicken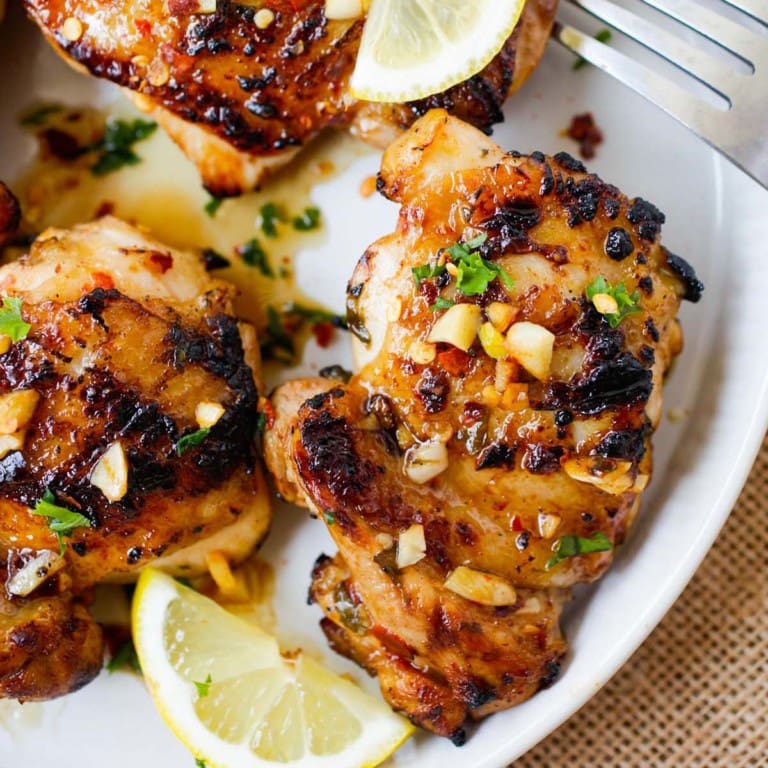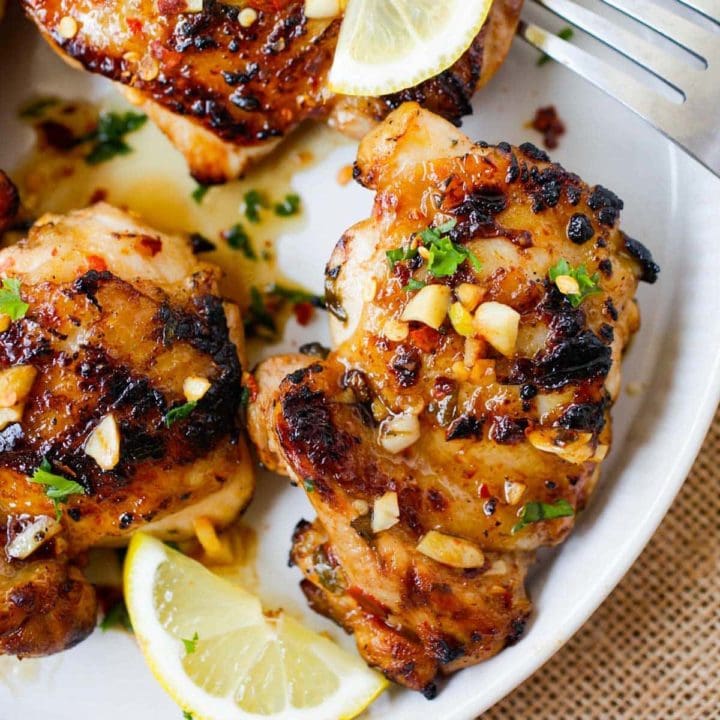 Lemon Garlic chicken – juicy, moist and delicious chicken marinated with lemon and garlic and grill to perfection. So easy and so good!
Additional Time
30 minutes
Ingredients
20 oz. (600 g) or 4 chicken thighs, deboned but skin on
sliced lemon, for garnishing
Marinade:
3 cloves garlic, minced
2 1/2 tablespoons lemon juice
1 teaspoon lemon zest
2 tablespoon olive oil
1 tablespoon honey
1/4 teaspoon paprika
1/4 teaspoon chili flakes
1/4 teaspoon ground cumin, optional
1 pinch salt
3 dashes ground black pepper
1 tablespoon chopped Parsley leaves
Instructions
Debone the chicken thighs but keep the skin on. If you like skinless, you may buy skinless and boneless skin thighs.
Mix all the ingredients in the Marinade in a bowl, whisk to combine well. Marinate the chicken with the Marinade, in a bowl or in a plastic bag for 30 minutes, or best for 2 hours.
Fire up the grill and grill the chicken on both sides, until it's cooked through and the skin is charred. You may bake the chicken in an oven at 400°F (207°C) for about 15-20 minutes, or pan-fried on a skillet on medium to low heat. Serve the chicken warm with some lemon wedges.


Nutrition Information
Serving Size
3 people
Amount Per Serving
Calories

430
Total Fat

41g
Saturated Fat

10g
Cholesterol

185mg
Sodium

164mg
Carbohydrates

9g
Fiber

1g
Sugar

6g
Protein

31g