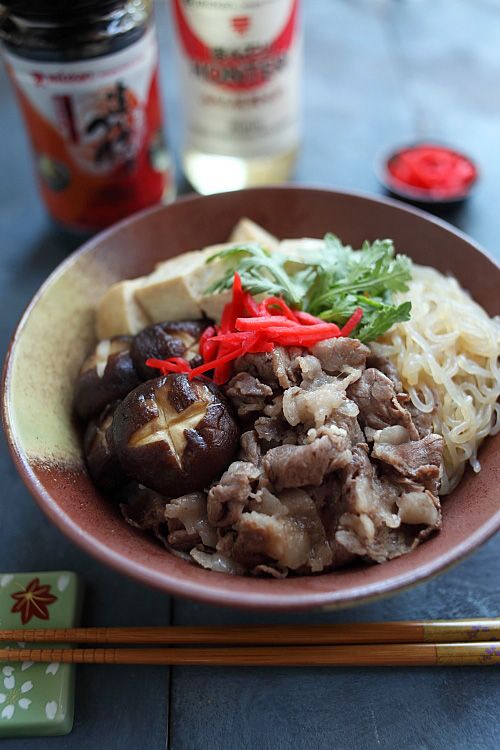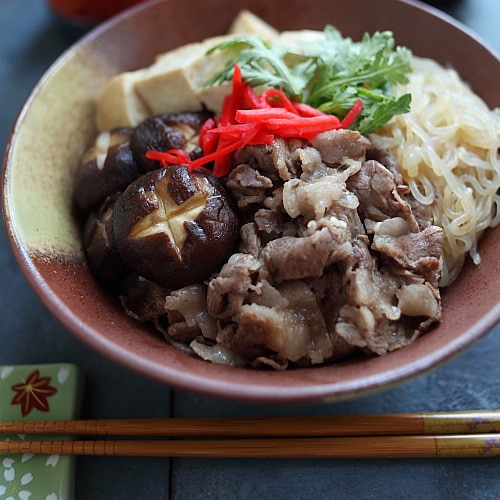 Sukiyaki Donburi
Sukiyaki donburi and sukiyaki donburi recipe. Easy sukiyaki donburi recipe that uses Mizkan Bonito-Flavored Soup Base, takes only 30 minutes to make.
Prep time:
Cook time:
Total Time: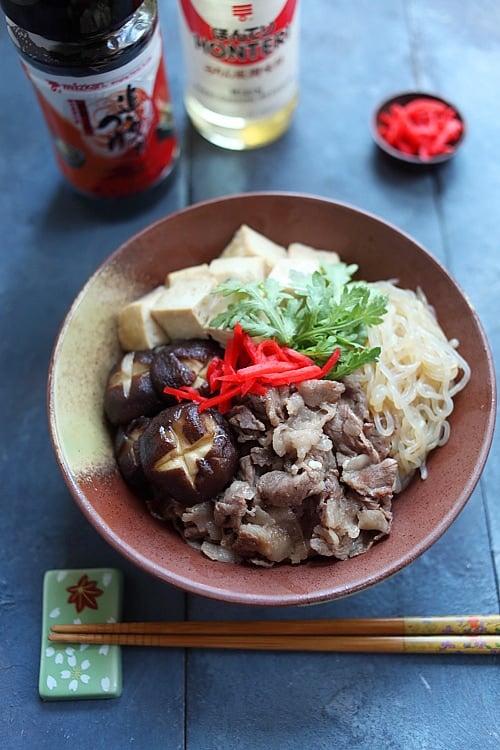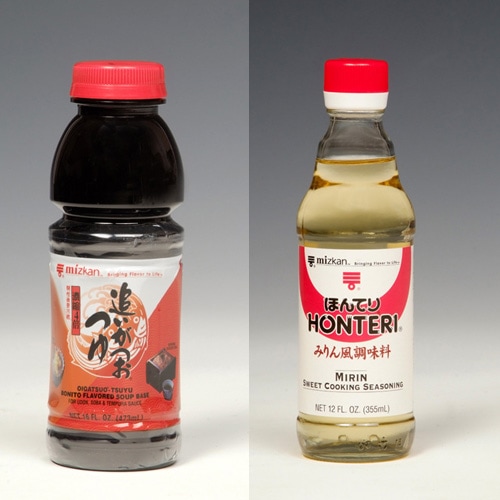 Other than bentos, rice bowls are very popular in Japan. Japanese fast food chains such as Yoshinoya and many curry house restaurants offer simple and delicious rice bowls such as beef bowl, curry rice bowls, chicken and egg rice bowls, etc. Known as donburi in Japanese, these rice bowls are very popular especially for the working professionals. As I mentioned in my earlier post, I have always been fascinated by this particular food culture in Japan. Every corner you turn, you will see bento and rice bowls signboards, all touting their signature dishes and endless choices.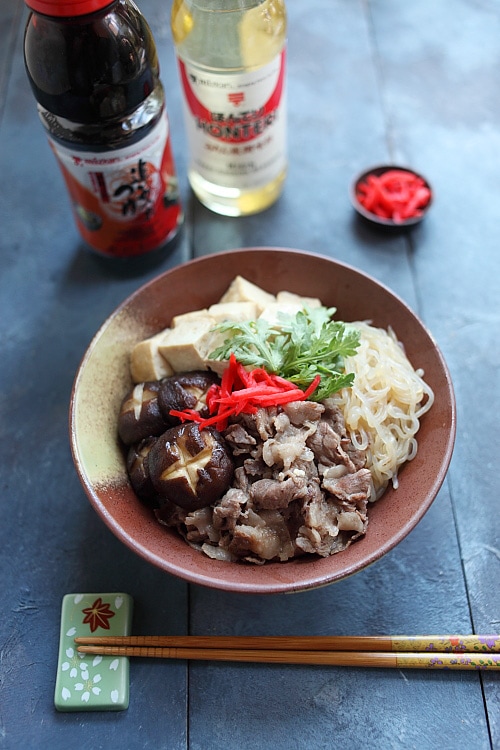 Sukiyaki Donburi Recipe
Serves 2 | Prep Time: 20 Minutes | Cook Time: 10 Minutes
Ingredients:
8 oz shirataki noodles
6-8 shiitake mushrooms, stems removed
2 oz shungiku
4-6 oz regular tofu, cut into pieces
3 stalks Tokyo Negi or scallion, cut diagonally into 2-inch lengths
1/2 lb thinly sliced fatty beef, such as Ribeye
Sauce:
1/4 cup Mizkan (Bonito Flavored) soup base
1/4 cup water
1 teaspoon sugar
2 tablespoons Mizkan Honteri Mirin
2 tablespoons sake
Method:
Rinse the shirataki noodles with cold water a few times until clean, drain and set aside. Arrange the ingredients in a skillet in the following order. Rinse the shungiku thoroughly, set aside. You can cut the bottom part of the stems, about 1/2 inch off. Make two incisions in the cap of the mushroom to form the nice "cross" shape. Slice the beef into smaller pieces, if you like.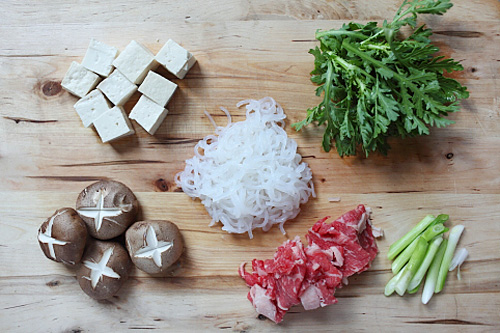 Arrange the ingredients in a skillet.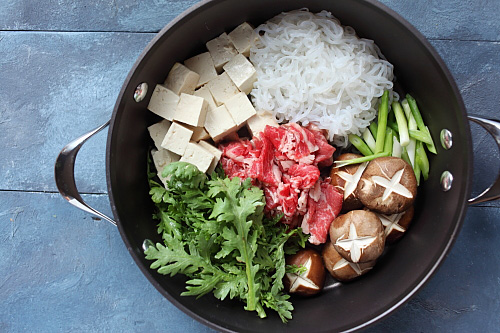 Mix all the ingredients in the Sauce in a small bowl. Blend well.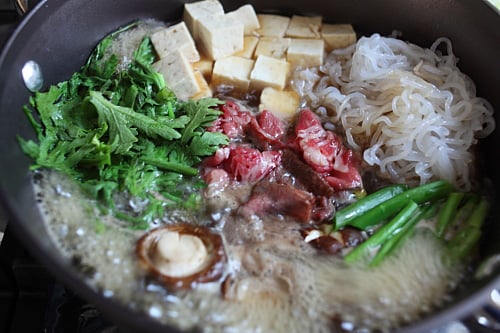 Heat up the skillet on high heat. Cook for about 30 seconds, add the sauce in the skillet. Cover and cook until the sauce is boiled. Use a pair of chopsticks to turn the beef around and make sure they are cooked. Turn off the heat once everything is cooked.
Scoop steamed rice into a big rice bowl. Top the rice with the various ingredients in the Sukiyaki. Serve with some shredded benishoga (pickled ginger).
Cook's Notes:
You can find all the ingredients in Japanese food stores.
If you can't find shirataki noodles (which is made of konjac yam), you can use regular cellophane noodles (mung bean noodles/glass noodles).
You can use watercress to replace shungiku.
If you can't find thinly sliced beef, buy the ribeye, freeze it and slice with very sharp knife. The key is to slice the beef really thin.
Trending Now
Soy-Glazed Chicken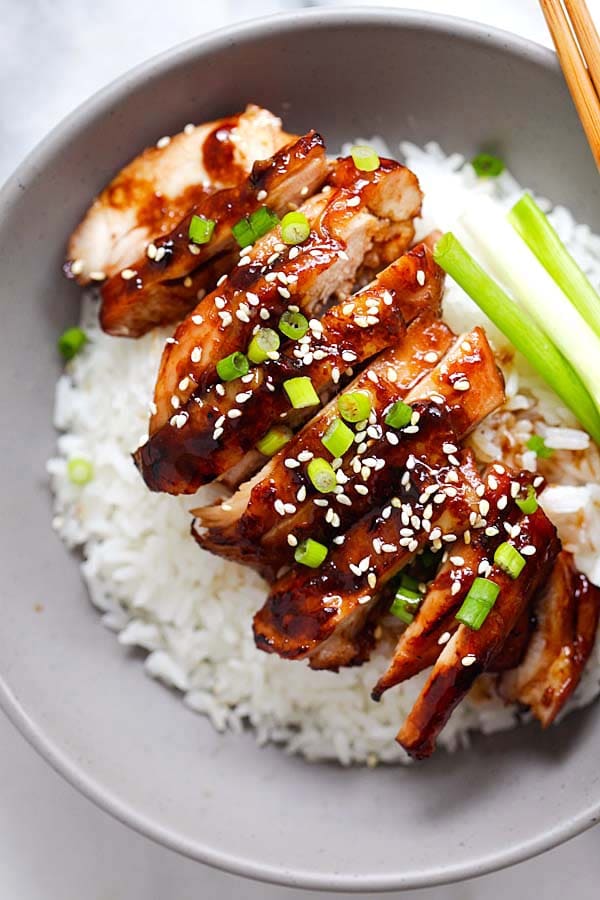 Honey Sriracha Scallops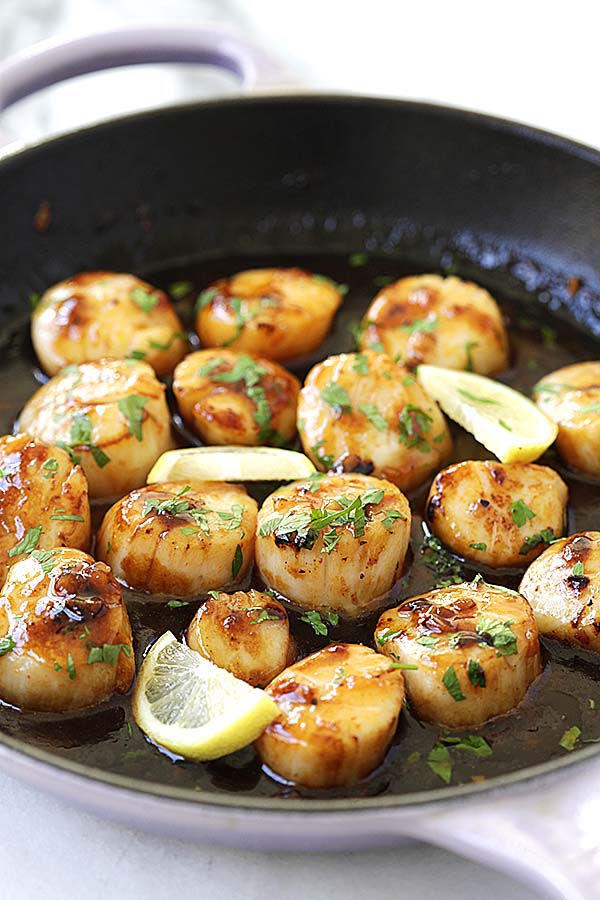 Teriyaki Chicken Meatballs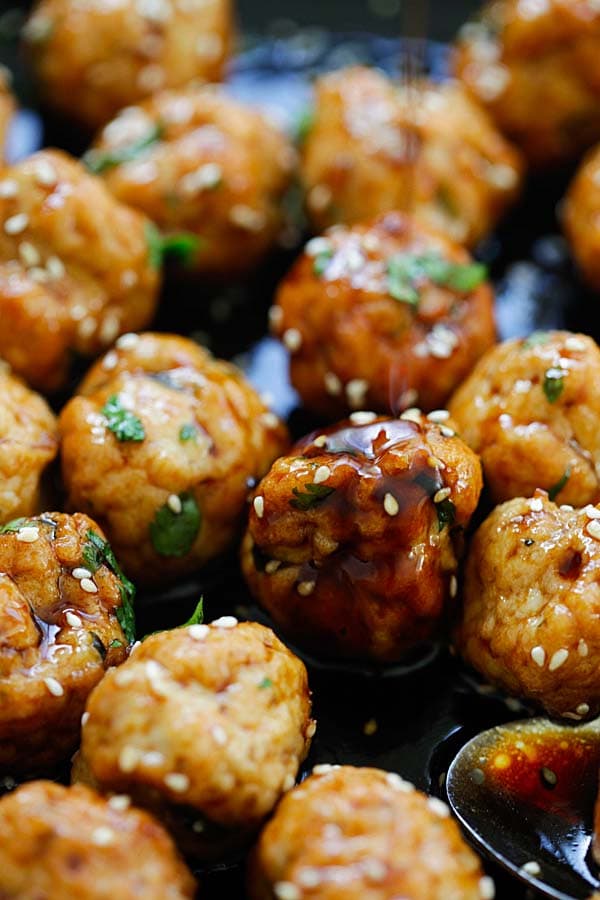 Hot and Sour Soup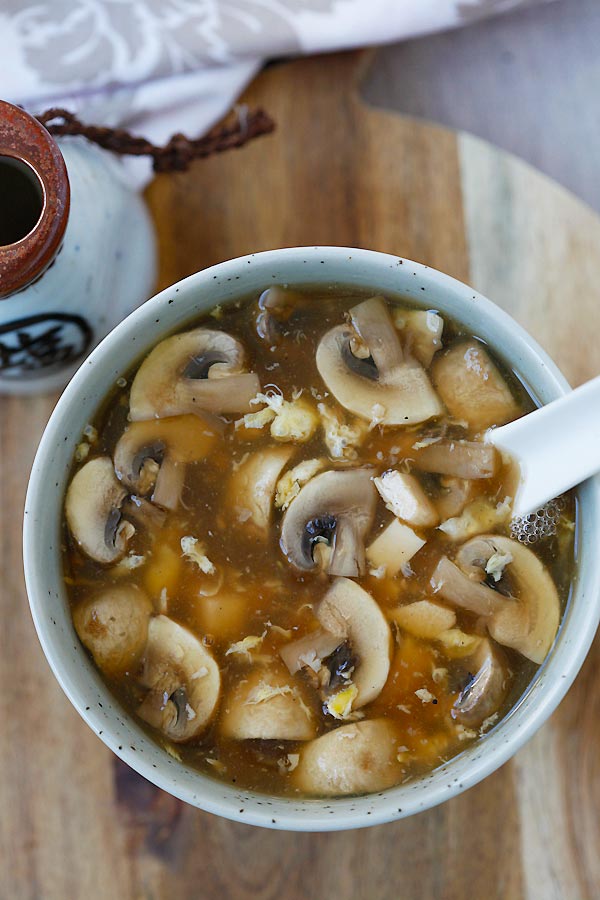 Thai Sweet Chili Chicken