Baby Bok Choy Recipe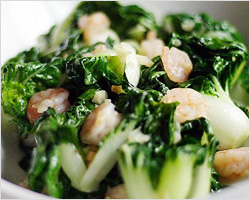 http://rasamalaysia.com/baby-bok-choy-with-garlic-and-shrimp/
(Chinese recipes, prepare authentic Chinese food now!)
When it comes to Chinese vegetables, simple is best. There is really no need for a complicated recipe for vegetables. The key to success with Chinese greens is freshness–you want to just barely cook them, and with the most basic ingredients.
That was exactly what I did with these bok choy mui (菜苗) or baby bok choy. Some chopped garlic, some baby shrimps, and a pinch of salt are what you need. Humble in its presentation, this baby bok choy recipe pairs well with any Chinese dishes. With the Olympics closing in a few days, this is my way to culminate my Beijing Olympics Chinese food series–on a healthy note.
In "Simple Chinese Cooking," Kylie Kwong writes, "I want to spread the word about the sheer intelligence, refinement and beauty of Chinese cuisine, which is a most sophisticated yet simple, healthy, life-giving cooking style to learn." In a similar manner–albeit on a much smaller scale–I hope you have enjoyed reading and learning about Chinese recipes on Rasa Malaysia.
Click Images Below for Similar Recipes:
LOVE THE RECIPE & PHOTOS? PLEASE SHARE:
Sign Up for Email Updates
Enter your email for new updates: recipes, giveaways, and more!