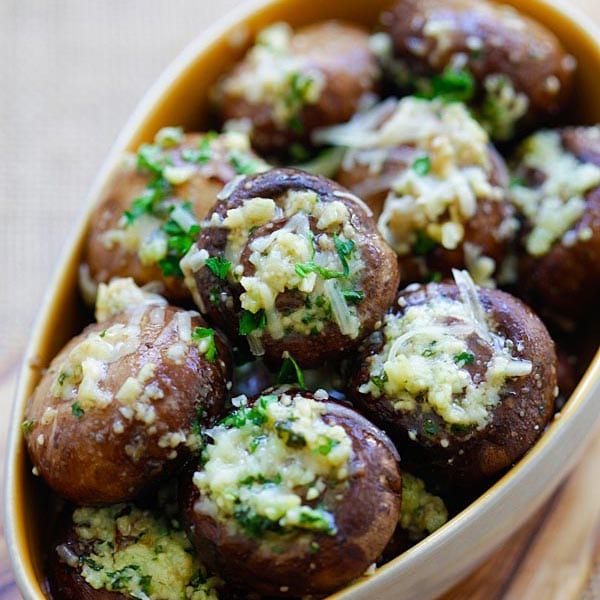 Garlic Parmesan Roasted Mushrooms
Garlic Parmesan Roasted Mushrooms – buttery and delicious oven roasted mushrooms loaded with garlic and Parmesan cheese. Takes 8 mins prep
Prep time:
Cook time:
Total Time:
Makes3
Ingredients:
12 oz cremini or white mushrooms, stem trimmed
1/2 stick butter (4 tablespoons) melted butter
4 cloves garlic, pureed or finely minced
Good pinch of salt
1 tablespoons bottled Parmesan cheese
1 teaspoon chopped parsley
2 tablespoons grated Parmesan cheese
Method:
Preheat oven to 375F.
Clean the mushrooms by wiping off the surface of the mushrooms using paper towels.
Combine the melted butter, garlic, salt, bottle Parmesan cheese and parsley together. Mix well. Toss the mushrooms with the mixture and combine well.
Roast the mushrooms for 12 minutes. Sprinkle the grated Parmesan cheese on top of the mushrooms at 10 minutes mark and roast for another 2 minutes. Remove from the oven and serve immediately.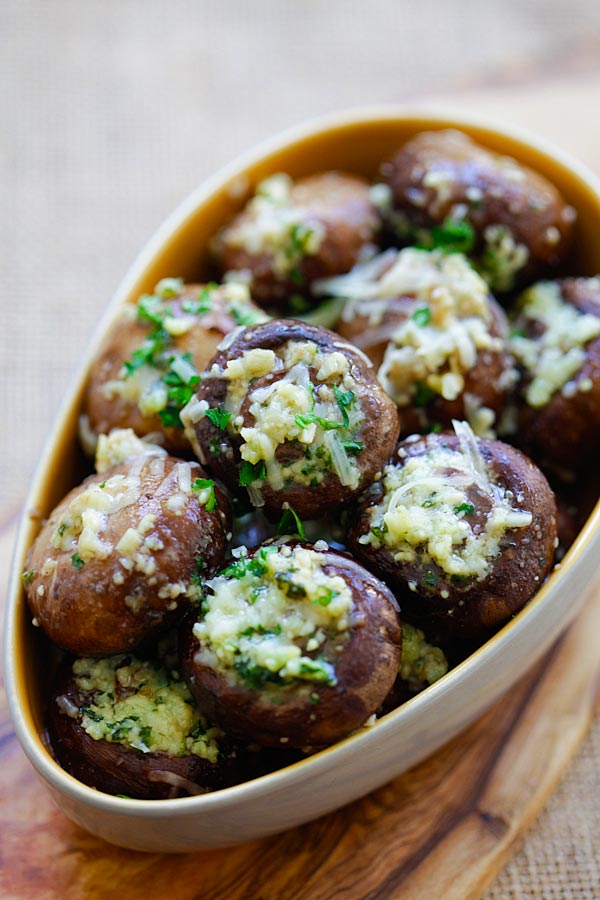 Garlic Parmesan Roasted Mushrooms
Garlic Parmesan Roasted Mushrooms – buttery and delicious oven roasted mushrooms loaded with garlic and Parmesan cheese. Takes 8 mins prep.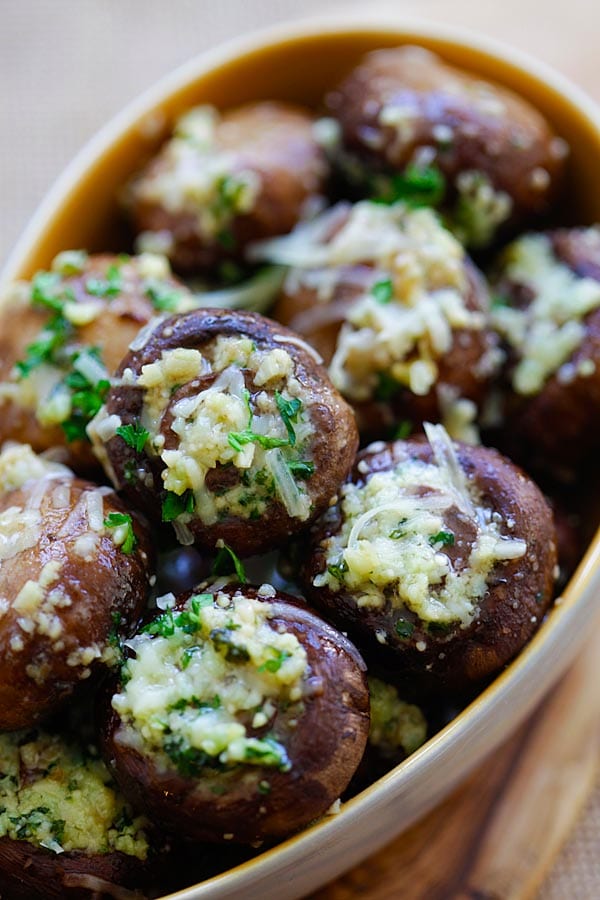 I always have mushrooms in my fridge because little G loves mushrooms. I usually make a simple garlic herb sauteed mushrooms for him when he is not in the mood for meat.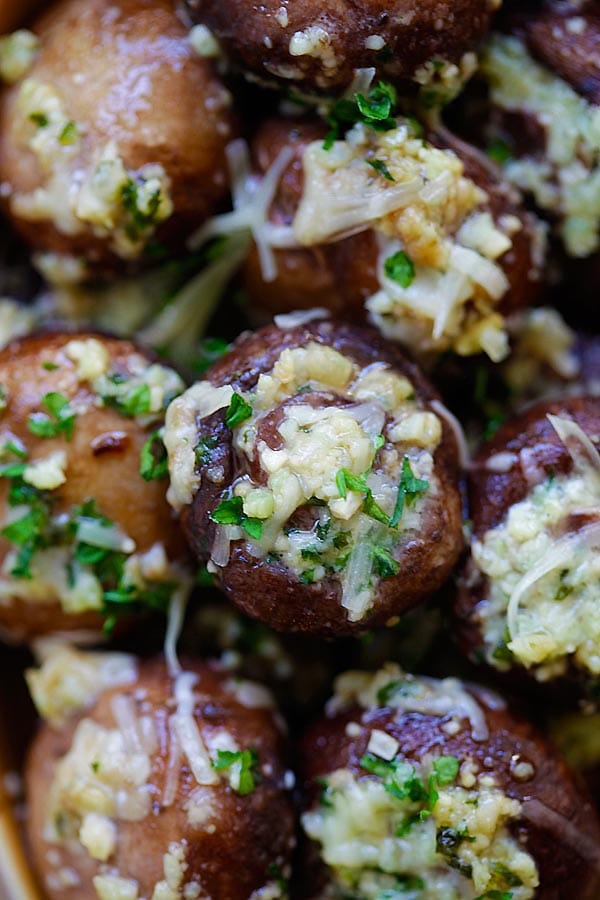 Some days when I want something different, I make this amazing, buttery, garlicky and cheesy garlic Parmesan roasted mushrooms loaded with garlic and Parmesan cheese. I used both bottled Parmesan cheese, grated Parmesan cheese, and lots of garlic for this recipe. Try it, it's SO good!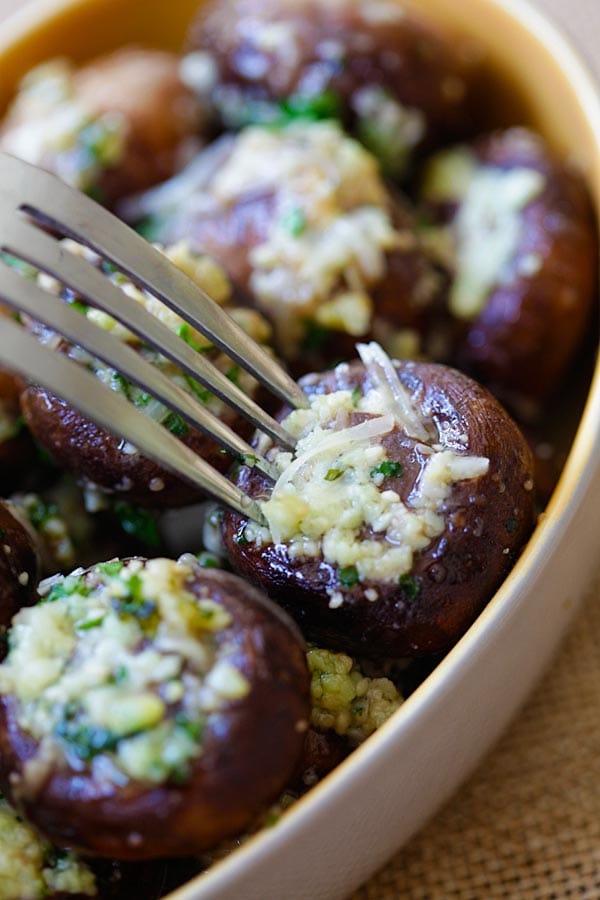 Roasted mushrooms is an easy and flavorful side dish to make. Shove it in the oven for 12 minutes and you have the perfect oven roasted mushrooms packed with nutrition for the little ones.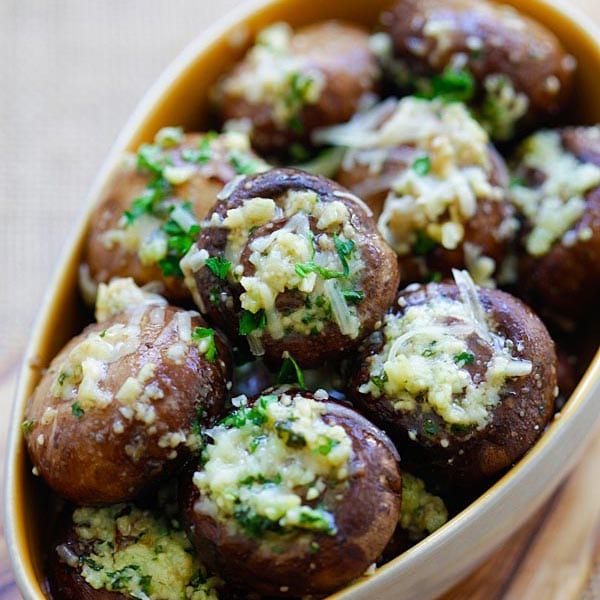 Rate This
Recipe Name
Garlic Parmesan Roasted Mushrooms
Preparation Time
Cook Time
Total Time
Average Rating

Based on 3 Review(s)