Introducing Nasi Melayu (Malay Cooking)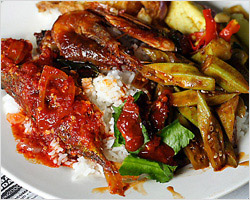 http://rasamalaysia.com/introducing-nasi-melayu-malay-style/
Introducing Nasi Melayu (Malay Cooking)

As a Malaysian food blog, I really haven't done a good job in introducing my readers about Malay-style cooking, which is essentially the main cuisine type in Malaysia as the ethnic Malays make up about 2/3 of Malaysia's total population. So, today, I am going to introduce you to Nasi Melayu (literally means "Malay rice") or the cooking of the Malays in Malaysia.
This rice plate of "Nasi Melayu" pretty much sums up the essence of Malay cooking–spicy, fiery, and lots of mouthwatering variety. The dishes (from closewise) are: fried fish in spicy sauce, sambal udang (prawn sambal), sweet and sour egg, fried tofu with turmeric and bean sauce, okra in sambal, and ulam (Malay-style salad with sambal belacan). There are definitely more to Malay cooking than those that meet your eyes here, for example, the famous Malay beef rendang. There are also many other wonderful chicken, vegetables, fish, rice and noodles dishes. I simply adore Malay cooking. It's colorful and absolutely delicious–one of the staple cuisines enjoyed by many Malaysians, regardless of our race, religion, or origins…
Nasi Melayu can be easily found at roadside stalls or hawker centers all over Malaysia. There are also restaurants selling various kinds of Malay dishes. At these stalls or restaurants, a diner usually gets a plate of steamed white rice and selects the dishes to go with the rice. (This is also known as "Nasi Campur" or mixed rice locally.) The total price of the rice plate depends on the quantity and the kind of dishes you order. There are also many popular Malay "Tomyam" food stalls selling made-to-order rice dishes. In this case, the foods served are influenced by Thailand, for example: various kinds of Tomyam (Tom Yum), Nasi Pattaya, Nasi Paprik, etc. ("Nasi" means rice in Malay language.)
In the near future, I hope to share more Malay-style cooking with you on Rasa Malaysia. For now, please let me know if this rice plate whets your virtual appetite. *wink*
Click Images Below for Similar Recipes:
LOVE THE RECIPE & PHOTOS? PLEASE SHARE:
Sign Up for Email Updates
Enter your email for new updates: recipes, giveaways, and more!