On the Noodle Road Giveaway (CLOSED)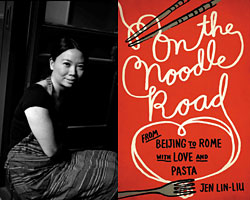 http://rasamalaysia.com/on-the-noodle-road-giveaway/
On the Noodle Road Giveaway (CLOSED)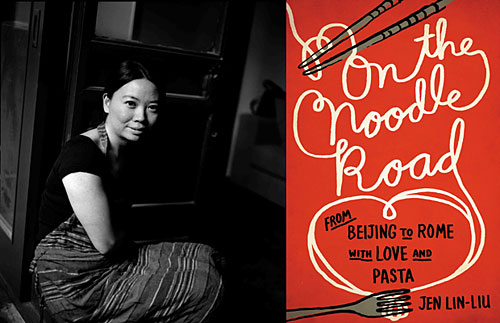 Update: The winners are Jacqueline C, Donna M, Jean C.
I'm partnering with Penguin Publishing to giveaway a On the Noodle Road: From Beijing to Rome, with Love and Pasta by Jen Lin-Liu. The giveaway is open to worldwide readers and there will be three (3) winners whom each will receive one (1) On the Noodle Road: From Beijing to Rome, with Love and Pasta by Jen Lin-Liu. The retail price of On the Noodle Road: From Beijing to Rome, with Love and Pasta is US$27.95.
A food writer travels the Silk Road, immersing herself in a moveable feast of foods and cultures and discovering some surprising truths about commitment, independence, and love.
Feasting her way through an Italian honeymoon, Jen Lin-Liu was struck by culinary echoes of the delicacies she ate and cooked back in China, where she'd lived for more than a decade. Who really invented the noodle? she wondered, like many before her. But also: How had food and culture moved along the Silk Road, the ancient trade route linking Asia to Europe—and what could still be felt of those long-ago migrations? With her new husband's blessing, she set out to discover the connections, both historical and personal, eating a path through western China and on into Central Asia, Iran, Turkey, and across the Mediterranean.
The journey takes Lin-Liu into the private kitchens where the headscarves come off and women not only knead and simmer but also confess and confide. The thin rounds of dough stuffed with meat that are dumplings in Beijing evolve into manti in Turkey—their tiny size the measure of a bride's worth—and end as tortellini in Italy. And as she stirs and samples, listening to the women talk about their lives and longings, Lin-Liu gains a new appreciation of her own marriage, learning to savor the sweetness of love freely chosen.
Eligibility: Worldwide. No purchase necessary and subject to this official giveaway rules. Closing Date: September 15, 2013, 11:59 pm PST. Winner will be randomly selected and contacted via email on September 16, 2013. The prize is proudly sponsored by Penguin Publishing.
Other Amazing Prizes & Giveaways:
Click Images Below for Similar Recipes:
LOVE THE RECIPE & PHOTOS? PLEASE SHARE:
Sign Up for Email Updates
Enter your email for new updates: recipes, giveaways, and more!