CliqueMe & simplehuman Kitchen Set Giveaway (CLOSED)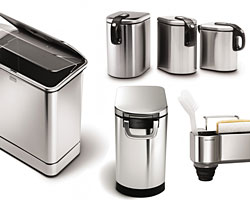 http://rasamalaysia.com/simplehuman-kitchen-set-giveaway/
CliqueMe & simplehuman Kitchen Set Giveaway (CLOSED)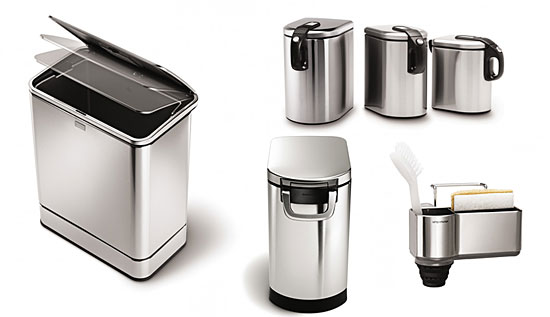 Update: The winner is Ashley C.
I am partnering with my friends at CliqueMe to give away a simplehuman Kitchen Set containing one (1) 55 litre rectangular sensor can (MSRP US$250), one (1) rice container (MSRP US$100), one (1) slim canister set (MSRP US$70), and one (1) sink caddy (MSRP US$17). There will be one (1) winner whom will receive one (1) simplehuman Kitchen Upgrade Set. The total suggested retail price of the simplehuman Kitchen Set is US$437.
I think many of you have noticed that I have a new feature called CliqueMe at the bottom right of my website. CliqueMe is practically turning every photo on Rasa Malaysia into Instagram where you can Like and/or Leave a Comment for that specific picture. It's a marvelous way to stay connected on Rasa Malaysia and many other sites you love.
When you hover your mouse over any image on Rasa Malaysia, you'll see a little heart and comment bubble down in the bottom right-hand corner of the photo. With CliqueMe, you can click the heart or comment bubble to like or leave a comment on any of the photos, such as the Korean BBQ Chicken picture below.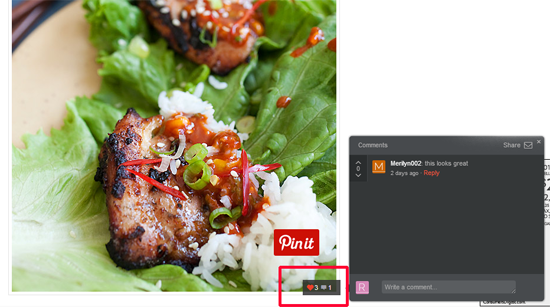 To start using this nifty feature, please register an account with CliqueMe. To register, click the CliqueMe tab down in the bottom right-hand corner of the screen, enter your desired username, password, and then your email address on the next screen. Registering is a one-time only process. Stay signed in, so the next time you come back you won't have to keep logging in over and over again. You will also continue to stay signed in with every site you visit using CliqueMe, for easy liking and commenting.
Photos you like will be saved so you can easily find them and come back to them later. In this way CliqueMe is similar to Pinterest, yet the photos are saved right on the bottom of your screen, no matter what site you're looking at.
To start exploring, click on the Trending button in the bar at the bottom of the screen. This will show you the most popular images on Rasa Malaysia at this moment.
Hover your mouse over any of these images to see how many likes and comments they've received. Click on any of the images to be immediately taken to the blog post associated with that image.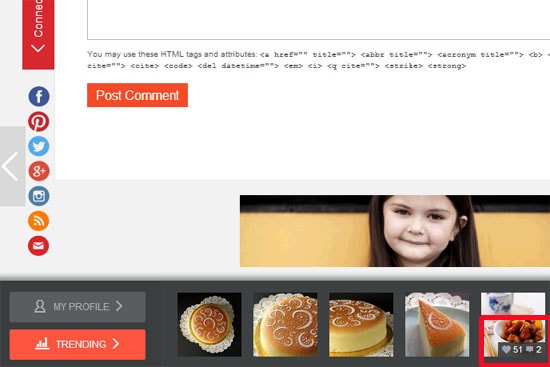 If you want to explore more, you can also click on the My Profile button. Here you can see all the photos you've liked. It saves liked images for you so you can find them again later. If you have a blog or website, you can put in your blog URL. Click on the bell by your name to see your notifications, if anyone is following you, or if anyone has mentioned you in a comment. Click on the Settings icon and you can also connect CliqueMe with your other social media accounts like Facebook, Twitter, Google+, and Instagram. Connect your accounts to find all your friends on CliqueMe to follow. You can tag them in photos and mention them in comments and it will show up in their notifications, like on Facebook.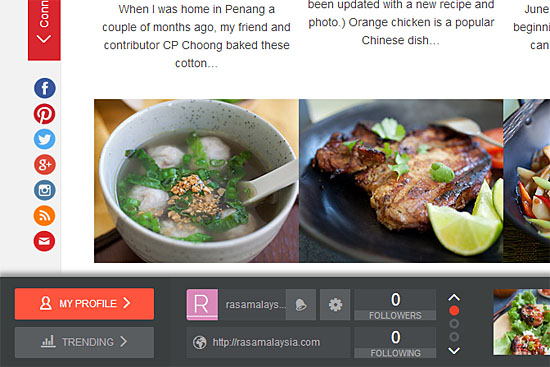 Be on the front end of this fun new social network, and join CliqueMe now! Don't forget about the SimpleHuman Giveaway today, worth $437!
Other Amazing Prizes & Giveaways:
Click Images Below for Similar Recipes:
LOVE THE RECIPE & PHOTOS? PLEASE SHARE:
Sign Up for Email Updates
Enter your email for new updates: recipes, giveaways, and more!