Thai Chili Chicken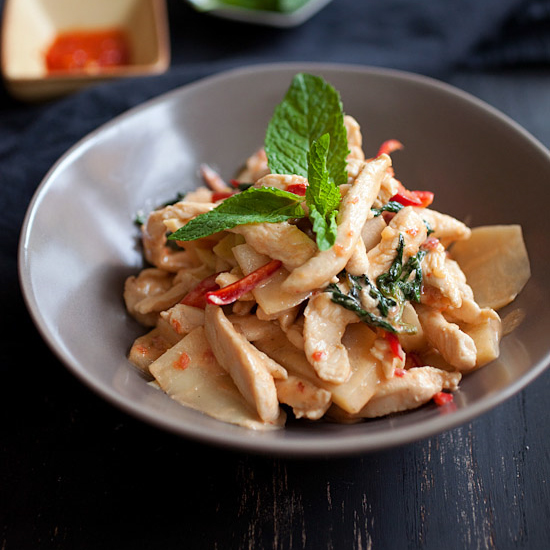 http://rasamalaysia.com/thai-chili-chicken/
When the weather is scorching hot, I like to make myself some mint and lemon tea.  I went to the farmers market last week and got a whole bunch of fresh mint. There were so much mint that I couldn't use up, so I decided to make this Thai chili chicken using the leftover mint leaves, a recipe that I adapted from my favorite Thai cookbook "Thai Cooking Made Easy."
Many people love Thai food because every bite is bursting with flavors. The four pillars of Thai flavors: salty, sweet, sour, and spicy are dancing in the mouth as we sink our teeth into scrumptious Thai dishes. There is no exception with this Thai chili chicken recipe. I love that the mint leaves impart the iconic minty aroma and nuance to the chicken dish, while the coconut cream lends a rich note to the dish.
The bamboo shoots are a nice addition to go with the chicken, and every bite there is a crunch from the bamboo shoots. When buying bamboo shoots, you can always buy the vacuumed packed fresh bamboo shoots, or canned bamboo shoots. If you like your dish extra spicy, use an extra red chili, or more chili sauce in the sauce. Finally, squeeze some fresh lime juice to the chicken right before serving, and you will have a wonderful dish that is tasty and wonderful with steamed rice!
Sign Up for Email Updates
Enter your email for new updates: recipes, giveaways, and more!