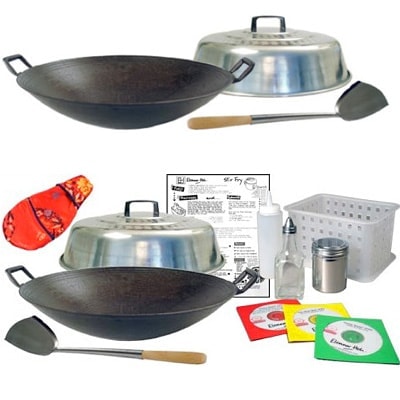 I get a lot of emails about wok, but truth to told, I am not an expert in the subject matter even though I do use a wok. All my wok knowledge came from my late mother: seasoning it to "open the wok," the basic tips/techniques how to properly use a wok, and how to control the heat. I am really not in a position to advise you on carbon steel wok versus cast iron wok, etc. That's why I have invited my friend Eleanor Hoh, also known as Wok Star, to share the top 12 wok tips that everyone could use. A special thanks to Eleanor for sending me her wok kit (as pictured above) when I first inked my book deal. Please welcome Wok Star to Rasa Malaysia and leave your wok questions in the comment section.
Thanks for inviting me to be a guest on Rasa Malaysia! I love your beautiful site which promotes the best in Asian culture and cuisine, so I am very thrilled to be included. As a wok enthusiast, cooking teacher and creator of a Wok Star Kit, I hear a lot of common mistakes people make when attempting wok cooking. There's a lot of very confusing information out there, so, here are my…
TOP 12 WOK TIPS
from Wok Star Eleanor Hoh
1. Cooking in a wok requires the right technique, the right heat, the right seasonings = Wok Star!
2. Declutter your kitchen: use your wok for stir frying, steaming, stewing, deep frying, smoking and soups.
3. Leave your wok out at all times so it's convenient. If you don't see it, you don't use it…
4. Getting the wrong wok & not seasoning it right can set you up for failure.
5. A lightweight cast iron wok is BEST. Who wants to lift a 15 lb. wok every night?
6. One handle woks tip over when you have food in it plus the handle gets in the way.
7. Round bottom woks need direct flames i.e. gas for maximum contact & to control your heat.
8. Flat bottom woks do not give you a natural stir fry motion, uses more oil & were made for electric stoves. See no. 11 & 12.
9. Non-stick woks cannot be used above medium heat according to manufacturer's warning but high heat is ESSENTIAL to sear meat and for crunchy veggies.
10. Gas stove owners: use the smallest burner so heat is focused for your wok.
11. Electric stove owners: a portable butane gas stove solves the problem of cooking with your wok!
12. A Wok Star is someone who develops their own cooking style and thinks outside the box.
For more on how to become a Wok Star, visit the website and my blog.