Mango Chutney is an Indian condiment. It's so easy to make and pairs well with curries, chicken, pork, steak or lamb. Made with ripe mangoes and spices. Use as a marinade or spread on bread!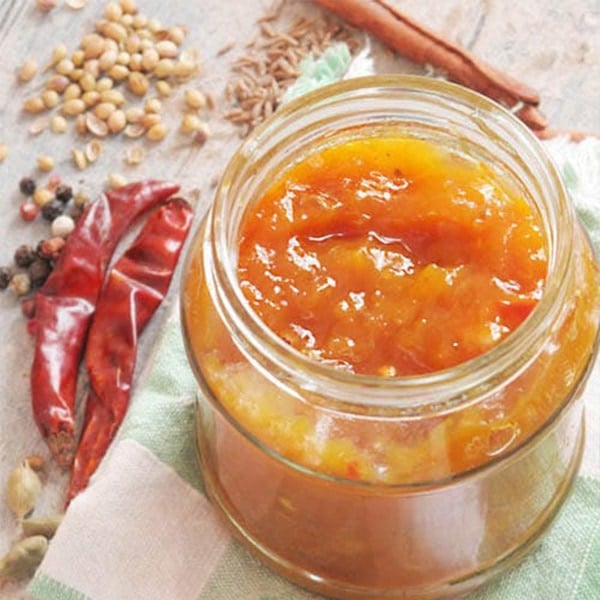 What is Mango Chutney
Mango chutney is the most traditional of all chutneys. It's made with ripe mangoes and sweet in taste. It has a tart flavor from vinegar. Dried chilies are used in the recipe so it's also spicy.
Mango chutney is quick and easy to make. It's made fresh and last for few days, even weeks, if kept in a jar and refrigerated.
Is Mango Chutney Indian?
Chutneys are essentials in daily Indian meals whether it's breakfast, lunch or dinner. They come in all forms and differ in taste and texture depending on the ingredients used and the cooking method.
Yes, mango chutney is Indian and this recipe is from a native Indian food blogger Journey Kitchen.
Other Indian Recipes:
Mango Chutney is Low Calories
As chutney is sweet, many people wonder if it is low in calories. My recipe is only 249 calories. Spread it on sandwiches, use it as a marinade, with steak, chicken, lamb or as a dipping sauce.
It's also used as a base for Indian curries which adds great dimensions to the flavors.
How to Make Mango Chutney
The cooking process is simple. First, cut up 1 ripe mango then cook with spices (tied up in a muslin cloth) for about 10 minutes.
Then add all the seasonings like dried chilies, vinegar, salt, sugar and cook until the mango breaks up and thickened. Let cool and keep in a jar for up to a few weeks in refrigerator.
How Many Calories Per Serving?
This recipe is only 263 calories per serving.
Pairs well with: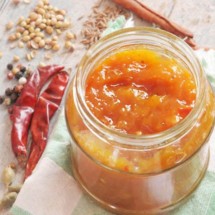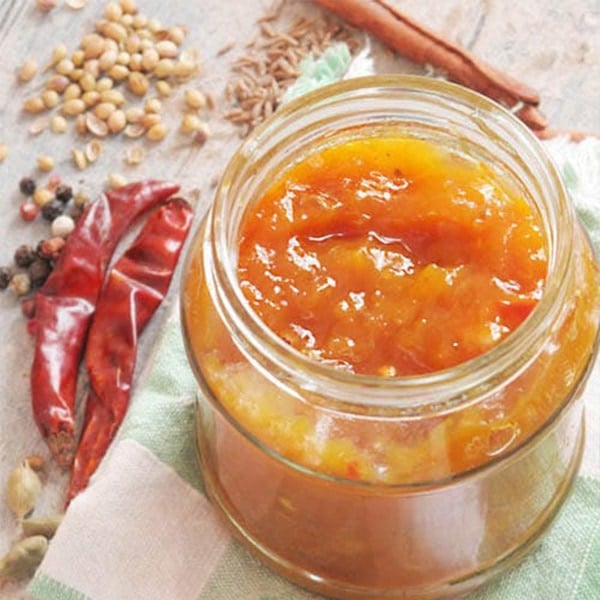 Mango Chutney Recipe
Ingredients
1

1b

ripe but firm green mango

1

stick

cinnamon

(2 inches)

2

whole cloves

1

teaspoon

cumin seeds

1

teaspoon

coriander seeds

2

cardamom pods, cracked

3/4

cup

water

1

teaspoon

grated ginger

1

clove

garlic, crushed

1/2

cup

vinegar

2-3

whole dried red chilies

1

teaspoon

salt

3/4

cup

brown sugar or to taste
Click Here for Conversion Tool
Directions
Peel the skin the mango and cut the flesh into 1-inch cubes. Discard the seed.

Using a piece of thin muslin cloth, tie up all the spices (cinnamon, cloves, cumin, coriander, and cardamom) into a bundle. Cook the mango, spices (in the muslin cloth), water, ginger and garlic until the mango has become mushy, about 10 minutes.

Add the vinegar, dried red chilies, salt, and sugar. Add more salt and sugar to taste.

Cook for 30 minutes or until the chutney is thickened. Squeeze out the chutney sauce from the muslin cloth. and discard it. Transfer to the mango chutney to a jar while it's still hot. Let cool and keep in the refrigerator for up to 4 weeks.
Nutrition Facts
Mango Chutney Recipe
Amount Per Serving (3 people)
Calories 263
% Daily Value*
Sodium 797mg35%
Potassium 192mg5%
Carbohydrates 65g22%
Vitamin A 595IU12%
Vitamin C 20.6mg25%
Calcium 79mg8%
Iron 1.3mg7%
* Percent Daily Values are based on a 2000 calorie diet.