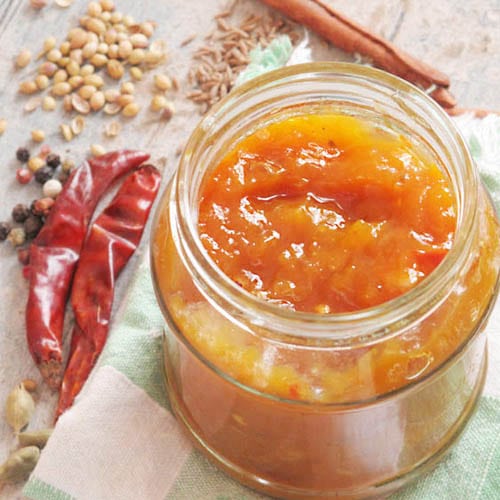 Mango Chutney
Mango Chutney | Easy Asian Recipes at RasaMalaysia.com
Ingredients:
1 ripe but firm green mango (450 -500 g)
1 sticks cinnamon (about 2 inch)
2 whole cloves
1 tsp cumin seeds
1 tsp coriander seeds
2 cardamom pods, cracked
1 tsp ginger, grated
2-3 whole dry red chilies
1 clove garlic, crushed
3/4 cup demerara sugar (if you have access to Indian jaggery use 3/4 cup- 1 cup powdered jaggery depending on the sweetness)
1/2 cup vinegar
3/4 cup water
1 tsp salt
Method:
Cut the mango into 1 inch cubes and for chunky chutney, keep some pieces about 2 inch.  If you are looking for smooth, cut them all in same size.
Using a piece of thin muslin cloth, tie up the spices into a bundle. Cook the mango, spices (in the muslin cloth), water, ginger and garlic until the mango is tender. Some pieces will disintegrate into the water. Takes about 10 minutes.
Add the vinegar, sugar, salt and dry chilies. I like to break 1 red chilly into flakes and keep 1 whole. If you want and are feeling adventurous you can go up on the chilies. The sugar requirement may also vary depending on the sweetness of your mango and personal preference. Feel free to reduce or add as per your liking.
Cook for about 30 -35 minutes until the chutney is thickened. Squeeze every bit you can from the cloth and discard it. Transfer to sterilized jars while still hot. Don't put the lid, until the chutney cools. It keeps well for 4 weeks in the refrigerator.
For the longest time, I don't quite get the idea of chutney and I certainly have no idea how to make it. That's the reason why I have invited Kulsum of Journey Kitchen to share her Mango Chutney recipe with me. Journey Kitchen is another Indian blog that I have discovered recently; there are just so much to learn from the blog about Indian cuisine and also Bohra cuisine. Please welcome Journey Kitchen to Rasa Malaysia.
When Bee suggested chutney for this guest post, I was elated. I can handle chutney I thought to myself. But when she suggested mango chutney, I was a bit hesitating at first. Not because I didn't have a recipe but because it is my mom's recipe. My mom is not very comfortable about sharing her recipes online. Don't get her wrong, she loves sharing in general but she never got "internet". After a bit explaining about our lovely "food blogger's community" she almost came in terms with it but it took a little more than just explaining (read emotional blackmailing and reminder of some sentimental childhood stories)…
Chutney's form an inevitable part of Indian's daily meal whether its breakfast, lunch or dinner.  They come in all forms and differ in taste and texture depending on the ingredients used and cooking method. Chutneys can be made with fruits, herbs, vegetables or combination of them. Unlike pickles (which is another great condiment to have), chutney are much easier to make and generally made fresh and last for few days to weeks. Three important elements for most chutney is sweet, sour and spicy (others are salty and spicy). It is this balance of flavors that I think has made Indian chutneys worldwide phenomena. The sweet element is often introduced by using fruits like mango in our case, dry fruits, jaggery or other types of sugar. The sourness comes from adding vinegar, tamarind, lemon or lime. The spicy element is added by using fresh or dry chilies, or powder. Other spices like cumin, fennel, black peppercorns and cinnamon are often used in chutneys for flavoring.
Mango chutney can be remarkably versatile. Spread it on sandwiches, use it as marinate, use with steak or chicken or just dip your fries in it. Or well if you are like me spread it on baguette with some roast chicken and lettuce. Other great way is to use it as a base for curries to add that great unique dimension. The only limit is your imagination.
Thank you Bee for letting me share your gorgeous space and suggesting mango chutney, a must have for every fridge.
RECIPE RATING:
Rate This
Recipe Name
Average Rating

Based on 16 Review(s)
SUBSCRIBE AND NEVER MISS A RECIPE:
SUBSCRIBE TO RASA MALAYSIA NEWSLETTER AND GET EASY AND DELICIOUS RECIPES DELIVERED TO YOUR INBOX. If you try my recipe, please use hashtag #rasamalaysia on social media so I can see your creations! Follow me on Facebook | Instagram | Pinterest | Twitter for new recipes, giveaways and more.