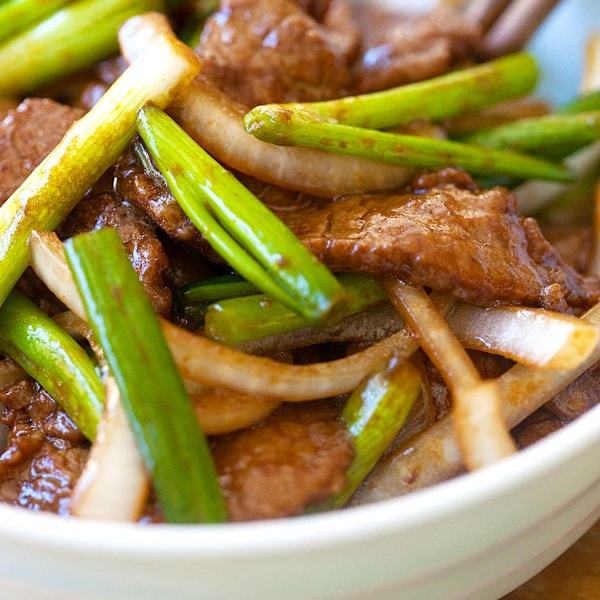 Onion Scallion Beef
Onion scallion beef – tender beef stir-fry in yummy Chinese brown sauce. Super easy recipe that takes only 20 mins | rasamalaysia.com
Prep time:
Cook time:
Total Time: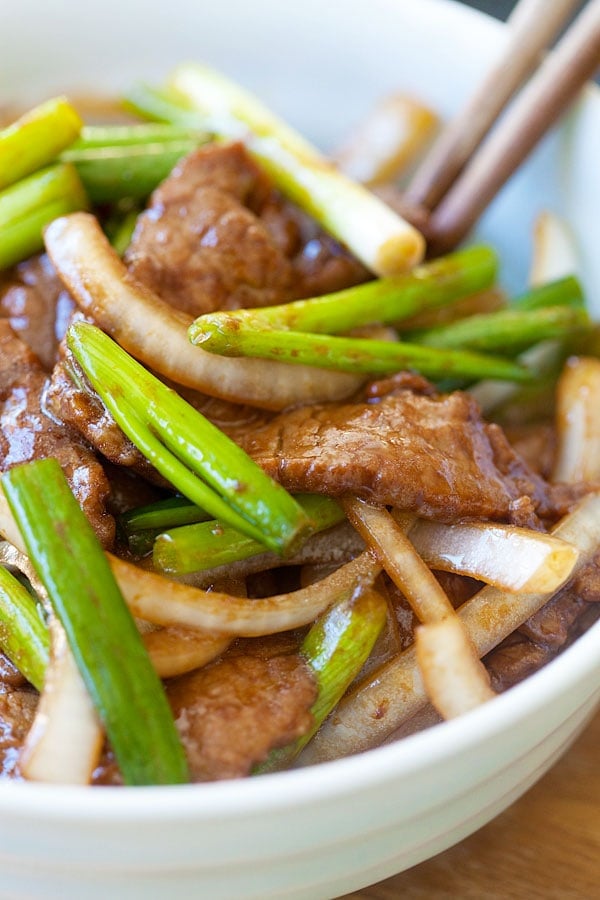 Onion Scallion Beef
Onion scallion beef – tender juicy beef stir-fry with onions and scallions in Chinese brown sauce. Delicious and easy recipe that takes only 20 mins.
Other than everyone's favorite Mongolian beef, sometimes I changed my recipe a little bit to incorporate onion into the beef stir-fry to make this super yummy onion scallion beef. I just think that it makes the overall dish so much tastier. As we all know, onion imparts a sweet flavor once it's cooked and caramelized, plus it adds extra texture to this onion scallion beef recipe.
Onion scallion beef is a super easy recipe to make at home and it practically takes 20 minutes from prep to dinner table. The most important thing is that it's utterly delicious and goes so well with rice that all you have to do is make some steamed rice and you have a complete meal.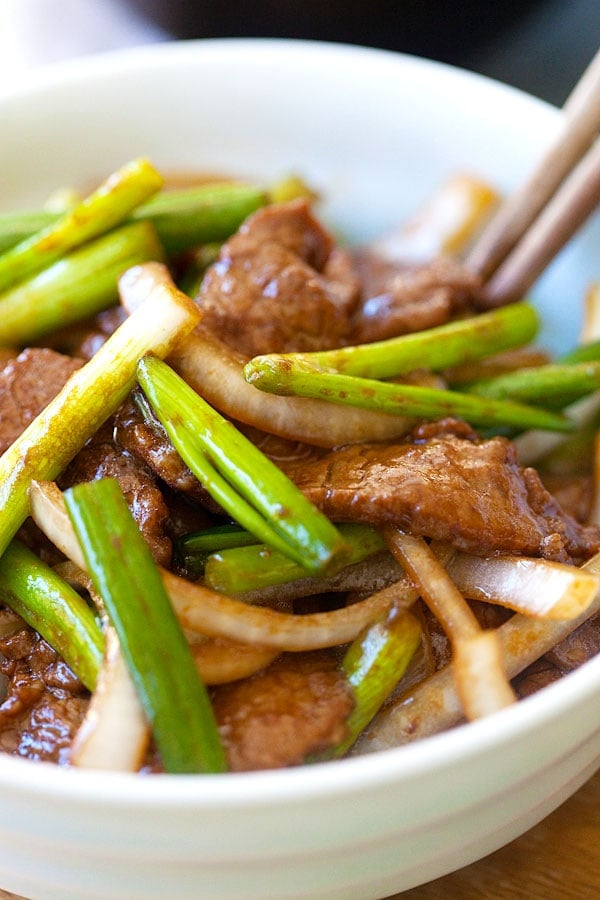 Onion Scallion Beef
Serves 2 | Prep Time: 15 Minutes | Cook Time: 5 Minutes
Ingredients:
10 oz beef tenderloin, thinly sliced
2 1/2 tablespoons cooking oil
3 stalks scallion, cut into 2-inch strips
1/2 onion, sliced
3 cloves garlic, thinly sliced
Marinade:
1 teaspoon cornstarch
1 teaspoon soy sauce
1 teaspoon Chinese Shaoxing wine (or dry sherry)
Sauce:
2 teaspoons oyster sauce
2 tablespoons soy sauce
1/4 teaspoon dark soy sauce
3 dashes white pepper powder
1/4 teaspoon sesame oil
1 tablespoon sugar or to taste
Salt to taste
Method:
Marinate the beef slices with all the ingredients in Marinade for 10 minutes.
Heat up a wok with 1 tablespoon of oil and stir-fry the marinated beef until they are half-done. Dish out and set aside. Drain the bloody water from the beef.
Heat up the remaining oil and stir-fry the garlic and onion until aromatic. Add the beef back into the wok and do a few quick stirs before adding the Sauce. Continue to stir-fry until the beef slices are completely cooked, then add the scallions into the wok. Do a few quick stirs, add salt and more sugar to taste, dish out and serve hot with steamed rice.
Most-Pinned Recipes
Ginger Garlic Baked Chicken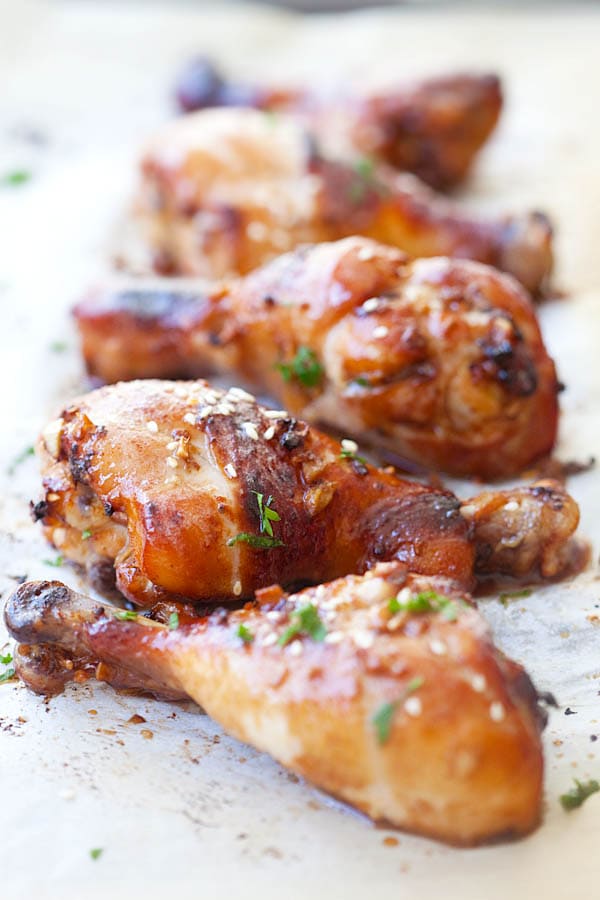 Crab Rangoon (Cream Cheese Wontons)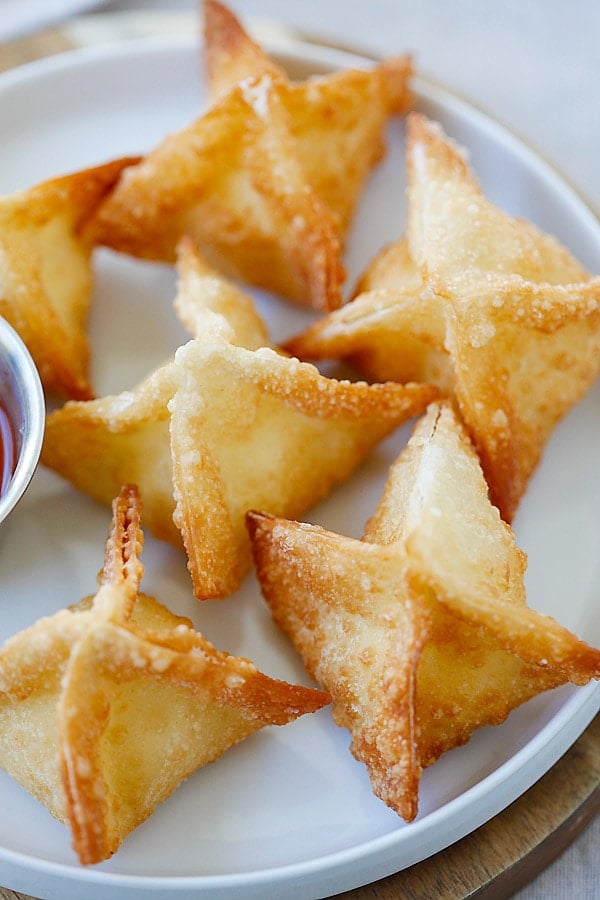 Chicken Wontons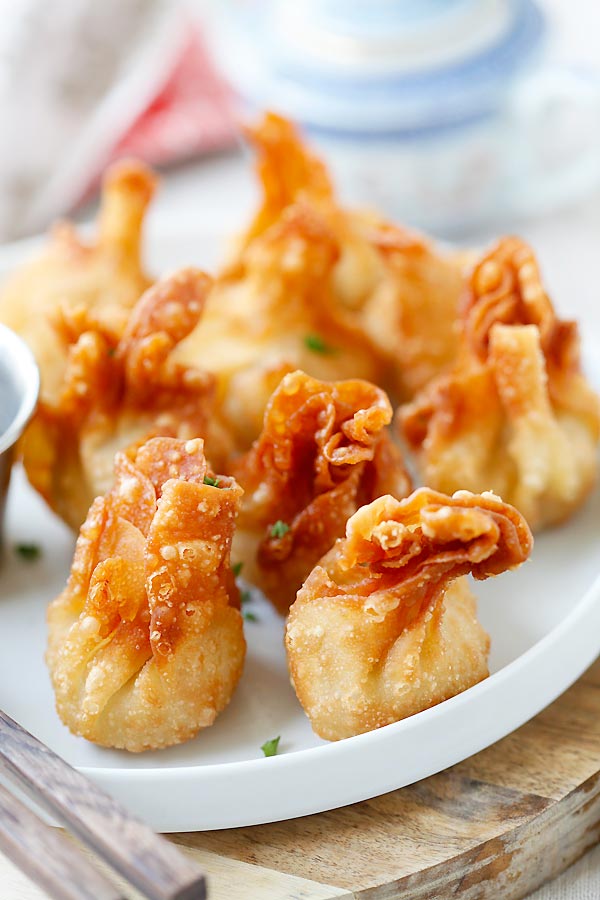 Onion Scallion Beef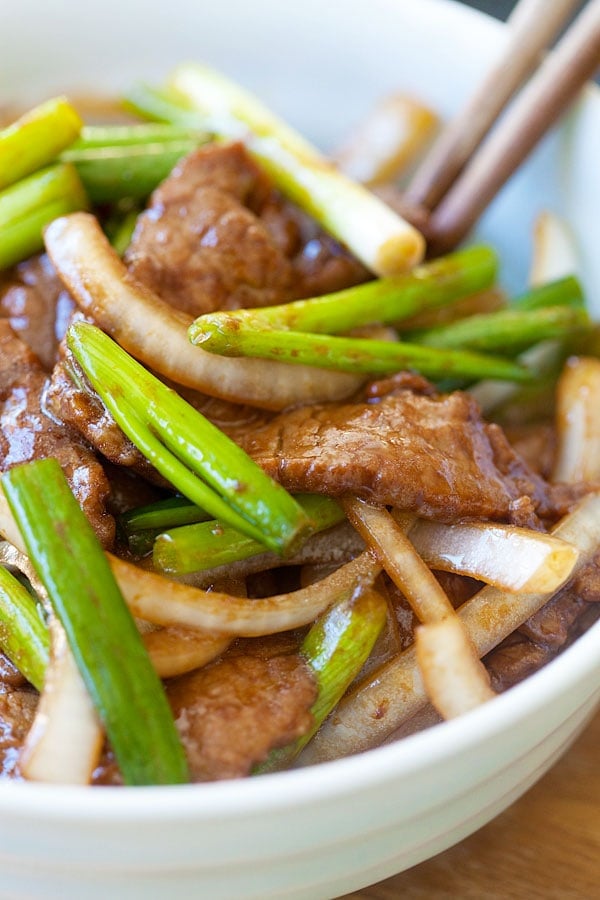 Thai Chicken Sate with Peanut Sauce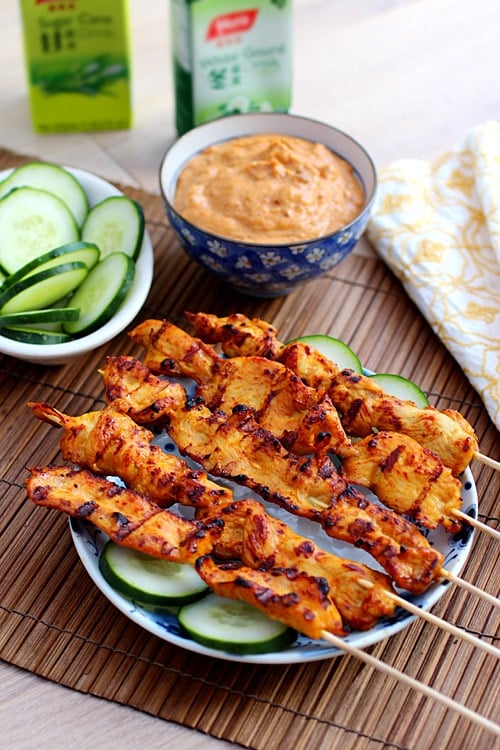 Thai Peanut Sauce