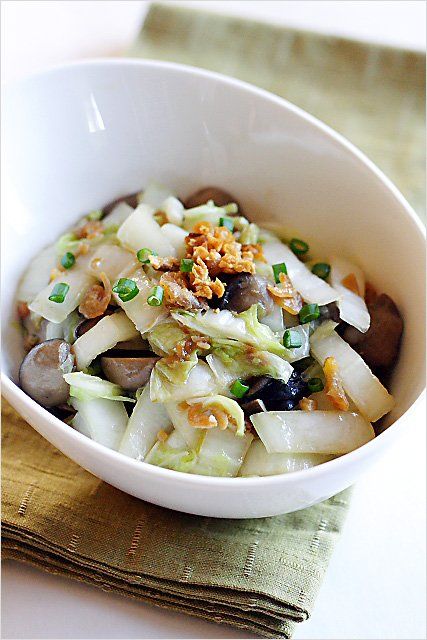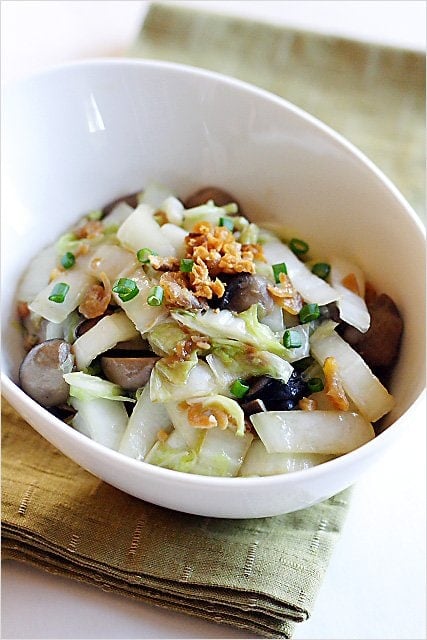 A simple and delightful dish–stir-fried napa cabbage with dried shrimp (and straw mushrooms).
Straw mushrooms are optional but I put them into the stir-fry as I had some leftover in the fridge.
Surprisingly, they transformed this humble recipe and added extra flavor, texture, and color to my stir-fried napa cabbage. I loved it!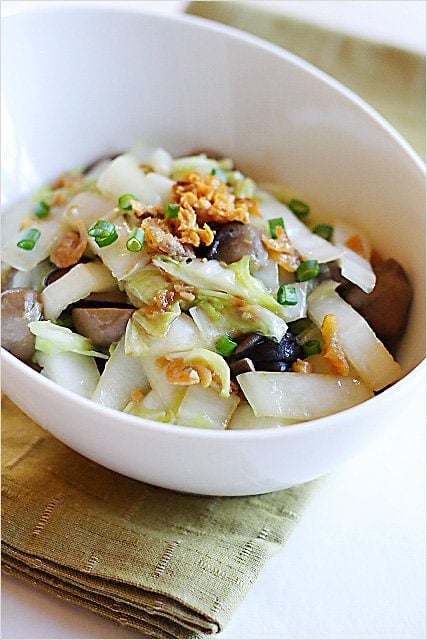 If you are a Chinese-Malaysian or Chinese, I am sure many of you have had this dish growing up; perhaps you are still preparing it at home. It's one of those homey dishes that reminds you of your mother's–or your grandmother's–cooking…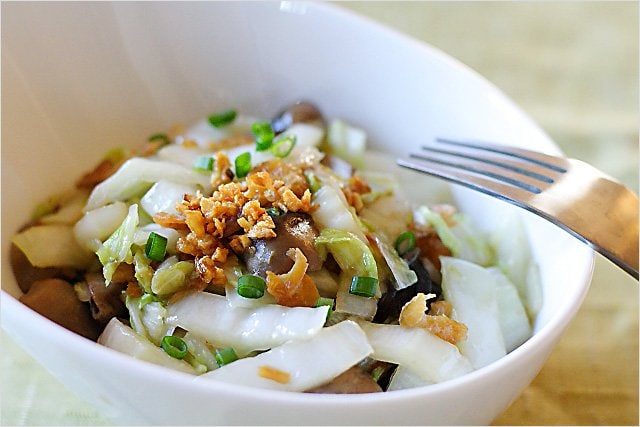 I served my napa cabbage with a dollop of garlic oil and fried garlic on top of this dish. What a great idea. It infused the serving with garlicky aroma. You should try it, too!
To make other nostalgic and homey Chinese-Malaysian dishes, AKA the food of my childhood, please check out my recipes below (recommended and pair well with stir-fried napa cabbage):
(Chinese recipes, prepare authentic Chinese food now!)
How Many Calories Per Serving?
This recipe is only 70 calories per serving.
5 Secrets to 20 Min Dinners
Get tricks for quick & easy meals!
Yield: 4 people
Stir-fried Napa Cabbage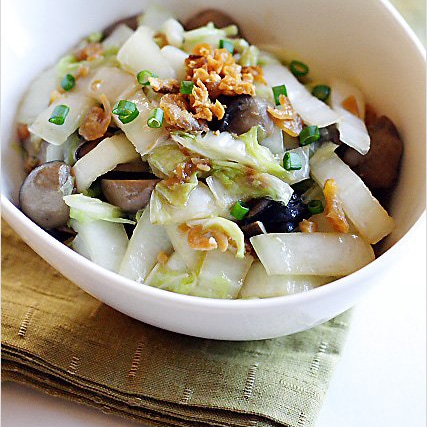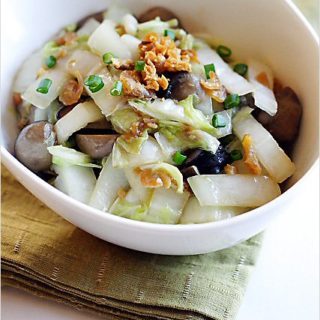 Stir-fried Napa Cabbage Recipe - A simple and delightful dish–stir-fried napa cabbage with dried shrimp (and straw mushrooms).
Ingredients
3 cups chopped napa cabbage
6 straw mushrooms, cut into halves, (optional)
3 cloves garlic, chopped finely
2 tablespoons dried shrimp, soaked in warm water for 10 minutes, drained and set aside
1 teaspoon oyster sauce
1 tablespoon cooking oil
Instructions
Make the garlic oil first by stir-frying the chopped garlic with the cooking oil. Dish out half of it when the garlic turns golden brown.
With the remaining garlic oil in the wok, add in the dried shrimp and do a few quick stir until you smell the aroma of the dried shrimp. Add in the straw mushrooms and do a quick stir, then follow by the chopped napa cabbage. Stir fry for 1 minute and then add in the oyster sauce. Stir well and dish out the napa cabbage when it's still somewhat "crunchy" and not over-cooked. Top the stir-fried napa cabbage with the remaining half of garlic oil. Serve immediately.
Nutrition Information
Yield
4
Serving Size
4 people
Amount Per Serving
Calories

70
Total Fat

3g
Unsaturated Fat

0g
Cholesterol

84mg
Sodium

338mg
Carbohydrates

3g
Protein

6g