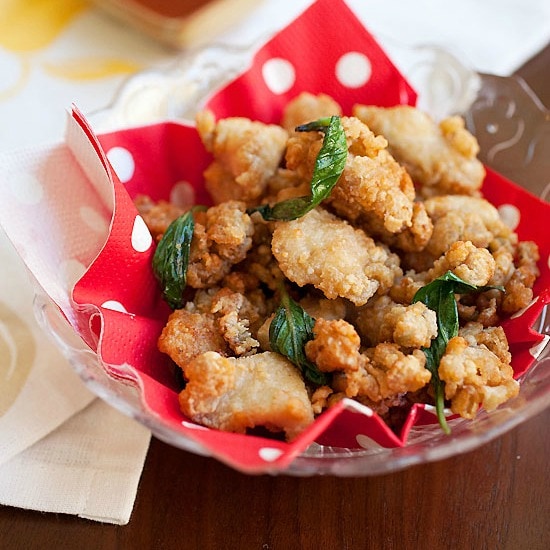 Taiwanese Salt and Pepper Chicken
Chinese Salt and Pepper Chicken or Popcorn Chicken – crispy fried marinated chicken with basil leaves, get the easy and delicious recipe now | rasamalaysia.com
Prep time:
Cook time:
Total Time:
Ingredients:
8 oz chicken breast, cut into bite-size cubes
1 cup fresh basil leaves
1 cup cornstarch
2 cups oil for deep-frying
1/4 teaspoon (or to taste) bottled pepper salt
Marinade:
1 tablespoon scallions, chopped finely
3 cloves garlic, minced
1 tablespoon ginger, minced
1 teaspoon salt
1 teaspoon sugar
2 tablespoon water
1 tablespoon rice wine
1/4 teaspoon baking soda
1 tablespoon dark soy sauce
1/2 teaspoon chicken bouillon
1/4 teaspoon pepper salt
Method:
1. Mix all the ingredients of Marinade in a big bowl, stir well. Add the chicken pieces and marinate for 30 minutes.
2. Heat up the oil in the wok for deep-frying. Coat the chicken with the cornstarch evenly. Deep-fry the chicken until they turn golden brown, remove from the oil and set aside.
3. Pour the oil out and add the basil leaves and stir a few times before adding the chicken back into the wok. Remove from the wok, add the pepper salt and toss well with the chicken. Serve immediately.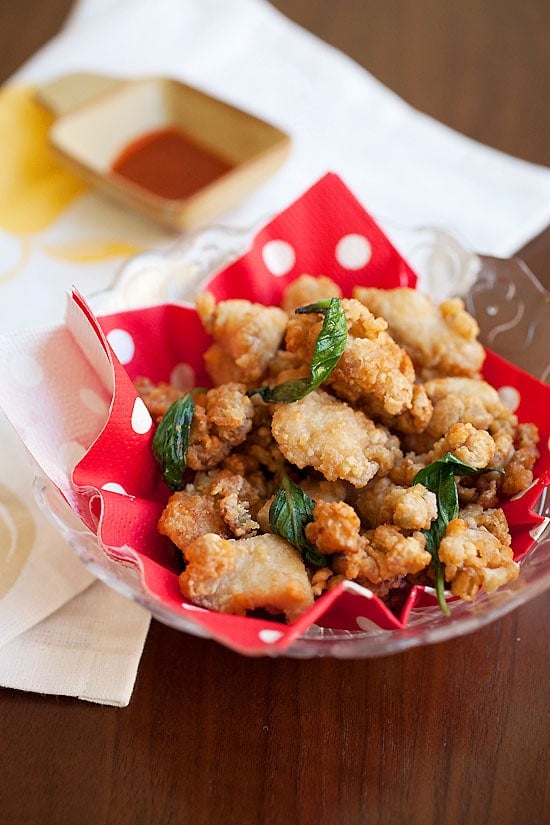 I posted a Taiwanese salt and pepper chicken recipe a few years ago but I used a seasoning which none of my readers can find. Many readers have left comments on my previous post asking me about the magical seasoning in the bottle for the classic and iconic Taiwanese salt and pepper chicken. Unfortunately, not many people have success finding the seasoning outside of California. I promised my readers that I would create a new recipe and make everything from scratch, so here is the recipe you have been waiting for, everyone's favorite Taiwanese salt and pepper chicken (鹹酥雞).
I tasted this made-from-scratch salt and pepper chicken at my good friend's house, when she made a big batch for her son's birthday party. She referred to her Taiwanese recipes cookbook and used a regular salt and pepper seasoning, which can be easily purchased at Asian food stores. I borrowed her cookbook back and made them, and the fried chicken tasted just like any night markets in Taipei. I absolutely loved it.
For the basil leaves, they are optional but I have to say that if you don't have basil leaves, they don't taste quite right and authentic. I love basil leaves but I know many people don't fancy the taste, or they can't find them where they are. Either way, this Taiwanese salt and pepper chicken is addictive, and especially great with a can of cold drink or best with beer. Gather a few good friends over, have a lazy summer afternoon or evening, fire up your wok and make a big batch of the fried chicken, and chat the day or evening away. Enjoy!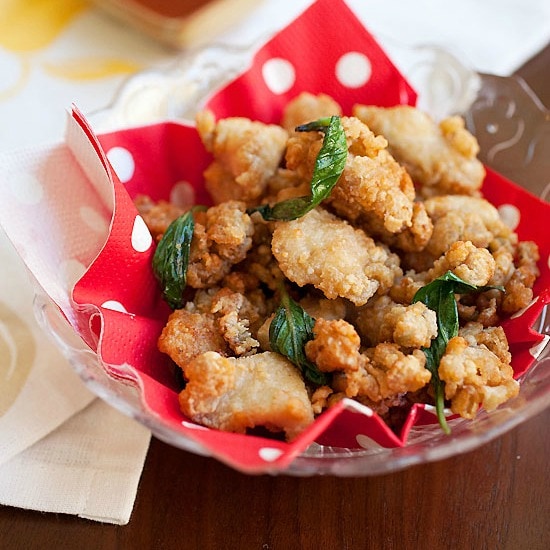 Rate This
Recipe Name
Taiwanese Salt and Pepper Chicken
Preparation Time
Cook Time
Total Time
Average Rating

Based on 3 Review(s)