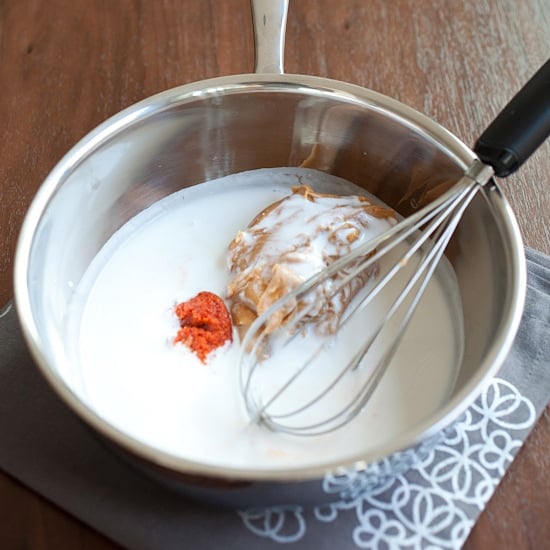 Thai Peanut Sauce
How to make Thai Peanut Sauce – 5 ingredients and you can make the most amazing peanut sauce | rasamalaysia.com
Prep time:
Cook time:
Total Time:
Ingredients:
1/2 cup creamy peanut butter
3/4 cup coconut milk
2 tablespoons Thai red curry paste
2 tablespoons apple cider vinegar
1 tablespoon sugar or to taste
2 tablespoons ground peanut
Salt to taste
Method:
Add all the ingredients in the saucepan. Use a whisk to quickly whisk all the ingredients together before transferring to a stove top to heat up on low heat. Continue to whisk the peanut sauce until all ingredients are well-combined.
As soon as the peanut sauce starts to simmer and bubble, turn off the heat. (If you like the sauce more watery, you may add a little water to dilute it during the cooking process.) Transfer off the heat and top with some ground peanut. The Thai peanut sauce is now ready. You can keep the left over in the fridge for a week without losing the fresh taste. To make the chicken, marinate both sides of the chicken thighs with turmeric powder, salt and black pepper, for 15 minutes. Pan fry the chicken with some oil until both sides are nicely brown and slightly "crispy," and the meat is cooked through. Slice the chicken into pieces and drizzle with the peanut sauce and garnish with some chopped cilantro leaves. Serve immediately with rice and with fresh salad of your choice.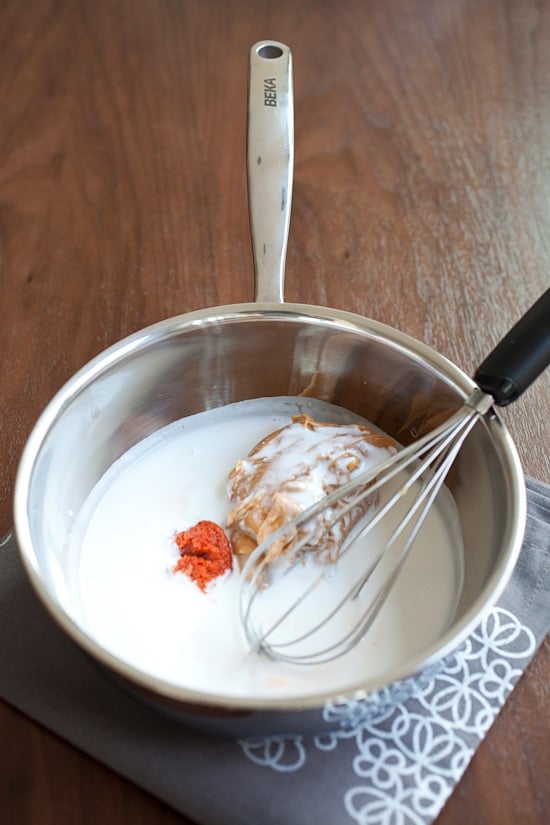 Thai Peanut Sauce
How to make Thai Peanut Sauce – 5 ingredients and you can make the most amazing homemade peanut sauce, get the easy recipe.
Thai peanut sauce is probably one of the most popular Asian dipping sauces, everyone loves the taste of peanut sauce as it's so tasty, versatile, and addictive. Without saying, Thai peanut sauce goes well with skewers of sate or grilled meat, but it's also amazing with other protein such as shrimp or fish.
Most people think that Thai peanut sauce is hard to make and never attempted it at home but the reality is the exact opposite. Peanut sauce is really easy to make and takes only a few key ingredients: peanut butter, coconut milk, Thai red curry paste, Apple cider vinegar, salt and sugar to taste. The best thing about this Thai peanut sauce recipe is that it doesn't involve much cooking, all you need is to mix the ingredients in a saucepan, heat it up, and voila, you have the homemade peanut sauce.
I made the Thai Peanut Sauce in practically less than 15 minutes, all you have to do is to add all the ingredients in a sauce pan, heat it up and whisk it. That's all.
You can use it for Thai chicken sate, or green beans with Thai peanut sauce. The possibilities are endless, try this easy recipe!
Rate This

Recipe Name

Preparation Time

Cook Time

Total Time

Average Rating


Based on 3 Review(s)